West Virginia Department of Environmental Protection Officials Visit Newburg Mine Fire and Discuss Budget Structure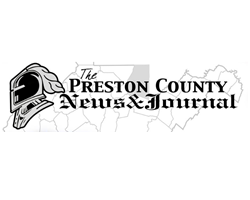 By Theresa Marthey
March 1, 2017 - West Virginia State Department of Environmental Protection (DEP) officials toured the Newburg Brocom Run No. 1 Mine fire reclamation site in Preston County Tuesday afternoon and discussed their concerns about the future of the DEP's state and federal funding.
The Newburg Brocom Run No. 1 Mine fire has been burning underground for three to five years, according to the DEP.
The fire-suppression reclamation project is projected to be completed in six months. Funded through the U.S. Department of Interior's Office of Abandoned Mine Lands and Reclamation, the project will cost approximately $5 million.
"We are at the mercy of the federal government for getting funds for these types of projects," state DEP Secretary Austin Caperton said. "With the current state of our state budget, it is unlikely we are going to be able to grab more state funds to speed this type of work up or to do other work that we have to."
Caperton explained the federal funding formula for abandoned mine land projects.
"For every ton of coal mined, a certain cents per ton is funneled back into the state," he said. "Deep mining has 15 cents per ton, and surface mining is 27 cents per ton, and that money comes back to the states that have the most activity going on."
If the state DEP's federal funding is reduced, Caperton said, the resulting domino effect would impact reclamation projects that address dangerous and environmentally hazardous abandoned mine land sites.
Rob Rice, chief of the DEP's Abandoned Mine Lands and Reclamation Division, said the funding for abandoned mine land projects is received annually.
"The amount coming into the state varies by the amount of coal produced," Rice said. "As I look at our inventory, we have billions of dollars of projects to do, and the federal funding is crucial.
"Our program is scheduled to receive its last Abandoned Mine Lands funding in 2021. I want the coal miners to mine as much coal as they can by 2021. That means more money would come into the state and is available to reclamation work like this."
Caperton said he does not believe the state is under a mandate to spend the abandoned mine lands funds in a set amount of time.
"But we are under mandate to perform inspections every so often on active and inactive jobs," Caperton said. "The great thing is we get to spend these federal dollars in our state, under state direction."

From the state, the DEP receives $6.5 million annually from the general revenue fund, Caperton said.
"If we continue to lose our general revenue funds that finance some of our inspectors, other workers will tend to be diverted away from these reclamation projects," he added.
Caperton said the DEP uses the general revenue funding for ambient river and air monitoring throughout the state.
"These are things that are not covered by fees, permits, fines and federal dollars," Caperton said. "The ability to track the health of our streams and air would be diminished if we lost those dollars, and this is the type of thing we are trying to protect against losing."
Caperton said DEP funding, even for basic activities, is in jeopardy as the states moves into the next fiscal year facing an approximate $500 million budget deficit.
"It is very important that we do something now to save these funds," Caperton said, "because we can see what is going to happen in the future.
"We are really desperate to see the governor's budget and the balancing of the budget in West Virginia. I don't think it can be done through just budget cuts and program cuts."