Production Underway at Canada's Newly Opened Donkin Mine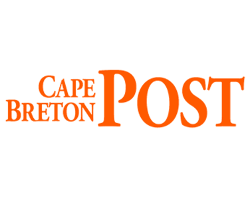 March 1, 2017 - It's fuel for the economy as well as the history books.
Coal mining began in the early 1700s in Cape Breton and lasted for more 250 years, but on Monday night the local industry was reborn at Kameron Collieries' Donkin Mine in Canada.
Jim Bunn, senior vice-president of operations for Cutlass Collieries and CAO at the Donkin Mine, said they had received all their approvals and permits, so production began at the mine Monday at 9 p.m.
"It was dark, very windy and exciting."
Bunn said the coal was brought out through a conveyer belt.
"Two years worth of hard work all led to this one moment. It was very exciting."
He said the amount of coal brought out is still to be determined and the total amounts in the future will depend on demand. He wouldn't speculate on how much coal will not be brought out each day.
"The daily amount will depend on demand and our customers."
It is also hoped Nova Scotia power will become a customer.
"Nova Scotia Power buys coal that is similar to Donkin's coal so they are a potential customer. The daily amount will depend on demand and our customers."
There is no word yet on whether or not the Donkin Mine will be entering an agreement with Nova Scotia Power.
"Nova Scotia Power buys coal that is similar to Donkin's coal so they are a potential customer," Bunn said.
Paul Vining, CEO Cline Group, said they are pleased that after two years of hard work and planning by their employees, supportive constituents and the Nova Scotia government, coal is being produced again in Cape Breton.
"This Cape Breton coal is some of the highest quality thermal and metallurgical coal in the world and we look forward to strategically marketing this product both domestically and internationally," he said in a press release.
Vining said in the first few quarters production will be limited but production will increase over time.
"This is good news for the community and as production ramps up so will employment at the mine."
As detailed in a story in the Cape Breton Post on Tuesday, the coal will be trucked through a privately owned haul route to be built through a partnership with the province of Nova Scotia and significant investment from Kameron Collieries, to minimize impacts on the local community. The route will include an area along the former railbed behind Glace Bay — south of Dominion Street — to the Sydney airport.
Minister of Transportation Geoff MacLellan was on site at the Donkin Mine on Tuesday and talked about the initial coal cut that took place Monday and the first production on Tuesday.
"It's slow and steady coming out in 20 minute intervals, " he said. "It's all rolling along."
He said there was a full shift working underground as well as on the surface as work continues to the facilities, in the wash plants and holding areas.
MacLellan, who toured the site two years ago, said he saw a significant difference being back at Donkin Mine on Tuesday and seeing an actually functioning coal mine.
He said the West Virginians, who have worked underground for decades, are impressed with the quality of coal from Donkin Mine.
"The West Virginians are certainly impressed by the workforce here as well because of their focus on safety, experience and work ethic."
MacLellan said Tuesday was a special day that marks the past and shapes the future.
"After 20 years we are back as coal suppliers for the rest of the world," he said. "Obviously, it's a great day for Cape Breton."
Abbie Michalik, a former coal miner for 34 years with the Dominion Coal Company and Devco, was thrilled with the news of production underway at the coal mine.
"I never thought I'd see another coal mine here," he said. "It's great news for the younger generation. It's what we need here, to get jobs for people. We need work in the worst way."
Michalik said coal mining in Cape Breton began in 1720 in the little village of Port Morien and went on for 250 years, ending in 2001.
He said the coal was first mined in the side of the cliff worked by French soldiers to heat the Fortress of Louisbourg.
"Clumps of coal can still be seen in the cliffs."
Michalik is actually a third-generation coal miner — his grandfather, father, six uncles, four cousins and brother all worked the mines, from Poland to Cape Breton.
Michalik worked at the No. 4 Mine in Caledonia, No. 20, No. 26, Lingan and Phalen mines, starting as a general labourer working on the wall face and loading wall before returning back to school for upgrading as a diesel mechanic.
The past 24 years he has been a tour guide at the Cape Breton Miners' Museum.
He said when a decision was first made to build a miners' museum in 1964, a mine was dug and coal was taken out of the seam.
"The coal was taken to Nova Scotia Power to be burned and that's what paid for the museum," he said. "The museum was built in memory of the miners who lost their lives in the coal industry."
Michalik said to hear the mine has reopened brings back a lot of memories.
He said technology and safety factors are much better today, adding he was happy to hear Kameron Collieries is building a road as a safety measure to reduce impact on the communities.
Mary Pat Mombourquette, executive director of the Cape Breton Miners' Museum, described word of the production underway as "great news." She said on her "to do list" is to sit down with officials of Kameron Collieries to see how they can work together to promote the culture of coal and the history of it in Cape Breton.
"We are all about the history of coal and they are about the future."
Mombourquette said what's really interesting is the museum's mine is on the same seam as the Donkin Mine.
"If you continued down the seam it would take you all the way over there," she said. "We have the same quality of coal they are mining over there."
She said all their guides find the opening of the Donkin Mine exciting as well.
"They are all in their 70s but said if they were younger they'd be right over there."
On Tuesday, Morien Resources Corp. issued a news release saying they have received $2 million from Kameron Collieries, the second of three milestone payments that Morien is entitled to receive from Kameron as part of the sale of its 25 percent working interest in Donkin to Kameron.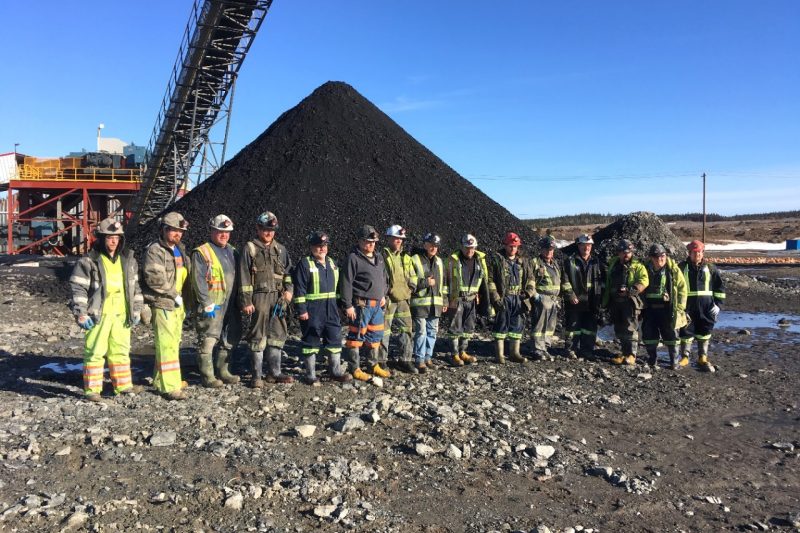 Cape Breton's newest generation of coal miners stand outside the first coal to come out of the Donkin Mine on Tuesday, including, from left, Billy Langer, Nathan Mackie, Frank McIntyre, Brad Hann, John Penson, Kyle Baker, Darcy Cox, Lawrence McEachern, Danny McNeil, Michael McNeil, John Matheson, Leroy Wadden, Keith Matheson, Neil MacKinnon and Kyle Turnbol. Officials with the Cline Group say after two years of hard work they were thrilled to be able to say coal is being produced again in Cape Breton.
Photo by Stephanie MacDougall/Submitted Photo