Polling Shows Strong Support for Policies that Encourage the Use of American Minerals in U.S. Infrastructure, Manufacturing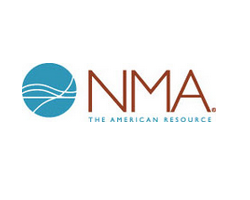 March 20, 2017 - As the Senate Energy and Natural Resources Committee and the House Natural Resources subcommittee gear up for hearings this week on improving American infrastructure projects, new polling conducted for the National Mining Association (NMA) shows strong support for policies that enable and encourage the use of domestic resources.
Seventy-one percent of voters support using domestically-sourced materials for government-funded infrastructure projects. Sixty-five percent of voters also support enacting policies such as shorter permitting timeframes to provide American infrastructure projects and the domestic manufacturing industry with timely access to important minerals and metals that build steady and stable supply chains.
"Minerals and metals are essential to rebuilding and expanding our roads, airports, railroads and pipelines, and supplying our domestic manufacturing industry," said Hal Quinn, NMA president and CEO. "Importing resources that we already have here at home is further evidence of our broken system. Our mines can meet these needs if we reform an outdated and cumbersome mine permitting process that jeopardizes access, discourages domestic employment and hampers investment."
In the U.S., it takes on average seven to 10 years to get a permit, compared to two to three years in countries like Canada and Australia. The U.S. remains entirely import-dependent for 20 key minerals resources and more than 50 percent import-dependent for an additional 30 minerals – an all-time high.
Fortunately, legislation was introduced earlier this year in the House and Senate showing support for streamlining our permitting process. The legislation, authored by Sen. Dean Heller (R-Nev.) and Rep. Mark Amodei (R-Nev.), would replace our painfully slow process with one that ensures efficient, timely and thorough permit reviews and incorporates best practices for coordination between state and federal agencies. If passed, this legislation will support our ability to utilize abundant domestic mineral resources that are essential to the U.S. economy and our quality of life without compromising important environmental review.
The polling, conducted by Morning Consult March 10-12, 2017, included 3,561 registered voters, with a margin of error of +/- 2 percent.