Retired Coal Miners Set to Lose Benefits, as UMWA Struggles to Stay Alive
By Tim Mandell
April 15, 2017 - While President Trump has promised to put coal miners back to work—a promise experts don't expect to happen—thousands of retired miners are in danger of losing health benefits and the future of the United Mine Workers of America hangs in the balance, Dylan Brown reports for Greenwire. On April 28, about 23,000 former UMWA miners or their widows will lose their health care and pensions, "and health funds for more than 120,000 total retirees face the same threat down the road."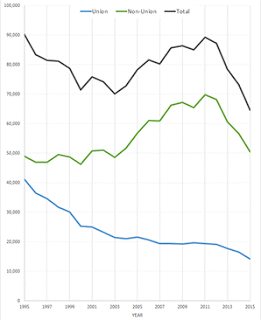 E&E News graphic: Coal jobs 1995-2015
The UMWA, which had 500,000 members at its peak in the 1930s, had 67,440 at the end of 2016, with fewer than 8,000 still mining coal, Brown writes. The reason is that most are retired, meaning more people are relying on payouts than paying in. (Unions in U.S. coal mines)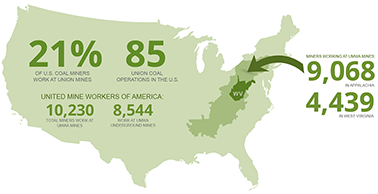 Twenty percent of coal jobs are covered by union contracts, compared to six percent for the overall private sector, Brown writes. "But most major coal companies have no union miners at all. And bankruptcy—which almost all have faced—not only shrank the industry but sheared off hundreds of millions of dollars in obligations to retired miners." UMWA President Cecil Roberts told Brown, "There is no remedy here available to us other than Congress. We're not saying we're going to win, lose or draw here. But we are saying we're going to fight until there is no other place to fight. This really is a life-and-death proposition for us."
In 1946, when negotiations broke down between coal operators and UMWA, President Harry S. Truman "stepped in and nationalized the country's mines," Brown writes. That led to the signing on May 29, 1946, of the National Bituminous [Coal] Wage Agreement, which "mandated a six-day workweek and safety code, but it also created the first miner health and retirement plans. That set a precedent for government-backed benefits that still holds today, the UMWA argues."
Coal began to see a decline after the 1990 Clean Air Act Amendments, "which tackled acid rain, put a premium on low-sulfur coal at power plants," Brown writes. That led to a shift of production from Appalachia to the Powder River Basin of Wyoming and Montana, and to surface mines, which require fewer miners. "More coal was being mined and burned than ever. In 1999, for the first time, more coal came from west of the Mississippi River than east. Coal from unionized mines took the hit, Roberts said, and today accounts for less than 20 percent of all U.S. coal. The shift cost the UMWA more than 20,000 jobs."