Utah's Coal Counties Part II: Coal Mines, Jobs, and Economic Benefit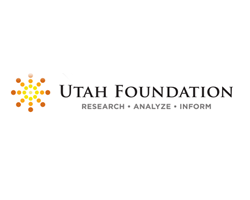 April 20, 2017 - Utah's economic benefit from coal mining and coal-fueled electricity generation is substantial, estimated at nearly three billion dollars. Most of Utah's coal is produced from mines in a few rural counties. Most of the coal extracted is used to generate electricity at power plants in the state. While coal mining and coal-fueled electricity generation only provide direct employment to about 2,500 Utahns, this equates to over 5% of the 50,000 nonfarm jobs in seven rural counties – and there are a considerable number of support jobs as well. Accordingly, coal-related operations are important in several rural areas of the state. Coal-related jobs are also some of the best paying jobs available, and they bring in considerable tax revenues and natural resource royalties to these local economies.
Trump administration policies will not likely increase Utah's coal mining or coal-fueled power generation. Coal-fueled power plants may continue to close even with the unwinding of Obama administration greenhouse gas policies and other environmental regulations.
Key Findings
• Approximately 1,000 people work in Utah's coal mines. Many trucking and other kinds of jobs exist to support coal mining operations.
• Productivity improvements resulted in increased coal production in the 20th century, particularly in the 1980s. At the same time, the number of coal mining jobs in Utah decreased.
• Recent reductions in coal mine employment are due to a decrease in demand, the result of low natural gas prices and increased coal-fueled electricity generation regulation.
• Approximately 1,500 people work in Utah's fie coal-fueled power plants.
• One coal-fueled power plant closed in 2015, another coal-fueled operation is projected to end by 2025, and another by 2030. This will mean a loss of jobs but could also decrease the demand for coal from Utah's mines.
• Trump administration policies may do little to "bring back" jobs for coal miners and coal-fueled power plants.
Read more by downloading the full report here (PDF).
Click here (PDF) to read Part I: Coal Energy, Production, and the Future.