Strong Power Demand to Support Chinese Thermal Coal in 2017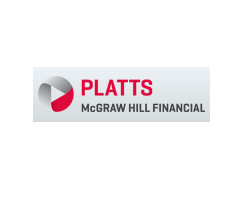 By Deepak Kannan and Jonathan Dart
April 20, 2017 - Chinese domestic thermal coal prices are expected to be supported by robust industrial power demand and slower-than-expected supply additions this year, Citi analysts said Thursday.
The Chinese 5,500 kcal/kg NAR thermal coal price could average Yuan 500-600/mt in 2017, the analysts said in their second-quarter commodity market outlook.
Thermal coal prices more than doubled last year after China reduced the number of working days at most of its mines, hitting production, while rains in Indonesia disrupted supply.
However, the Chinese government later relaxed its production policy to meet growing demand. Coal production in major mining provinces in China was also affected this year by adverse weather and intesive safety inspections.
The price of FOB Qinhuangdao 5,500 kcal/kg NAR coal has surged nearly 81% since the start of 2016 to be assessed Wednesday at Yuan 660/mt, S&P Global Platts data showed.
"We anticipate Chinese thermal coal demand to stay flat in 2017 after a slight 1% year-on-year decline in 2016, thanks to robust industrial power demand, and supply rising 7% year year on year after a 8% decline last year," Citi analyts said.
Chinese thermal power generation rose 7% year on year in the first two months of the year, supporting thermal coal prices.
"Thermal coal looks tightish in the near term, but Chinese supply should come back rapidly in the second half of 2017, and overseas miners are targeting marginally higher output," the analysts said.
However, the analysts sounded a bearish note on India, another major buyer of imported coal.
"India's thermal coal imports should continue to disappoint the global market," the analysts said.
Earlier this month, Australia's Resources and Energy Quarterly report said it estimated India's total imports of thermal coal to fall to 161 million mt in calendar 2017 from an estimated 166 million mt in 2016, and to 157 million mt in 2019 before rising to 175 million mt by 2022. SUPPLY IMPACT
On the supply side, the analysts do not see a significant impact on Australian thermal coal shipping volumes from the disruption caused by Cyclone Debbie earlier this year.
"But the cyclone disruption could give producers better bargaining positions ahead of the April JPU contract negotiation with Japanese buyers," the analysts noted.
Talks to finalize the benchmark price for April 2017-March 2018 shipments of Glencore's Australian thermal coal to Japan's Tohoku Electric Power are still ongoing, sources say, despite being nearly three weeks past their deadline.
Indonesian exports may continue to be affected by rains and other logistics bottlenecks in Kalimantan province in the short term, Citi said, adding that they expect about 5% year-on-year supply growth for 2017.
Exports of Indonesian thermal coal totaled 227.66 million mt in 2016, sliding 5% year on year on year, according to customs data.
"As in 2016, iron ore, thermal coal and coking coal markets should take their cues from Chinese government actions in cutting capacity and actively managing short-term output," Citi analysts said.