Arch Coal, Inc. Reports First Quarter 2017 Results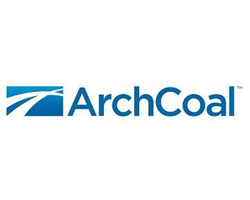 May 2, 2017 - Arch Coal, Inc. (NYSE: ARCH) today reported first quarter 2017 net income of $51.7 million, or $2.03 per diluted share, compared with $33.4 million, or $1.31 per diluted share, in the fourth quarter of 2016. Excluding certain charges, adjusted diluted earnings per share ("adjusted EPS")1 was $2.55 per share. The charges for the first quarter include non-cash sales contract amortization, reorganization fees and early debt extinguishment items and related tax impact. The company earned adjusted earnings before interest, taxes, depreciation, depletion, amortization, reorganization items and early debt extinguishment charges ("adjusted EBITDAR")1 of $120.5 million in the first quarter of 2017, a nearly 30-percent increase versus the previous quarter. Revenues totaled $600.9 million for the three months ended March 31, 2017.
"Arch executed a strong performance in the first quarter of 2017, with meaningful expansion in earnings per share and adjusted EBITDAR," said John W. Eaves, Arch's chief executive officer. "Our solid financial results underscore the strategic value of the company's two complementary lines of business and our highly competitive position in our key operating segments. During the first quarter, we capitalized on resurgent global metallurgical markets while remaining poised to take advantage of improving fundamentals in the thermal coal markets as the year progresses."
Arch Initiates Capital Allocation Programs
As a result of the company's healthy liquidity position and expectations for continued cash generation in 2017, the Board of Directors has approved two capital allocation initiatives to enhance shareholder returns. First, the board has instituted a quarterly cash dividend of $0.35 per share. The quarterly dividend will begin with the second quarter and will be paid on June 15, 2017 to stockholders of record on May 31, 2017.
In addition, the board has approved the establishment of a share repurchase program that authorizes the company to purchase up to $300 million of the company's outstanding common stock. The repurchase program announced today has no time limit and Arch expects to fund future share repurchases with cash on hand and cash generated from operations.
Future dividend declarations and share repurchases will be subject to ongoing board review and authorization and will be based on a number of factors, including business and market conditions, Arch's future financial performance and other capital priorities.
"Given the volatile nature of commodity markets in general, it is important that we take a prudent approach to our capital allocation initiatives," said Eaves. "The board believes Arch's strong free cash flow profile coupled with our low leverage will continue to provide opportunities to return value to our shareholders, while at the same time enabling us to maintain the financial flexibility to reinvest in our premier operating portfolio."
As previously announced, the company decreased its total indebtedness and interest expense during the first quarter, bolstering its already strong financial position. Through its successful refinancing, Arch reduced its debt levels by more than $25 million and lowered its annual interest expense by nearly $18 million. At the end of the first quarter, Arch's debt level totaled $334 million, comprised of the $300 million term loan and $34 million in equipment financing and other debt. Arch's cash and short-term investment balance grew by $77 million from year- end 2016 to over $470 million at March 31, 2017.
On April 27, 2017, Arch entered into an inventory-only Asset Based Lending ("ABL") facility and amended its existing accounts receivable securitization facility. The new ABL increases the borrowing base that supports Arch's outstanding letters of credit, which would have freed up approximately $30 million of restricted cash on a pro forma basis at March 31, 2017. The combined facilities will also lower borrowing costs.
"We are extremely pleased with the further improvements to our capital structure," said John T. Drexler, Arch's chief financial officer. "Looking ahead, we remain committed to maintaining a healthy level of liquidity and managing our balance sheet carefully while creating and enhancing returns for our shareholders."
Arch Focuses on Fundamental Values
Arch subsidiaries earned 14 safety and environmental awards in the three months ended March 31, 2017. Most notably, Arch's Sentinel and Coal-Mac complexes attained West Virginia's top safety awards among large underground and surface mines, while the West Elk mine was honored with both the top safety and environmental awards in Colorado. Furthermore, four of Arch's operations and facilities attained a Perfect Zero - a dual achievement of operating without a reportable safety incident or environmental violation - for the three months ended March 31, 2017.
"We commend our employees for their outstanding safety and environmental accomplishments, and for their ongoing commitment to living our core values every day," said Paul A. Lang, Arch's president and chief operating officer. "We are constantly striving for improvement across our operating platform, with an ultimate goal of a Perfect Zero at all of our operations."
Arch Delivers Strong Operational Results
"Despite modestly lower sales volumes, we are off to a strong start in 2017," said Lang. "Our mining complexes delivered strong performances during the quarter just ended. We were successful in achieving higher price realizations across all of our operating segments in the first quarter. In particular, our Metallurgical segment delivered a standout performance - attaining an average sales price 40 percent higher than the fourth quarter of 2016. At the same time, we continue to diligently focus on managing our controllable costs, driving process improvement initiatives and maximizing revenues from our strategic unpriced volume position, with the goal of enhancing margins at each of our operations."
In the Metallurgical segment, first quarter 2017 cash margins increased nearly 165 percent versus the fourth quarter of 2016. Average sales price per ton rose $25.23 in the first quarter of 2017 when compared with the fourth quarter of 2016, benefiting primarily from the ongoing strength in metallurgical coal markets. Sales volumes declined 12 percent over the same time period, due primarily to two planned longwall moves and to restricted lake season delivery schedules. Notably, Arch shipped 1.5 million tons of coking coal at an average realized price of $105.51, a 40-percent increase over the average realized price achieved in the fourth quarter of 2016. Coking coal realizations benefited from significantly stronger pricing on index-based tons that shipped during the period as well as new sales. Higher per ton cash costs in the segment were driven by higher sales-sensitive costs, lower volume levels, and the impacts of the two longwall moves. Arch believes its prior cost guidance for the segment is appropriate, and that this cost structure places Arch's operations firmly at the low end of the U.S. metallurgical coal industry's cost curve.
In the Powder River Basin, first quarter 2017 sales volumes declined modestly compared with the fourth quarter of 2016. Average sales price per ton increased $0.16 in the first quarter when compared to the fourth quarter of 2016, benefiting from a favorable mix of customer shipments. Segment cash costs increased $0.45 per ton over the same time period, driven by the impact of lower volume levels, increased repair and maintenance expense and higher fuel prices. As previously indicated, the segment's fourth quarter cost performance was exceptionally strong. Arch is maintaining its cost guidance of $10.20 to $10.70 per ton for the full year.
In the Other Thermal segment, average sales price per ton increased $1.50 versus the fourth quarter, driven by stronger pricing on shipments of West Elk coal destined for the international marketplace. Volumes were modestly lower in the first quarter, due in part to reduced West Elk shipments to eastern U.S. power plants during a mild winter. While still below the guidance range, cash cost per ton increased when compared to the fourth quarter due to the impact of lower volume levels during the period. To reflect recent increased demand for West Elk coal, Arch is reducing the top end of its cost guidance for the segment. The company now anticipates costs to be in the range of $25.00 per ton to $29.00 per ton for 2017.
Key Market Developments
Metallurgical Coal Markets
The lingering impact of Cyclone Debbie, which continues to disrupt the coking coal logistics chain in Queensland, Australia, is buoying global metallurgical markets. According to the principal Queensland rail carrier an estimated 20 million metric tons of predominately coking coal supply was impacted due to the storm. The seaborne metallurgical market totals approximately 300 million metric tons.
Prior to the storm, metallurgical markets appeared to be in relatively healthy balance. Steel demand grew robustly in the first quarter; Chinese coking coal imports were up 50 percent year-over-year; and the expected seaborne coking coal supply response was largely confined to U.S. producers, who moved an additional 2.4 million tons of metallurgical coal into seaborne markets during the first quarter.
In late March, before Cyclone Debbie made landfall, the Platts price assessment for vessels loaded off the U.S. East Coast was $162.50 per metric ton for High-Vol A, Arch's primary metallurgical product. After the storm hit, High-Vol A prices peaked mid-month at $295 and have since settled back to $237 per metric ton. Low-Vol and High-Vol B products are currently being assessed at $212 and $185 per ton, respectively.
Thermal Coal Markets
In thermal markets, still-inflated utility stockpiles continue to dampen domestic demand and pricing, but the situation is improving. Assuming normal summer weather, Arch believes stockpiles should approach target levels by year-end.
Moreover, Arch is encouraged by the persistent strength in natural gas prices, which continue to hold up well despite an exceptionally mild winter and significant recent increases in drilling activity. Prompt month NYMEX is currently trading over $3.20 per million Btus and the future strip for the remainder of 2017 averages $3.39 per million Btus.
At the natural gas pricing levels noted above, Arch expects the vast majority of Powder River Basin-served coal plants to dispatch in front of natural gas-fueled power plants. In fact, several large customers have re-entered the market in recent weeks to shore up their coal supplies in the face of improving coal consumption.
International thermal pricing for prompt delivery in the Asia-Pacific region remains reasonably strong. Arch took advantage of the recent move higher to place additional West Elk tons into export markets.
Company Outlook
Based on the company's current expectations regarding the direction of metallurgical coal markets, Arch has raised its coking coal volume guidance for 2017. Arch now expects to sell between 6.7 and 7.1 million tons of coking coal, which excludes PCI coal. At the midpoint of its volume guidance level, Arch is over 85 percent committed on coking coal sales for the full year, with over 30 percent of that committed volume exposed to index-based pricing. At the midpoint of guidance, Arch's thermal sales are 88 percent committed for the full year.
"We are building upon our first-quarter results and expect our company to deliver an exceptional earnings performance in 2017," said Eaves. "Arch is strategically prepared to respond to evolving coal market dynamics, and we believe our strategic asset base, low-cost operational profile and strong balance sheet will enable Arch to deliver significant shareholder value."