Robert C. Byrd Institute Ramps Up Efforts to Help Southern West Virginia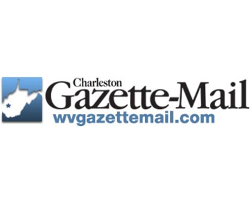 July 17, 2017 - Machines whir and stir throughout the day at the Robert C. Byrd Institute's Charleston Center, but their work rarely becomes repetitive.
Manufacturing equipment like the FORTUS 900mc 3D Printer, the EOSINT M280 Direct Metal Laser-Sintering System and the Abrasive Water Jet Machine produce solutions for West Virginia companies of all sizes in the fight to survive the rapidly changing business world.
"I like to think of us as problem solvers," said Jerry Jefferson, a technical trainer at the Charleston Center. "If someone has a lack of equipment or needs our help to program something, we have the tools to do that."
The problem solvers at RCBI have recently increased their focus toward Southern West Virginia. RCBI Director Charlotte Weber said the decline in coal production and population loss has made many West Virginians look for work elsewhere, especially those involved in manufacturing. The RCBI's recently launched Appalachian Hatchery project hopes to point them in the right direction.
"The Hatchery is a natural extension of what we already do: making opportunities to enhance lives and create jobs," Weber said. "We want to give people a reason to come back to West Virginia."
Announced in January following a $1.5 million grant from the U.S. Economic Development Administration, the Appalachian Hatchery aims to assist manufacturing businesses in the state's 20 southernmost counties that relied on contracts from coal companies to stay afloat. Through the program, the RCBI and its trainers help manufacturers pivot their focus from coal-related contracts to defense, transportation and even aerospace-related contracts.
"If you've always been a supplier to the coal industry, you didn't need to bid on contracts during [the industry's] peak — they came to you," Weber said. "Now we need to be preparing and prepping them for new markets."
Training takes place at Appalachian Hatchery "POWER Centers" in the southern half of the state, including Southern West Virginia Community and Technical College, the McDowell County Career and Technology Center and Advantage Valley.
Throughout the process, RCBI employees evaluate the manufacturers and help them determine what types of contracts they could get in non-coal industries. Typically, a manufacturer's production process won't be tailor-made to best create what the contract asks for. Appalachian Hatchery provides the tools necessary to help that shift, Weber said.
"We can help tell you if your techniques need to change, what sorts of equipment you need or if your quality management system needs to be a certain way to comply," she said. "We want to get you to a place to compete for a contract and bring work into West Virginia."
That often requires the advanced manufacturing technology seen at the Charleston Center or RCBI's Huntington or Bridgeport locations. The Charleston Center's resources are geared toward the metals, transportation and energy markets, according to the RCBI website.
With the program only a few months old and much of the contracting being with state and federal agencies, Weber said she can't reveal much in the way of Appalachian Hatchery success stories yet. But she said the program is helping a handful of coal-focused manufacturers already and that RCBI is looking to hire seven outreach coordinators to further spread word of the program.
"Our business outreach people will be visiting every one of these communities," said Mike Friel, a public information specialist at RCBI. "Hopefully businesses will soon learn that RCBI can hook them up with a training program. We need to continue knocking on doors like we have been."
RCBI employees have helped the prospects of quite a few West Virginia businesses since the institute, a Marshall University-based nonprofit, launched in 1990. Those assisted by the institute include operations as large as the Toyota West Virginia plant in Buffalo, which received RCBI assistance to test machines and fixture designs, and as small as the Fayette County-based Wild Mountain Soap, which used RCBI's 3D printers to help shape its soaps.
The Appalachian Hatchery concept doesn't stray too far from these traditional RCBI efforts, but the institute has also begun dipping its feet into the world of agriculture. The Summers County-based Sprouting Farms initiative provides support for new and beginning farmers by providing farmland and educational programming. The RCBI is involved along with the New River Gorge Regional Development Authority, Downstream Strategies and other development organizations.

"One of the farmers is learning to plant winter squash, harvest it and take care of it," Friel said. "We have people that leverage what they do [with Sprouting Farms] to start up their own farm."
Planting winter squash seems like a big step away from the 3D printing or prototype testing RCBI performs at its facilities. But Weber said it still makes sense under the RCBI umbrella.
"If you think about what RCBI does, its implementing advanced technologies to the manufacturing process," she said. "That can include medical or farming technology. It's still about using technology to further job growth and productivity."
The RCBI is also providing funding opportunities for early-stage businesses, having about $350,000 over the next three years via the Claude Worthington Benedum Foundation to spur startups. Weber said entrepreneurs would need to pitch their ideas before a committee (she said it is somewhat like "a Shark Tank experience") to be considered for the funding.
"I see tremendous opportunity," Weber said of the programs. "They're just readying the folks in Southern West Virginia. They are ready."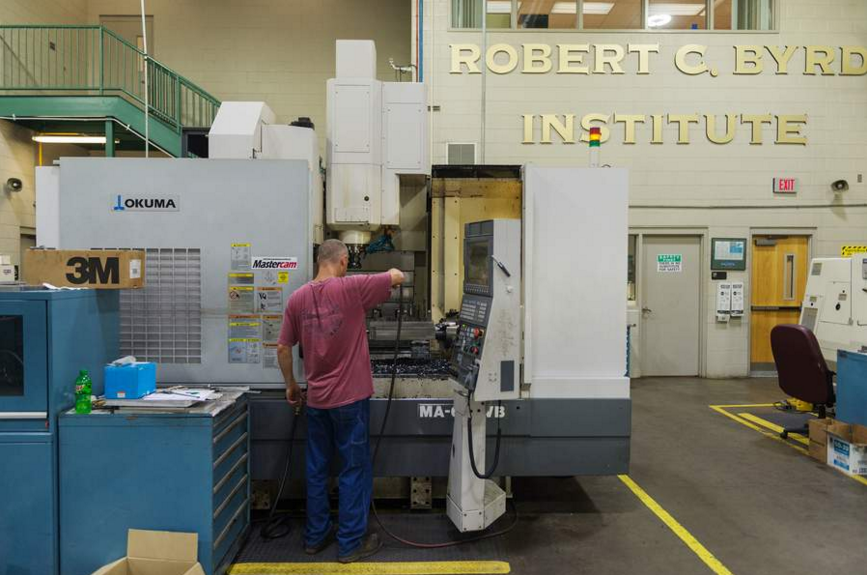 John Wells of the Robert C. Byrd Institute cleans an advanced drill that makes pedestals for the mining industry at the the RCBI's Charleston Center in South Charleston, WV.