Peabody Reports Earnings For Quarter Ended June 30, 2017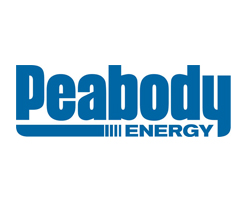 August 1, 2017 - Peabody (NYSE: BTU) announced today its second quarter 2017 operating results including revenues of $1.26 billion, income from continuing operations net of income taxes of $101.4 million, net loss attributable to common stockholders of $20.2 million driven by accelerated dividends due to conversion of preferred shares, and Adjusted EBITDA1 of $317.8 million.
The company's plan of reorganization was effective as of April 3, 2017, and Peabody adopted fresh-start reporting as of April 1, 2017. All operational results for the quarter ended June 30, 2017 are recorded on the successor financial statements, with the quarterly impacts of the company's reorganization recorded on the predecessor financial statements. As required by fresh-start reporting, the company revalued its balance sheet consistent with its plan value and therefore certain financial statement items are not comparable to prior periods. However, revenues and Adjusted EBITDA were largely unaffected by fresh-start reporting and are therefore generally comparable to prior periods.
"We're off to a running start with the strength of the diversified Peabody portfolio demonstrated in the second quarter, as Australian and U.S. platforms generated robust, balanced contributions even in the face of limited metallurgical coal sales due to Cyclone Debbie," said President and Chief Executive Officer Glenn Kellow. "We outlined an ambitious agenda and are pleased to have delivered on all fronts. Given that our cash position and outlook has further strengthened in the past quarter, we have taken tangible steps to accelerate our debt reduction while also authorizing a $500 million share repurchase program."
Second Quarter 2017 Results
Revenues for the second quarter rose 21 percent to $1.26 billion from $1.04 billion. U.S. volumes increased 23 percent from the second quarter of 2016 on improved demand largely driven by higher natural gas prices.
Australian metallurgical and thermal revenues per ton1 increased 114 percent and 41 percent, respectively, over the same period in 2016, despite lower volumes primarily related to the effects of Cyclone Debbie.
Income from continuing operations net of income taxes totaled $101.4 million and included $148.3 million of depreciation, depletion and amortization (DD&A) and $41.4 million in interest expense. DD&A includes $29.7 million of expense related to the amortization of certain U.S. coal supply agreements.
Preferred stock dividends totaled $115.1 million and included the non-cash impact of the three-year make-whole paid-in-kind dividends for the 39 percent of preferred stock that was converted to common stock during the quarter, resulting in net loss attributable to common stockholders of $20.2 million.
Second quarter Adjusted EBITDA increased $245.2 million from the same period in the prior year to $317.8 million, led by the Australian platform, which outpaced U.S. contributions and contributed an additional $181.6 million over the prior year.
Within Adjusted EBITDA
U.S. Adjusted EBITDA rose $14.1 million to $176.2 million driven by 23 percent higher volumes. Costs per ton1 improved nearly a dollar per ton primarily due to a higher mix of low-cost Powder River Basin volumes and continued focus on costs in the Western segment.
Australian Adjusted EBITDA increased $181.6 million to $177.8 million on improved seaborne pricing driven by supply and demand dynamics in the Asia-Pacific region. Sales volumes totaled 6.6 million tons, including 2.0 million tons of metallurgical coal sold at an average price of $145.31 per ton and 2.8 million tons of export thermal coal sold at an average price of $70.37 per ton, with the remainder delivered under domestic contracts.
As expected, Peabody worked through the effects of rail disruptions caused by Cyclone Debbie, which temporarily reduced sales volumes by approximately 1.2 million tons and impacted Adjusted EBITDA by $40 million to $50 million. Metallurgical coal sales volumes were back-end loaded in the second quarter with 1.3 million tons shipped in June alone. Metallurgical production volumes remained strong at 2.8 million tons for the quarter, outpacing sales volumes and providing the opportunity for increased sales and lower costs per ton in the second half of the year.
Australian thermal led the company's mining segments with record margins of 44 percent and Adjusted EBITDA of $105.9 million, reflecting solid seaborne coal pricing and low costs.
Liquidity at quarter end totaled $1.174 billion, including $1.096 billion in cash and cash equivalents and $78.5 million of accounts receivable securitization capacity. In addition, at quarter end, the company had $561.7 million in Restricted Cash Collateral associated with the company's coal mine restoration obligations and other activities. Peabody made progress in its initiative to free cash collateral during the second quarter, releasing $113 million that had primarily supported letters of credit under its accounts receivable securitization facility and a contract with a domestic Australian customer.
Peabody's cash position improved $27.6 million from March 31 through June 30, 2017, including the release of $113.0 million from restricted cash to available cash. Accounts receivable and inventories increased approximately $150 million for the three months due to higher sales in June and elevated inventory levels following Cyclone Debbie. In addition, as expected, Peabody paid approximately $180 million in Chapter 11 exit costs and settlements related to the company's plan of reorganization.
Following emergence from Chapter 11, Peabody now has more than $4 billion of U.S. net operating loss carryforwards as well as a previously announced sizable net operating loss position in Australia. As a result, Peabody expects modest annual U.S. cash tax outlays of $5 million to $10 million in coming years. In Australia, Peabody's expects limited cash taxes due to its net operating loss position, with the exception of taxes due on the company's incorporated joint venture earnings.
Note: All comparisons are to second quarter 2016 unless otherwise noted.
Financial Approach
Peabody today also announced its debt reduction and shareholder return initiatives following thorough discussions with current and potential investors, bond holders and advisors.
"We are pleased to accelerate our debt reduction activities and authorize a share repurchase program recognizing the strength of our second quarter earnings and steps taken by the organization to optimize future cash flows," said Executive Vice President and Chief Financial Officer Amy Schwetz. "Our simple, but powerful financial approach is to generate cash, reduce debt, invest wisely, and return that cash to shareholders. Based on our robust cash profile, we have established a capital structure that we believe is both flexible and sustainable throughout the cycle."
Liquidity Targets: Taking into account variability of pricing and cash flows and the ability to withstand cyclical downdrafts, the company believes the appropriate level of liquidity currently is approximately $800 million. Today, the company's liquidity is predominately in the form of unrestricted cash. The company will continue to evaluate alternative sources of liquidity, including the potential addition of a revolving credit facility, to reduce required cash needs on the balance sheet.
Debt Targets: Peabody is committed to a more sustainable capital structure across cycles, and the company's comfort level with debt is based upon its expected cash generation from its diverse portfolio of products and coal supply agreements. Based on that evaluation, the company is committed to deleveraging its balance sheet with a gross debt target of $1.2 billion to $1.4 billion over time.
Deleveraging: Peabody believes deleveraging benefits shareholders by moderating the company's risk profile, lowering interest expense and transferring enterprise value from debt to market capitalization. Additionally, an improved balance sheet should give Peabody the flexibility to repurpose cash currently restricted for collateral purposes. Peabody was able to free $113 million of restricted cash in the second quarter, and as the company's financial profile improves over time, the company will be better positioned to further release restricted cash for other uses.
Peabody is targeting $500 million of debt reduction over 18 months, with $300 million of debt reduction expected to occur by year-end 2017. As a first step toward this goal, Peabody made $150 million in voluntary payments of its term loan, leaving remaining debt of approximately $1.81 billion at present. (Voluntary cash reduction is credited against the excess cash flow sweep features of the company's credit agreement.)
Return of Capital to Shareholders: Peabody is targeting strong cash levels, modest sustaining capital expenditures, declining interest expense from debt reduction, and lower than anticipated tax outflows as a result of its substantial net operating loss carryforward position in the U.S. and Australia.
In addition to enhancing shareholder returns from deleveraging the balance sheet, the company expects to utilize excess cash flows to invest in its own stock. The company's board of directors has authorized a $500 million share repurchase program effective immediately. As part of the analysis on returning capital to shareholders, Peabody considered both share repurchases and dividends. The company believes that share repurchases represent an attractive investment opportunity and are an important part of Peabody's shareholder return initiatives. In addition, the board of directors will regularly evaluate a sustainable dividend program, targeting commencement in the first quarter of 2018.
Repurchases will be subject to limitations in the company's debt documents and may be made from time to time at the company's discretion. The specific timing, price and size of purchases will depend on the share price, general market and economic conditions and other considerations. No expiration date has been set for the repurchase program, and the program may be suspended or discontinued at any time.
The company intends to periodically evaluate the amount of cash available for shareholder returns in light of restrictions in its debt and equity documents, and may pursue means to obtain increased flexibility as appropriate.
Industry Fundamentals
Within the industry, U.S. coal demand remained strong through the first half of 2017 relative to the same period in the prior year, and seaborne coal fundamentals rebalanced following supply impacts from Cyclone Debbie in Australia and strong China coal import demand during the quarter.
In the U.S., coal consumption for electricity generation increased 6 percent year over year through June as natural gas generation declined 14 percent. The Powder River Basin represented the greatest growth in generation demand versus other coal producing regions, increasing 24 million tons during the first six months of 2017 over the prior year. Despite the shoulder season, Powder River Basin customer stockpiles declined to an estimated 57 days of maximum burn in June, a 17 percent decline from the same period in 2016.
Peabody continues to expect U.S. coal consumption from electricity generation to increase 30 to 40 million tons for full-year 2017 compared to 2016 levels. As anticipated, higher capacity utilization of U.S. coal plants is expected to offset the impact of approximately 15 million tons of lower demand as a result of coal plant retirements.
Within seaborne metallurgical coal, strong import demand has continued on steady growth in global steel production led by China. Through June, metallurgical coal imports in China rose 9 million tonnes, or 33 percent, led by improved GDP and a 5 percent increase in Chinese steel production driven by increased infrastructure and new construction. Peabody expects full-year 2017 seaborne metallurgical coal demand to increase 5 million to 10 million tonnes compared to 2016.
Australian metallurgical coal supplies recovered from disruptions due to Cyclone Debbie in late March, resulting in volatile metallurgical coal price moves from a high of $304 per tonne to a low of $139 per tonne before rebounding to approximately $175 per tonne in recent weeks. The second quarter benchmark price for hard coking coal was set at approximately $194 per tonne, using an index-based pricing mechanism that is likely to replace traditional settlement negotiations. In addition, Peabody set the low-vol PCI benchmark with a Japanese steel customer at $135 per tonne, more than 85 percent above the negotiated price in the second quarter of 2016.
With regard to global seaborne thermal coal, China coal import demand increased 16 million tonnes, or 20 percent, through June compared to the same period in the prior year as a result of strong generation, policy initiatives aimed to support domestic producers by sustaining coal prices, improving mine safety and rationalizing excess capacity. The increase in seaborne thermal demand in China more than offset import weakness in India resulting from elevated inventory levels at mines and utilities as well as strong hydro generation. The annual thermal coal settlement for the Japanese fiscal year beginning April 1 was set at $85 per tonne, up 37 percent compared to the 2016 settlement. Peabody expects full-year 2017 seaborne thermal coal demand to be roughly in line with 2016 levels driven by strong year-to-date Chinese imports.
Focus Areas
Peabody's near-term priorities include:
Increasing Australian thermal coal shipments versus the second quarter of 2017.
Ramping up metallurgical coal shipments on improved rail performance following Cyclone Debbie and the completion of the Metropolitan longwall move in the second quarter.
Further executing on the company's newly formulated deleveraging and shareholder return initiatives.
Following a review of long-term metallurgical coal mine planning, Peabody now expects to extend the life of its Moorvale Mine resulting in approximately 1.5 million tons of additional metallurgical coal production in 2021. The company continues to evaluate opportunities that could lead to stable metallurgical coal volumes over time and is working to improve productivity across the platform, particularly at the North Goonyella and Coppabella mines, which hold the company's largest metallurgical reserves.
Delivering on our guidance targets, which remain largely unchanged and are included in the appendix of this release.
Other Items
During the application of fresh-start reporting, a non-cash error was identified that impacted previously reported results arising from the utilization of deferred tax liabilities to offset deferred tax assets between certain of the company's taxable groups when assessing valuation allowances in prior periods. The errors are not material to the financial statements, and the prior period amounts reflected in this press release have been adjusted to reflect the correction. This would have resulted in an increase in tax expense in 2013 of $251.3 million and a decrease in tax expense of $53.8 million, $30.7 million and $10.5 million in 2014, 2015 and 2016 (including interim periods), respectively. The cumulative effect of the changes to retained earnings as of December 31, 2016 was a reduction of $156.3 million, with a corresponding increase to deferred tax liabilities. These adjustments have no effects on Adjusted EBITDA and no effects on financial performance moving forward. Peabody currently has a full valuation allowance against both its U.S. and Australian consolidated group net deferred tax assets (including net operating losses) in its successor financial statements.
Peabody is the world's largest private-sector coal company. The company is also a leading voice in advocating for sustainable mining, energy access and clean coal technologies. Peabody serves metallurgical and thermal coal customers in more than 25 countries on five continents.