Murray Asks Supreme Court to Hear Case on Lost Industry Jobs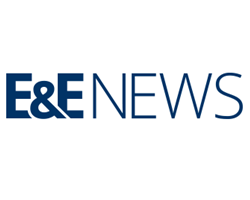 By Amanda Reilly
October 5, 2017 - Murray Energy Corp. is taking its fight over coal industry job losses during the Obama administration to the Supreme Court.
In June, the 4th U.S. Circuit Court of Appeals soundly rejected the coal company's lawsuit alleging that U.S. EPA had failed to account for coal job losses tied to its air rules.
Murray last week filed a petition with several other coal companies seeking high court review in the case, according to the Supreme Court docket.
"The Fourth Circuit has immunized EPA from evaluating the job losses suffered by the coal industry due to EPA's unprecedented efforts to curtail coal combustion," the petition says.
The company brought the lawsuit in 2014 alleging EPA had failed to comply with a section of the Clean Air Act that says the agency "shall conduct continuing evaluations" of job losses or employment shifts brought on by air regulations.
The coal company — whose CEO, Robert Murray, is a major supporter of President Trump — cast the suit as fighting back against the Obama administration's "war on coal."
Judge John Preston Bailey of the U.S. District Court for the Northern District of West Virginia issued several rulings in favor of Murray and in January ordered EPA to submit by July 1 an evaluation of how its regulations affect coal jobs, mine closures and power plant shutdowns.
Despite its condemnation of Obama-era air regulations, Trump's EPA appealed the January order in the 4th Circuit. There, judges were skeptical of Murray's claims and of the language in Bailey's order, saying it imposed highly specific requirements on EPA not contained in the Clean Air Act.
A three-judge panel of the appeals court overturned the ruling in late June, finding that EPA had "considerable discretion" over how it evaluates the job impacts of its regulations.
The 4th Circuit sent the case back to the district court with instructions to have it dismissed. Bailey issued an order yesterday formally dismissing the lawsuit.
In its petition, Murray said the 4th Circuit erred when it found it didn't have jurisdiction because the Clean Air Act's citizen suit provision was restricted to enforcing legally required duties.
The company argued that there was "no question" that Congress intended for EPA to conduct mandatory evaluations of the economic impacts tied to air regulations.
"For the beleaguered coal industry in particular, the result is the denial of a detailed job loss evaluation that EPA was days from submitting to the district court and which would have shed valuable light on the true cost of EPA's recent energy policies," Murray told the court.
The government's response is due Nov. 1. It takes the votes of four justices for the Supreme Court to hear a case.