Anglo American in Australia for the Long Haul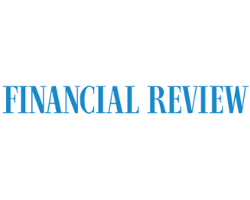 By Peter Ker
October 7, 2017 - This time last year the workers inside Anglo American's Brisbane office were debating whether their redundancy cheques might arrive before the Christmas holidays.
With a major debt problem to solve, the company had put all of its Australian assets (and many more overseas) up for sale, and replacements were not being found for the steady stream of departures from its local workforce.
Closure of the Brisbane office would cost more than $63 million, according to documents filed by Anglo with the Australian Securities and Investments Commission, but that spend was a minor detail in the urgent rush to prune the company's costs and fix its balance sheet.
But things change quickly in commodity markets, and to many people's surprise, Anglo remains the major tenant within the box-shaped building at 201 Charlotte Street.
A quicker than expected repair of the balance sheet has seen the plans to exit Australia junked, and the mood inside the Brisbane office was starkly different this week, not least because Anglo's straight-talking chief executive Mark Cutifani was in town.
Cutifani's visit included a gala function to celebrate Anglo's centenary at Brisbane's Old Government House, an event that unofficially served as a statement to staff and the political class that Anglo was planning to hang around.
When asked if the company wanted to be in Australia for the long haul, Wollongong-born Cutifani told The Australian Financial Review; "Certainly from our point of view, yeah".
Stunning Revival
A stunning revival in commodity prices, particularly for coking coal, eased the balance sheet pressures and allowed Anglo to cancel the sale process for its best Queensland coking coal mines (Moranbah North and Grosvenor) earlier this year.
Cutifani says the company is no longer trying to sell its marginal Australian coal mines either.
"We finished the sale process and we have the assets we want to go with for the long term," he says.
Many industry observers wonder whether Anglo's rediscovered commitment to Australia will last only as long as it takes for better offers to emerge for its local assets, but in the meantime the company is putting money where its mouth is, adding scores of new staff in Queensland this year and advertising for more.
Some analysts in London saw the retention of the assets Anglo shopped around as a failure to commit to strategy, after Cutifani told the market just a year earlier that the company's future would be in just diamonds, copper and platinum group assets.
Mines producing nickel, iron ore, coal and manganese remain part of the Anglo portfolio today, and diversification is now a selling point.
"If you look at us we are the most diversified of the [mining] majors," Cutifani says.
"Some of the miners now are becoming very much concentrated on one or two commodities. We are naturally diversified, we have great assets across those portfolios."
Focus on Quality
He says the current strategy is to focus on asset quality, rather than targeting specific commodities or jurisdictions, and with gearing below 20 per cent, he sees no urgent need to sell profitable assets that did not garner acceptable bids from suitors.
"We had some real issues ... [development of Brazilian iron ore project] Minas Rio and a couple of other things put the balance sheet under real stress and we did a lot of things to improve that and the fact we are now in a position where we are able to protect the high-quality assets that we have and been able to commit to their development on a go-forward basis is great news for us, we are very happy and it has been a great success story."
With financial health restored, Anglo resumed dividends in August and its share price struck a three-year high on Friday, helped by speculation that Indian billionaire Anil Argawal is plotting a takeover or merger with his existing resources investments.
Having walked away from asset sales, the rumour mill in Brisbane suspects Anglo could be an acquirer of Queensland coal mines, with Rio Tinto's Kestrel coking coal mine thought to be a focus.
Rio is expected to open the Kestrel data room before Christmas with a sale expected by February.
When asked about Kestrel, Cutifani doesn't rule out a bid: "I think you have always got to keep yourself open to what may be in the market place, [Australian division chief Seamus French] and the guys will decide whether they will do that.
"If there is something that fits and makes sense and we see returns, then Seamus knows that he can bring it and we will give him a good hearing.
"We are certainly not in any significant or active processes at the moment ... given the opportunities we have, given what we have done with the portfolio and given the organic opportunities we have, we are not pressed to do anything aggressive."
Organic Opportunity
One such organic opportunity in Queensland is the Moranbah South coking coal project, which Anglo owns 50:50 with South African miner Exxaro.
Exxaro has flagged plans to sell its half of the project, and Anglo has first rights to buy it, but Cutifani gives little away when asked if the asset could be tied into Anglo's adjacent Moranbah North and Grosvenor mines.
"It is potentially a good asset but there is a lot of work to be done, so we are reflecting on how it might fit, and I am sure that once those reflections are over we will have some sort of discussion on where to from here," he says.
"It will require different technical solutions, some have been defined, some not, so there is still some work before that asset would get across the line in being justified."
Of more immediate priority is getting Grosvenor, which attracted a bid from BHP Billiton last year, to achieve its potential after a disrupted start to its operating life.
Built for $US1.95 billion, Grosvenor produced first coal in May 2016 but its ramp-up has been hurt by "geotechnical issues" which ensured production in the June quarter was 74 per cent lower than the first quarter of 2017, and just a tenth of the output expected when the mine reaches full capacity.
French, who was with Cutifani in Brisbane this week, says he is confident the new mine has encountered the worst of its geological stresses and output has improved from about 80,000 tonnes per week in June to an average of 175,000 tonnes per week in recent months, creating confidence that 200,000 tonnes per week can be achieved in the near future.
"The initial geotechnical issues that you face in a longwall mine, they will disappear," he says.
Supportive Board
"We saw enough in those last few months to give us an awful lot of confidence that once we have encountered this longwall move, we will be able to better the performance."
Cutifani's stint as chief executive has stretched for nearly five years, having been appointed within months of BHP's Andrew Mackenzie, Rio's Sam Walsh and Vale's Murilo Ferreira in early 2013.
Walsh and Ferreira have already departed, and with new chairmen installed at BHP and Anglo, the tenure of Cutifani and Mackenzie will closely watched over the next two years.
"When I started people said it is the worst job in the world, no one would want it because you couldn't fix it and the bets were that I would be the first one gone," says Cutifani.
"I'm still here after four and a half years, the board has asked me to continue and has been very supportive.
"At some point it will be appropriate for me to ride off into the sunset but we are not thinking about that at the moment, we have still got a lot more work to do and I am having the time of my life with a great group."