Coal's Upturn Favors Open-Pit Mines in Western States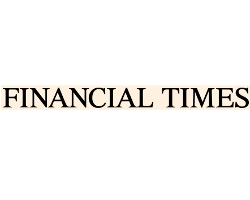 By Ed Crooks
November 2, 2017 - The US coal industry has been making a comeback this year, hailed this week by President Donald Trump.
In the power generation sector, however, only one variety of the fuel is in demand — low-cost production from the large open-pit mines of western states such as Wyoming.
The trend has buoyed listed US mining groups Peabody Energy and Arch Coal, which have both emerged from bankruptcy after the wave of failures that swept the industry in 2015-16. But it is a bad sign for the Appalachian region, including states such as West Virginia and Kentucky, which Trump has pledged to help.
Healthy demand for thermal coal, used for power generation, from the Powder River Basin of Wyoming and Montana is helping support a US mining industry that is focusing on controlling debts and returning cash to shareholders.
Coal production has been rising across the US, but the boost to output in Appalachia has come from more volatile export sales and metallurgical coal, used for making steel, not from thermal coal.
US consumption of central Appalachian coal for power generation has fallen 20 percent this year compared with the equivalent period of 2016, according to Peabody. Consumption of coal from the Powder River Basin, meanwhile, has risen 8 percent.
As a result Peabody, which produces about 80 percent of its US coal from the Powder River Basin and also has a large business in Australia, is on course to resume paying a dividend next year, in spite of a generally challenging outlook for the industry.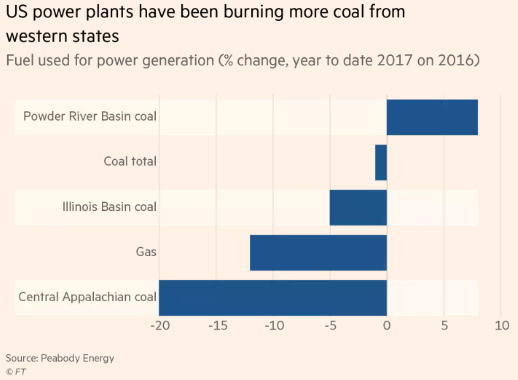 Glenn Kellow, Peabody's chief executive, said that its US operations provided a "stable platform" for the company, which is the world's largest listed coal producer.
Peabody went into Chapter 11 bankruptcy protection with debts of about $7bn in April 2016, and emerged just under a year later with gross debt of about $2bn.
It shed all of its mines in West Virginia and Kentucky in 2007, when they were spun off into a company called Patriot Coal, which has since gone into bankruptcy twice and sold most of its assets in 2015.
Demand for coal in the US has been hit by competition from gas-fired power plants with low-cost fuel from shale production, slow growth in electricity consumption, and by the rise of renewable energy sources such as wind and solar power that have benefited from tax breaks.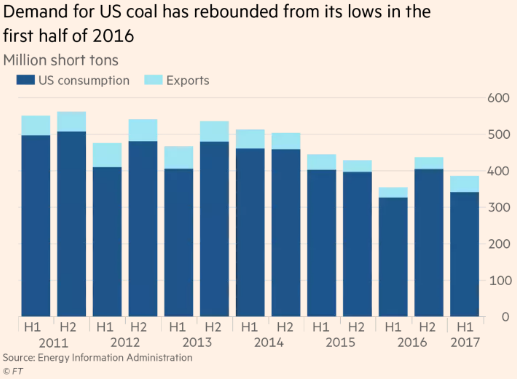 In those fiercely competitive conditions, surface mines in the Powder River Basin are less vulnerable than underground mines in the older mining areas of Appalachia, because their production costs are much lower.
Peabody's Powder River Basin coal is competitive against gas with a price of about $2.50-$2.75 per million British thermal units, Kellow said, where Appalachian coal, depending on its distance from a power plant, can need a gas price of more than $4 per mBTU to compete. Benchmark US gas for the coming winter is trading today at about $3 per mBTU.
In another sign of the difficulties facing US producers of thermal coal in eastern states, privately held Armstrong Energy, which has mines in Kentucky, this week filed for bankruptcy as part of a restructuring plan.
Peabody's US profits have been under pressure: it last week reported US earnings before interest, tax, depreciation and amortisation of $197m for the third quarter, down 9 percent from the equivalent period of 2016. But soaring profits from its Australian mines, helped by strong demand in Asian markets, have helped it to pay off debt and buy back $100m worth of shares.
The company has said it aims to start paying a dividend in the first quarter of next year.
Arch, another US mining group with most of its production coming from the Powder River Basin, emerged from Chapter 11 in October 2016. On Monday it reported results showing that its margins had come under pressure in the third quarter, but its cash profits from sales from the Powder River Basin were still up 13 percent for the first nine months of the year. It has also been buying back shares paying a dividend.
John Drexler, Arch's chief financial officer, told analysts the company was "intensely focused on maintaining a healthy balance sheet and ample liquidity" and highlighted its "modest capital requirements [and] exceptionally low interest expense".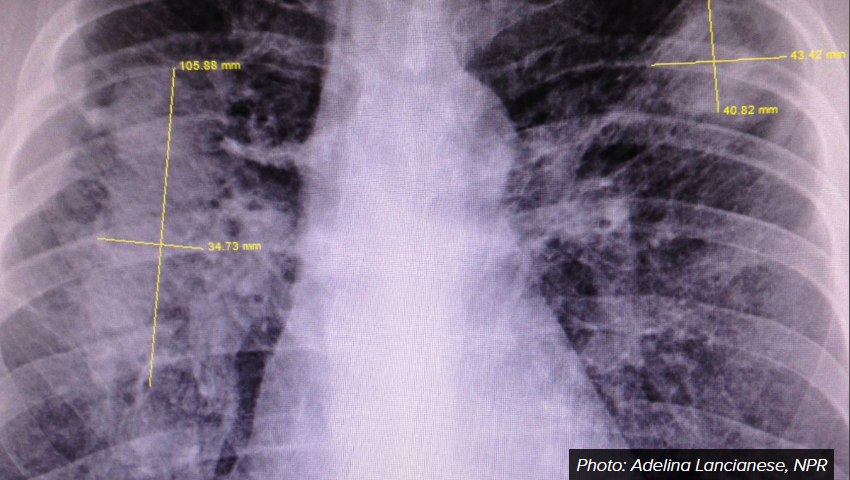 The tentative nature of the revival in US coal, and the difficulties facing Appalachia in particular, have prompted the Trump administration to look at ideas that might help the industry, including proposing new regulations to support coal-fired power plants in competitive electricity markets.
Kellow said it was "enormously important that the administration has recognized coal as an essential part of the energy mix".
However, Matt Preston, a research director for coal at Wood Mackenzie, suggested the industry should not pin too much hope on the administration's plan.
"It can certainly stop coal plants from closing, but it doesn't have any power to make them run," he said. "Maybe in the very long run it will matter, but for the next 10 to 15 years it doesn't make much difference to coal demand."
Copyright The Financial Times Limited 2017. All rights reserved.