Hitachi Sees Australia's Mining Industry as Almost Entirely Autonomous by 2030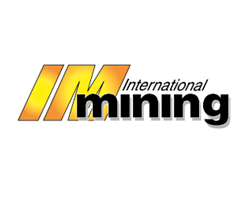 By Paul Moore
December 1, 2017 - Hitachi Ltd yesterday announced at its Social Innovation Forum Queensland that over the past 18 months it has invested approximately A$875 million of the A$1.25 billion it committed to investing in its Australian Social Innovation business by FY2020. Owing to the company's belief that Australia's mining sector is an undisputed world leader, Hitachi has focused the bulk of this investment in Australian mining in order to further accelerate the industry locally through digital advancements and the IoT (Internet of Things), and then export this innovation to other parts of the world.
By 2030, Hitachi predicts that Australia's mining industry will be operated almost entirely by autonomous machines. Game-changing innovations, such as remote and integrated operations centres, autonomous vehicles and analytics, will have been filtered down from being used only by Australia's largest mining companies, to being commonplace across the entire industry in less than 15 years.
Such advances in technology are predicted to increase productivity and reduce costs by up to 25%, which will have a significant impact on retaining Australia's competitiveness in the Asia Pacific region, in addition to major positive social impacts such as the ability for mining employees to work in metropolitan areas. Hitachi also predicts that by 2030 most mines will have fully integrated IoT systems that will connect all mining operations to central analytics hubs where strategic decisions can be made and implemented thousands of kilometres away from the mining site.
Despite a period of downturn, current strong demand for commodities has meant the market has begun to recover and the world views Australia's mature mining industry as rich with opportunity. Hitachi's Managing Director, Atsushi Konishi, said: "There are several large mining companies that are looking at Australia to implement new digital technologies in order to then replicate them in other regions of the world. Embracing smart technology including digitisation and IoT (Internet of Things) in the mining industry is imperative for Australia to maintain its leadership position."
One of the key technologies that will drive the autonomous mining revolution is Hitachi's Autonomous Haulage System (AHS). AHS leverages technologies developed for Hitachi Ltd.'s automotive and railroad solutions as well as fleet management and dispatch system to increase productivity and lower the total cost of ownership.
Since 2016, Hitachi has made several acquisitions relevant to mining, including the purchase of Bradken, HE Parts and Sullair. Hitachi has increased its Australia workforce by employing an additional 2,000 employees since 2016 and today has about 3,650 employees in the region. Hitachi is on track to triple its FY2015 revenue total in Australia to reach A$3.75 billion by FY2020.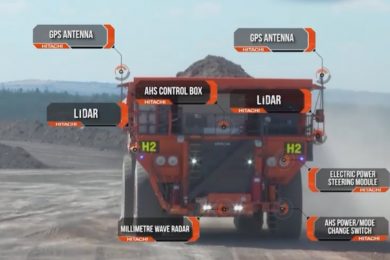 Hitachi Truck