Big Brutus Volunteers Aim for National Register of Historic Places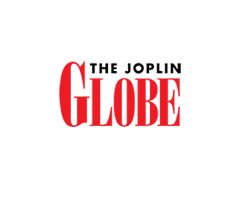 By Kimberly Barker
January 4, 2018 - Towering above the treetops at 160 feet tall, an orange-and-black electric shovel stands like a beacon, calling nearby travelers to the former coal mining town of West Mineral, Kansas, the home of Big Brutus.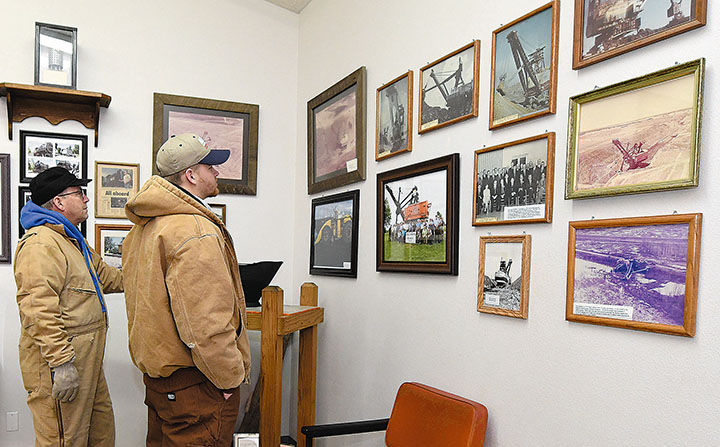 Clint Lambeth (left), of Webb City, and his son, Matt Lambeth, of Branson, check out the exhibits during a visit last week to the Big Brutus Museum in West Mineral, Kansas.
Photo by Laurie Sisk, Joplin Globe
The 11 million-pound giant was built by Bucyrus-Erie for the Pittsburg & Midway Coal Mining Co. in 1962 after it was shipped on 150 train cars from Milwaukee to Hallowell, Kansas. At the time, the cost of the shovel was $6.5 million.
The shovel was built in 11 months by 52 workers and was in operation from 1963 to 1974. Big Brutus was a nickname coined by mine superintendent, Emil Sandeen, who called it a "brute of a machine," according to Betty Becker, Big Brutus Museum manager.
"Once Big Brutus started working, it worked around the clock, seven days a week," Becker said. "In the summertime, there was just a couple of weeks where they always shut down for repair."
Preservationists and volunteers like Becker have been working to get the world's largest electric shovel on the National Registry of Historic Places after getting it placed on the Register of Historic Kansas Places in November 2017. Its nomination for the national list has been forwarded to Washington, D.C.
Amanda Minton, adjunct history teacher at Pittsburg State University and director of the Crawford County Historical Museum, believes Big Brutus would make a worthy addition to the national list.
"Big Brutus is a rich source of historical significance to this area," Minton said. "Children and adults marvel at the size of the electric shovel that continues to stand tall and proud for the miners who worked hard and brought their families to Southeast Kansas to give them a better life. I wish Big Brutus all the best for making the National Register."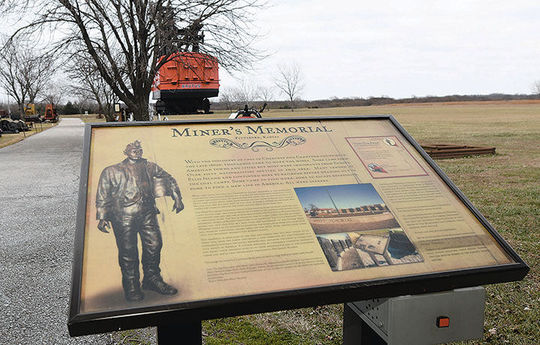 A plaque at the Big Brutus Museum pays tribute to the immigrants who helped make mining in Cherokee and Crawford counties possible.
Photo by Laurie Sisk, Joplin Globe
Once approved for the National Register of Historic Places, the machine can have access to certain tax credits and federal rehabilitative grants. The board of directors of Big Brutus Inc. will be notified about its nomination this month or next.
"You have to be 50 years old to qualify, so it's just been recently something that we've been working on," Becker said.
Becker has helped run the Big Brutus visitors center since its establishment in the mid-1980s. The nonprofit museum occupies almost a dozen acres in the Mined Land Wildlife Area, where Big Brutus overlooks a pit filled with water. Volunteers helped rejuvenate the machine and gave it a purpose, Becker said.
"The museum started in 1985, and Big Brutus sat out here for 11 years before it was ever refurbished or anything," Becker said. "Volunteers got together and decided they were going to clean it up and have it as a museum. In the beginning, Pittsburg and Midway Coal Co. owned Big Brutus and donated it to the nonprofit. They also donated the first repainting of Big Brutus. Over time, we've saved our money."
For Becker, the colossal machine is a reminder of home and the days where her father, Joe Macari, would work in the mines as a truck driver, hauling coal from the pit to be washed.
"I lived in the area all my life," Becker said. "My father worked for P&M for a long time, so we have always been a coal mining family. Then, when the group of individuals volunteered to get Big Brutus cleaned up, I got involved in it. It's really been in my family for a long time."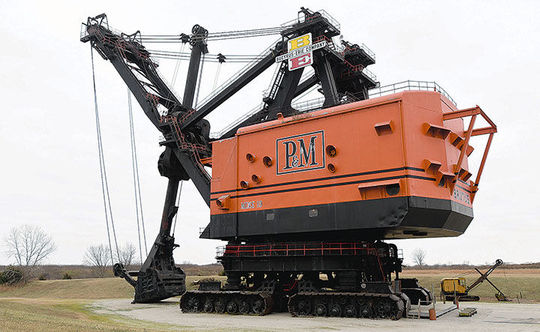 Big Brutus towers over a regular-sized shovel (bottom right) at the Big Brutus Museum in West Mineral, Kansas
Photo by Laurie Sisk, Joplin Globe
The device's bucket held up to 150 tons of material at a time.
"It was used to remove the dirt and rock from on top of the coal and provided coal to seven electric companies," Minton said. "Due to cost, coal in the area being depleted and coal prices no longer making a profit, Big Brutus was only used for less than a decade and was shut down in 1974."
West Mineral was once a booming mining town that attracted immigrants from all over the world, including Germany, Ireland and Italy. In 2010, the census recorded 185 town residents.
"For a long time, Big Brutus provided a lot of jobs for a lot of individuals who lived in the town of West Mineral and surrounding area," Becker said. "It helped our school and everything. We had grocery stores and all kinds of things in the little town of West Mineral, and now there's not much of anything, except for Big Brutus."
To this day, Big Brutus serves as a historic landmark in Cherokee County, attracting more than 30,000 visitors annually. Numerous groups visit the machine, including Boy Scout troops, school groups and campers.
"Today, Big Brutus is used as a teaching tool for children and adults to learn about the history of coal mining," Minton said. "An 8th Wonder of Kansas finalist, it is important that Big Brutus be listed on the National Register to help document the significance of coal mining and the impact it had in the area. It will also be beneficial for tourism and economic growth in the community. Lastly, once on the National Register, more grants are available to the museum."