Export, Pennsylvania Starts Saving for J.M. Hall Jr. Community Park Project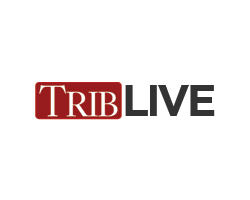 By Patrick Varine
January 4, 2018 - As he shifts from his council chair to the mayor's seat, Joe Zaccagnini of Export, Pennsylvania is looking to the future.
Specifically, he's looking to the future of the proposed J.M. Hall Jr. Community Park.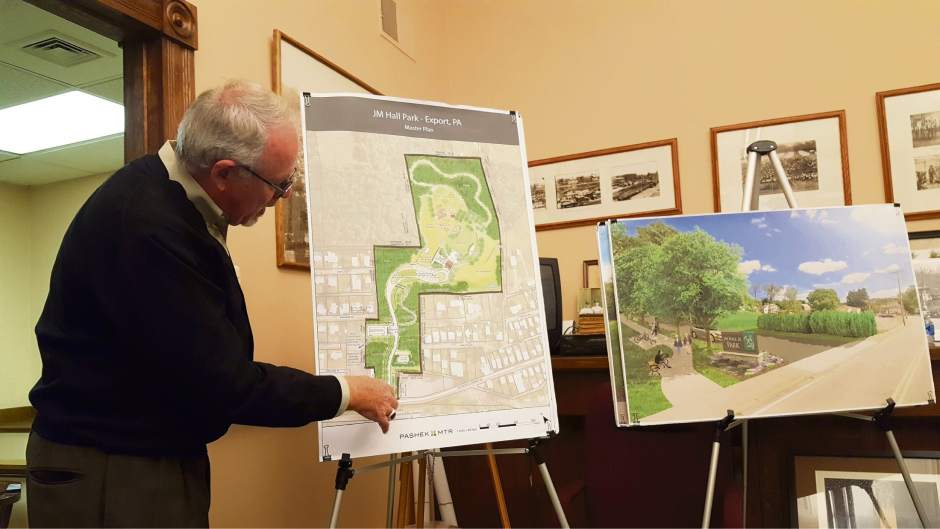 Jim Pashek of Pashek+MTR shows conceptual drawings for the future J.M. Hall Jr. Community Park in Export Borough.
Photo by Patrick Varine, Tribune-Review
Zaccagnini received council approval Tuesday night to set up a grant-matching account "so that we can start working to build the park," he said.
Preliminary plans for the 15-acre property include bocce courts, a small amphitheater, paved walkways, a hiking trail, a mural wall and several nods to the borough's mining past: a grove of the same type of black locust trees miners planted and used as timber, a hillside cut creating a mock mine entrance near the real former entrance to a Westmoreland Coal Company mine and active playground features that have a natural look and feel.
Council unanimously approved setting up the grant-matching account, using as seed money $10,000 the borough received from Sunoco as part of a right-of-way agreement, along with $400 per month in rental fees from properties Hall owned. That fund will be set up in April.
Development of the property, located just east of Garfield Street, would be phased in over several years.
Jim Pashek, whose Pittsburgh firm designed the concept plan for the park, proposed a natural buffer, bike racks, entrance signs, interpretive historic panels, benches, shade trees, restrooms, picnic tables, some paved walkways and other design requirements in a first phase, which would cost roughly $600,000 — with restrooms accounting for a third of that.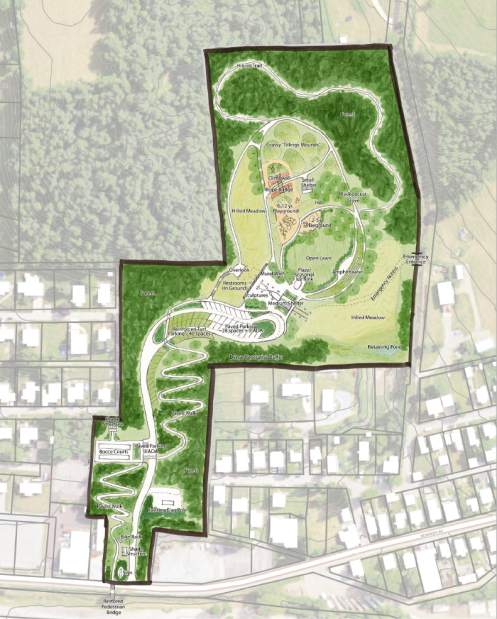 Above Pashek+MTR concept drawings for the future J.M. Hall Park in Export, PA.
Artwork by Pashek+MTR