FERC Expected to Meet Rick Perry Halfway on Coal Subsidies
By Josh Siegel
January 8, 2018 - Energy experts expect federal regulators this week to reject Energy Secretary Rick Perry's proposal to subsidize struggling coal and nuclear power plants, but then meet him halfway in beginning to change how electricity generators are compensated.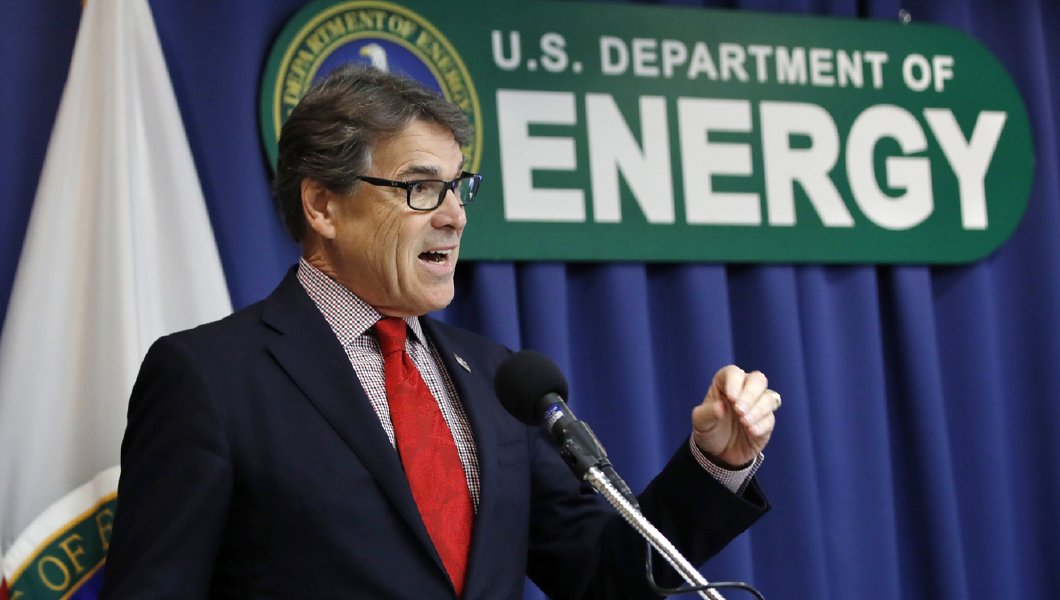 Energy Secretary Rick Perry worries that as retiring coal and nuclear plants, which operate around-the-clock, are replaced by natural gas and intermittent wind and solar, the grid may struggle to provide power quickly during an extreme weather event or other emergency.
Photo by Jacquelyn Martin, Associated Press
Analysts say the Federal Energy Regulatory Commission, facing a Jan. 10 deadline to rule on the proposal, probably will take action to begin a process of changing how power plants are paid for their ability to provide reliable and resilient power to the electricity grid.
"Clearly, doing nothing is not a solution," said Alison Silverstein, an energy consultant and former FERC staffer who helped write a Department of Energy study last year on the health of the power grid. Doing nothing "is not an appropriate technical or market solution because it would contribute to uncertainty and be a huge and unnecessary diss to DOE."
"Resiliency is an important issue even if the secretary's proposal misframes the solution," Silverstein said in an interview with the Washington Examiner. "What FERC needs to do is say, thank you for your proposal, we are not doing that, but we are moving forward with a separate inquiry that studies whether power plants are being paid enough for the right things."
Perry, in the name of resilience, asked FERC in September to rewrite the rules governing wholesale power markets to reward power producers in the Midwest and Northeast that are able to store enough fuel for 90 days of generation on-site. Only coal, nuclear, and some hydropower plants can fulfill that condition.
The energy secretary says that as retiring coal and nuclear plants, which operate around the clock, are replaced by natural gas and intermittent wind and solar, the grid may struggle to provide power quickly during an extreme weather event or other emergency.
Supporters of the argument cite the cold spell slamming the U.S. in recent weeks as justification for their case.
The deep freeze this month made coal the leading provider of electricity for heating in the East because of rising natural gas prices. Coal beat out every other form of power plant fuel in the federally overseen PJM electricity market, which includes 13 states from Illinois to the District of Columbia.
"This winter's extended cold weather is proof that we need updates to our nation's electricity markets to ensure the reliable electricity we are getting from coal will be there when called upon in the future," said Michelle Bloodworth, chief operating officer of American Coalition for Clean Coal Electricity, a trade group representing coal producers.
But the wider energy industry, from oil and natural gas producers to wind and solar, opposes the proposed rule, saying it would upend competitive power markets by propping up failing plants and increasing prices for consumers. Opponents say coal, facing underlying competitive problems, should not be rewarded for its performance during the cold spell.
"Coal is getting a temporary reprieve because natural gas prices are much higher because of the cold weather," said John Hughes, president and CEO of Electricity Consumers Resource Council, which represents large industrial power consumers. "But this is a minor victory because coal's fundamental problems are aging plants and economics."
Perry's unusual request to save coal puts pressure on FERC, an independent agency that regulates the interstate transmission of electricity.
After initially giving the commission 45 days to rule, Perry begrudgingly extended the deadline to Jan. 10 at the request of FERC's new Republican chairman, Kevin McIntyre. FERC, however, does not report to Perry and has the authority to approve, modify, or outright reject his plan.
Energy experts say FERC, with three Republican commissioners and two Democrats, does not have the votes to enact Perry's proposal as requested, but instead will take a middle-ground action.
Christie Tezak, an analyst at ClearView Energy, a research group, says it's unlikely FERC will grant a short-term bailout of coal and nuclear plants, especially when the grid has an over-abundance of power supply.
"FERC when there is something this controversial often tries to find something in the middle and this is likely to be one of those circumstances," Tezak said. "The record is not strong enough to demonstrate companies and utilities are in acute economic distress. To suggest the market is teetering on the brink of disaster when we have electricity reserves in excess of 20 percent is a tough factual conclusion to make."
Tezak and other analysts say Perry's proposal addresses the important challenge of how to properly value and define attributes such as reliability and resilience as the grid's characteristics are changing.
But they say Perry's preferred solution, rewarding power generators that can provide 90 days of fuel supply, would not fix the problem.
The Rhodium Group, a research firm, said in a recent independent study that "of all the major power disruptions nationwide over the past five years, only 0.00007 percent were due to fuel supply problems. The vast majority were the result of severe weather knocking down power lines."
Additionally, critics argue that coal and nuclear do not protect the grid during extreme events.
Perry in substantiating his proposal often cites the January 2014 polar vortex, when the power grid came close to blacking out because power plants could not keep up with energy demand.
While natural gas faced pipeline constraints, some coal-fired power plants were unable to generate electricity because their coal piles froze and their equipment malfunctioned in freezing temperatures.
"Perry's proposal is a disaster for people who pay the bills," said Nora Mead Brownell, a former Republican FERC commissioner in the George W. Bush administration. "But most people agree this is an inflection point for the industry. The proposal raised a conversation about what the grid of the future looks like, what are the challenges that face it, and whether reliability somehow has been compromised by the change in generation mix."
Under the current compensation system, operators of wholesale power markets hold auctions where electricity generators make bids, with the goal of matching supply to demand at the lowest possible price for consumers. Coal and nuclear plants are increasingly uncompetitive in this process because they struggle to keep costs low and still make a profit.
Brownell and other experts say FERC has some options to address Perry's concerns about coal and nuclear's struggles, without delivering on his specific request.
FERC could order the regional transmission organizations, such as PJM, and independent system operators, like Midcontinent Independent System Operator, Inc. in the Midwest, that oversee wholesale power markets to define resilience and reliability and propose metrics that value those attributes.

For example, FERC, working with the operators, could decide which power sources qualify as reliable and resilient and then require power markets to obtain a specific amount of generation from them and to properly compensate them.
"I could see a proposal to identify a set of characteristics that define reliability and resilience, and tell the ISOs and RTOs to use a market-based format like bids or auctions to procure a certain amount of eligible products," Tezak said. "I wouldn't be surprised if FERC cast a wider net in the end, and that not just coal and nuclear qualify."
PJM already has offered its own solution that would allow coal and nuclear plants to set their own prices, charging a bit more for their electricity.
"The bottom line either is though these wholesale markets feel remote to most consumers, they are part of a relatively complex regulatory design that involves not just federal and state governments, but at the end of the day, impacts what you pay as an end-use consumer and whether you have access to reliable electricity," said Tony Clark, a former Republican FERC commissioner. "That's why it's important."