Trump and North Dakota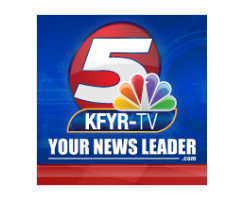 By John Salling
February 3, 2018 - According to the Lignite Council, the regulations under the Obama administration may have one day led to the closing of half of North Dakota's coal power plants and mines.
"We are now seeing the Trump administration rolling back those regulations, and those really were onerous regulations to the lignite industry," said Steve Van Dyke, Lignite Energy Council Vice President - Communications.
The Lignite Council says that the most important regulation that was rolled back were restrictions on CO2 emissions that North Dakota power plants would have had trouble keeping up with.
"We have the best technology when it comes to producing coal, clean coal technology. Nobody's ahead of North Dakota, and it's all about empowering our great companies to do what they do and that's supply low cost, dependable energy," said Sen, John Hoeven, R-N.D.
The council states that Trump's policy mirrors the business friendly positions of North Dakota which support a mix of power sources.
"Every generation source has it's time and place, but we know that when it's cold or when it's extremely hot, it's good to have base-load power plants such as the lignite power plants," said Van Dyke.
Closing coal mines would have serious repercussions for towns like Hazen and Beulah, which depend on those jobs.