Big Brutus Added to National Register of Historic Places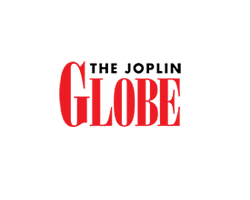 By Kimberly Barker
February 5, 2018 - Big Brutus, the electricity-powered, dragline shovel enshrined in West Mineral, Kansas, made the cut and is now added to the National Register of Historic Places, the country's list of historically significant properties.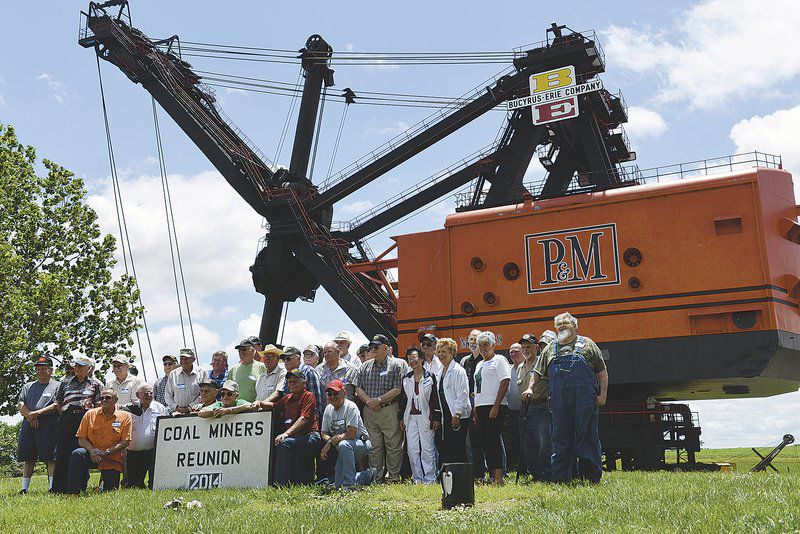 Former coal miners are flanked at a picnic in June 2017 by Big Brutus, an electricity-powered shovel that was used in the strip mines until about 1974 in Southeast Kansas.

Photo by Roger Nomer, Joplin Globe
The Bucyrus Erie Co. Coal Shovel Model 1850-B, the largest shovel of its kind now in existence, was added to the national listing on Jan. 5. Dedicated groups of volunteers helped secure its nomination to the state register in November 2017, from which it then advanced to the national listing.
"Both the state and national registers are meant to highlight special places throughout each state, so I like to think of them as a collection of places that matter that are really unique to each state," said Amanda Loughlin, a National Register coordinator for the Kansas Historical Society. "Big Brutus is definitely one of a kind, especially in Kansas."
In Kansas, the nomination starts at the state level and preliminary information is sent to the Kansas Historical Society for review. Next, trained preservationists will analyze the information and its significance. After deciding if it's eligible and meets specific criteria, it's then taken to a state appointed board, which recommends it to be forwarded to the National Park Service. The NPS has the final say for it to be listed on the National Register, and it has about 45 days to make the decision, according to Loughlin.
"By the time it goes to our board and then certainly to the Park Service, there's a good chance of it being accepted because we worked with the owners and the submitters to make sure it goes through," Loughlin said. "This is the process that we go through, and every state is different."
Loughlin said when representatives visited the shovel, they were not only mesmerized by its size but also captivated by its association with the coal mining industry and how it capped off the end of a coal mining area in the region. The last era of coal mining in the region was from about 1960 to 1974 and Big Brutus was in operation from 1963 to 1974.
The fact that Big Brutus is on the National Register is significant in its own right because it's pretty rare for equipment to be listed on a listing of historic places, she added.
"This property had a special place in my heart because of the uniqueness of it and that it really did mean a lot to them to get that recognized," Loughlin said. "I'm happy to have been a part of that project."
Carmen Boccia, of Pittsburg, was as an electrician at the coal mines for 39 years and worked with Brig Brutus for the 11 years it was in operation. Boccia said that he has a personal connection with the machine and was one of many who helped with its nomination on the register.
His son, Victor, also played a pivotal role and helped get the ball rolling by compiling nomination forms and data to be sent to the state level.
"We decided to get it on the National Register and managed to get it through," Boccia said. "Representatives from Topeka came down to look at it, and they were really excited about it. They thought it was quite a deal, which it is, and they helped us get it on the national."
The shovel worked 24 hours a day, seven days a week, to remove the overburden off of the coal that was strip mined. Boccia described the sounds from the 11 million-pound machine as cacophonous as approximately 40 fans would work to filter out dust and to remove heat.
"I was on it from start to finish," Boccia said. "The days were never boring, working on it and around it. It was just a marvelous machine and to watch it dig. You never got tired of watching it dig, at least I didn't anyway."
Boccia said he was very pleased to hear of its listing and hopes that it will be continued to be preserved for years to come.
"It's something that ought to be maintained through the ages because it can be there for hundreds of years from now with proper maintenance," he said.
Impact
Once listed on the National Register of Historic Places, owners may be eligible for two financial incentive programs that are offered in the state of Kansas. One of them is a competitive grant program where owners can apply for up to $90,000 for bricks and mortar-type construction. There is also a state tax credit that can be used for maintenance, but Big Brutus may not be eligible since it applies to buildings only.