Italian Election Key to Coal Closure Timings, Steel Plant Sale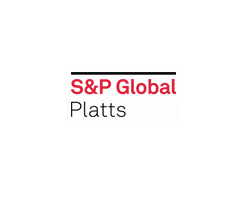 By Lara Berton, Annalisa Villa, Robert Perkins, Stuart Elliott, Henry Edwardes-Evans, Andreas Franke and Jonathan Fox
March 4, 2018 - Italy goes to the polls today with a swing to the center-right anticipated by election watchers.
Such an outcome would have important implications for the timing of coal plant closures, the level of subsidies for renewables as well as the sale of Europe's biggest steel plant Ilva.
Below are snapshots of what's at stake and the possible impact on specific sectors and commodities in Europe's fourth-largest economy:
Coal
Coal still accounts for almost 15% of the Italian power mix, with six major plants and a capacity of almost 8 GW left. All parties agree on the phase-out of coal but with less agreement on the timing.
The center-right coalition is seen as most relaxed with a preference towards 2030 as closing coal would increase power bills.
The current center-left government in November set a 2025 deadline for the coal exit, while the anti-establishment Five Star Movement (M5S) advocates a 2020 phase-out.
"M5S is leaning toward a more rapid phase-out of coal relative to the current objectives contemplated under the SEN, which would be very bullish for prices," according to Bruno Brunetti of S&P Global Platts Analytics.
Natural Gas
Italy is Europe's third-biggest gas-market after Germany and the UK, with over 70 Bcm in domestic demand and its PSV hub at a clear premium and dependency on Russian gas flows highlighted by the explosion at Austria's Baumgarten gas hub in December.
Despite popular environmental opposition to infrastructure projects such as the Trans Adriatic Pipeline (TAP), the new link is likely to ease supply concerns from 2020, with Italy's three LNG terminals and pipelines from Algeria and Libya also providing supply.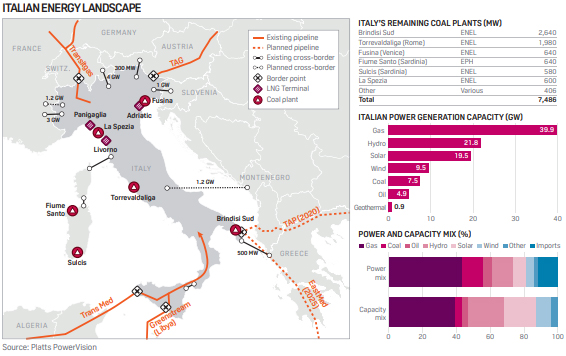 Power
Italian power prices are also some of the highest in Europe, with gas providing well over 40% of the power mix and Italy also relying on imports of cheaper power from France, Switzerland and to a lesser extent Germany/Austria.
Hydro remains its biggest source of renewables, with new wind and solar additions slowing to a standstill over recent years, but with ambitious 2030 targets to be set unveiled by the new government.
Among the main parties, M5S is the most pro-renewables, calling for 100% renewables by 2050, while the center-right would want to avoid any major subsidies already focusing on high power bills as an issue for Italian industry and consumers alike.
Please see Platts'Italian election key to coal closure timings, green growth' for further details.
Oil
Crude oil production in Italy peaked at 120,000 b/d in 2005, and has since struggled to stay above 100,000 b/d but not due to a lack of reserves. According to the BP Statistical Review, Italy holds 500 million barrels of proven reserves, the third largest on the continent behind Norway and the UK.
Previously, Italy's goal was to double its oil production by 2020, mainly from deposits in the oil-rich southern Basilicata region, which holds some of the biggest onshore deposits in Europe.
But a combination of rising costs, red-tape, powerful regional governments and local dissent has led to a sharp drop in exploration and development in recent years.
In terms of demand, Italy is currently Europe's fifth-largest oil consumer, with product demand at about 1.28 million b/d, according to the International Energy Agency. In 2017, Italian demand for refined oil products fell 1.6% year on year to 58.5 million mt.
The full-year decline was influenced by reduced demand for gasoline, down 4.1%, bitumen (-3.8%) and petrochemicals products (-7.6%), according to Unione Petrolifera data.
The country's refinery throughput, however, rose 3.6% to 74.8 million mt in 2017.
Italy was among the last European countries to start closing or converting its refineries, with the first closure being Tamoil's Cremona facility in 2014. Five have since been shut, and capacity has been slashed by a fifth, or 20 million mt/year, over recent years.
Steel
Italy is Europe's second-biggest steel producer and home to the largest European steel plant, Ilva.
Ilva's sale to Arcelor Mittal is crucial for the European steel industry and would leave two large players (AM-Ilva and ThyssenKrupp-Tata).
The future of Ilva depends not only on the EC's antitrust decision but also on the new government in Rome.
Italian prime minister Paolo Gentiloni's Democratic Party (PD) -- which started the sale of Ilva and hoped to conclude it before the elections, is forecast to suffer a heavy defeat.
If M5S gains power, the sale could be more complicated, with some questioning whether it will go ahead at all, since the party has called for Ilva's closure on environmental grounds in the past.
Matteo Salvini, the front-runner for Lega Nord, recently visited Ilva and said the plant's workers would be taken care of, without entering into more substantive details.
Forza Italia is likely to present as prime minister Antonio Tajani, president of the European Parliament, who started the steel action plan in 2013. With him, the sale is likely to go ahead (if the EC approves the merger) but some sources said Forza Italia and Lega together could initially slow down the process.
Election Politics
Italy's new electoral law may have eased the risk of M5S getting to power, but will not remove the risk of political uncertainty in Rome.
Gentiloni's PD party and its center-left coalition is forecast to lose heavily, receiving fewer seats than M5S.
However, despite M5S looking set to become Italy's biggest single party, its refusal to form coalitions and the new electoral law favoring such alliances has made a return to power of Silvio Berlusconi's Forza Italia the most likely option.
According to the latest polls published in February, the center-right coalition still may fall just short of an absolute majority, which would bring further uncertainty and possible horse-trading to form a grand coalition across the pre-election blocks.
An outright win for the center-right coalition may also bring its own uncertainties. Berlusconi, who can't run for office because of a tax fraud conviction, has flagged Tajani as a possible coalition-pleasing moderate prime minister, while Matteo Salvini, leader of the former separatist party Lega Nord, now calling itself only 'Lega', is benefiting from his strong anti-immigration stance even in the south.
Salvini's recent surge has made him a possible contender for prime minister, although he said he would like to become the economy and energy minister in a center-right coalition.
CoalZoom.com - Your Foremost Source for Coal News