Remembering the Holden 22 Mine Disaster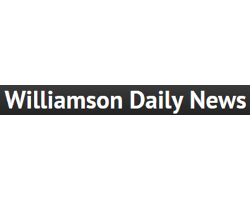 By Dwight Williamson
March 11, 2018 - The month of March has historically not been kind to the people of southern West Virginia. From terrible flooding that devastated certain areas in 2012, to snow storms of past years and flooding which closed schools, the Logan county courthouse, and many businesses, we all, more so than ever, look forward to the warm and sunny days that surely lie ahead in the form of springtime.
Despite all present and past adversities that some people have endured during winter - such as frozen water pipes, dead car batteries, flooding or even the lack of electricity - fellow Logan Countians must pause to remember some of the tragedies of the area's coal mining past.
March 8th marked the 58th anniversary of the Holden 22 coal mining disaster that took the lives of 18 men after the mine caught fire. The deaths of these men left 17 widows and a total of 77 children without their fathers. Two men, Kyle Blair and Willis Carter, were the only survivors, as they managed to crawl their way to freedom during a four-hour ordeal in narrow passageways they found en route to daylight.
With death there is always sorrow, and with sorrow there follow tears, especially when tragedy strikes with unexpected ferocity. A coal mining death in Logan County habitually has seemed to bring the Guyandotte Valley residents together in a sense of quiet reverence and understanding. Such was the case 58 years ago when the news spread rapidly that the men were trapped in a smoke-filled hell hole that once was a coal mine. Both friends and families were devastated. This writer remembers it well, as a 7-year-old child of that fateful day. WVOW radio in Logan kept Logan Countians and others near radios as its employee's reports from the mine site proved ever so grim.
There are things in life one never forgets, and the tears streaming down a mother's face is certainly one of those things. Coming into our modest home after an afternoon of running through the alleys of my coal camp community, I was met by a mother whose heart was obviously broken. She had just learned that one of her friends, who was also a neighbor across the road in another part of the No. 16 Island Creek coal camp, was hurting because her husband was one of the men trapped in the mine. Eight days after the mine fire had started, rescue workers found 13 of the 18 men, one of which was Orville Sargent, the husband of my mother's friend, Gracie Sargent. The Sargents had one child, Connie (Sargent) Keyser, who today is a State of West Virginia employee. Her mother wound up being my junior high school bus driver. I even remember the bus number as being 45.
I would later become friends with the Willis Carter family of Mud Fork and later became a good friend of Anna Lou (Workman) Bagford, the daughter of Louis Workman, who died in the catastrophe. In addition, Roy Dempsey of Mud Fork died in the tragedy, and his children, Mary McCoy and Jimmy Dempsey, are my friends today, Mary having graduated from Logan High with me in 1971. Unfortunately, Kyle Blair, a survivor, would return to the coal mines and in 1974 die in another tragedy at a Boone County mine tipple where he fell into a crusher.
I remember families gathering around their radios listening to reports from the Holden 22 site where wet snow had hampered efforts of those who had set up rescue sites, providing warm meals for the men who were trying to get to the entombed miners. There was much sadness throughout the county when no survivors were found. It took nine days to retrieve all of the miners' bodies from their earthly tomb.
Logan County, much like many areas of West Virginia, has seen its share of mining-related tragedies since the beginning of the 20th century. Old newspaper reports tell of the nearly daily loss of limbs and lives that was prevalent particularly in the early days of coal mining. Among the worst was back-to-back mining disasters at Macbeth on Rum Creek where 10 miners died in 1936 and just months later on March 11, 1937, nine more miners succumbed in the same mine owned by Hutchinson Mine Company.
Over the years, many coal miners have paid the ultimate price to bring the black gold from the bowels of the earth to not only raise their own families, but to provide for a better nation and world. Prior to incidents such as the Matewan Massacre in 1920, the brutal slaying of Matewan sheriff Sid Hatfield in 1921 at Welch that followed the Mingo County ordeal, and the Blair Mountain Battle, also in 1921, coal miners and their families were totally at the mercy of the coal companies, as mining families paid rent to the coal company owners for housing and also had to utilize the company's issued "script" to purchase the necessities of life, including food, and other items from company-owned stores.
In some coal camps during the formative days of coal, families were not even allowed to grow a tomato plant or any other possible vegetative food source, thus ensuring the company store business. However, it was not unusual for women of the various camps in spring and summer to roam the hills in search of wild greens and other mountaineer delicacies, such as ramps or edible mushrooms. Because of the formation of the United Mine Workers Association, which finally did reach Logan and Mingo counties, despite years of fierce resistance, miners and their families benefited in many ways, including improved safety conditions in and around the mines.
While the miners' services may be somewhat in limbo today - due partly to mechanization and partly to EPA regulations - we must always pause to remember those black-faced gentlemen who strived to make a better world for all of us.
To honor just a few of the many thousands of men in just West Virginia alone who daily risked their lives and limbs, allow me to list my coal camp heroes of the days of yesteryear, all of whom lived at 16 Camp at Verdunville: Amos Williamson (grandpa); Carlos Williamson (father); Lowell Williamson (uncle); Willard Burton (uncle); Henry Bowers (uncle); Carlson Bowers (cousin); Albert Williams (great-uncle); Shorty Evans (my cousin's husband); Ralph and Gary Evans (cousins); Albert "Shot" Burgess (a cousin's husband); Linville Hall, (neighbor); Bill Hall (neighbor); Carlos Perdue (neighbor); Robert Marcum, Sr. and Robert Jr. (neighbors); Tolbert Marcum (neighbor); Howard Hicks (neighbor, who later died at Island Creek's No. 28 mine); Edmond Evans (neighbor); Jack Petroff (neighbor); Ted Hale (neighbor); Gordon Albright (neighbor); brothers, Carmie and Odell Vance (my neighbors); as well as many more who lived above or below my coal camp neighborhood.
In addition, decades before I was born, Bill McCallister, who was killed at Island Creek's No. 16 mine that was near the current Verdunville Grade School, died along with John Meade of Dingess. How ironic it is that two of McCallister's sons would grow up to marry two of my sisters, while I would wind up living right next door to Meade's son Neil, who, along with his wife Carol, would become tremendous friends. The Meades are now deceased.
As you can see, I grew up when coal was truly "king," and when it meant everything to nearly everybody, but also when few, if anybody, even bothered to lock their doors at nighttime. It was indeed a different world.
The following is the list of miners who perished at 22 Holden.
Charles Adams, 46; Frank Ardis, 63,; Ernest Bevins, 35; Okey Bryant, 49; James Carter, 30; Josh Chafin Jr., 37; Roy Lee Dempsey, 52; William Donaldson, 53; Garfield Hensley, 43; Berti Horvath, 32; Flint Lock Jarrells, 39; Albert Marcum, Jr.; Melvin Newsom, 46; Isom Ooten, 43; James V. Lundell, 26; Orville Sargent, 32; Clyde White. 39; and Louis Workman, 32. Today we honor these men and all coal miners, both living and dead.
Dwight Williamson is a former writer for the Logan Banner. He is now a Magistrate for Logan County. He writes a weekly column for HD Media.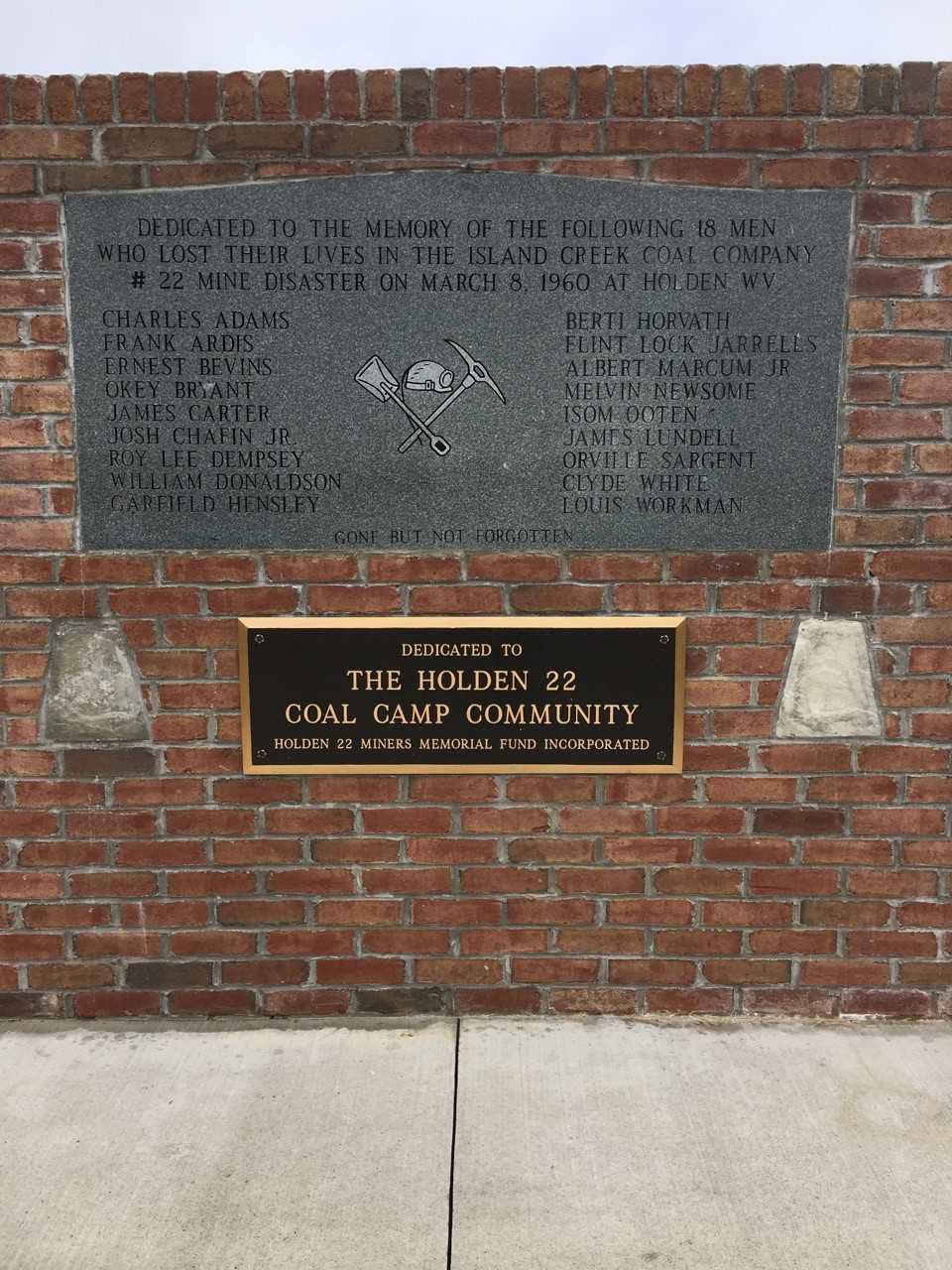 The monument at the old 22 Mine site near Holden is pictured above. March 8 marked the 58th anniversary of the Holden 22 coal mining disaster that took the lives of 18 men after the mine caught fire.
Photo by Dwight Williamson
CoalZoom.com - Your Foremost Source for Coal News