Liebherr Delivers R 9400 Mining Excavator to Trapper Mining Inc.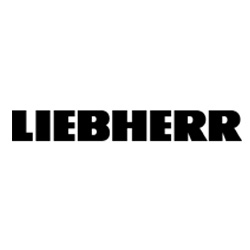 April 4, 2018 - Liebherr has proudly delivered the backhoe version of its R 9400 mining excavator to Trapper Mining Inc. in Colorado.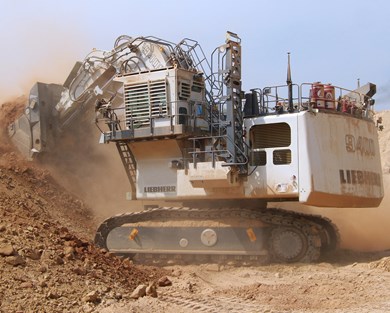 Liebherr R 9400
The Liebherr R9400 mining excavator is the first diesel powered engine that complies with U.S. EPA Tier 4 Final exhaust emission limits and has a rated output of 1,675 hp/1250 kW. With a 37 yd³ innovative bucket optimized for Trapper Mining's material and operations, the R 9400 is the ideal machine for loading the current 240 tons (221 tonnes) in a mining truck fleet. There are currently over 65 units of the Liebherr R 9400 hydraulic mining excavators operating on four continents, with over 1.5 million SMU's throughout the current population.
Maximizing Performance With Ideal Serviceability
The R 9400 follows the Liebherr design philosophy of maximizing the machines performance by improving the efficiency of all individual subsystems. Engineered for optimum serviceability the machine is designed to ensure maximum uptime.
Designed for rough application, the R 9400's heavy-duty three-piece fatigue-resistant undercarriage provides efficient superstructure weight distribution and reduces ground-bearing pressure enabling the necessary stability and reliability.
Trapper Assembly, Acquiring New Excavator to Increase Productivity
The latest R 9400 commissioned for Trapper Mining Inc. is a backhoe configuration, well known for its proven technology and its excellent productivity. The production-tailored attachment kinematics combined with a mining-optimized bucket shape ensure the highest crowd and breakout forces. Even under tough conditions, the R 9400's high digging force allows easy bucket penetration and maximum bucket fill factors to achieve high productivity.
"The acquisition of this excavator is significant for Trapper Mine," says Michael W. Morriss, President and General Manager for Trapper Mining Inc. "We expect to realize significant productivity improvements over our previous equipment mix. Our employees are top notch and excited about the benefits this will bring to our operation and providing economic coal to Craig Station in the future as well as the excellent business partnership with Liebherr Mining."
CoalZoom.com - Your Foremost Source for Coal News