MSHA Quarterly Stakeholder Call Scheduled for Monday, April 30, 1pm ET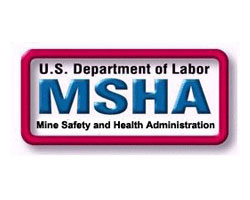 April 13, 2018 - On Monday, April 30, 2018 from 1:00pm to 2:00pm ET, MSHA will hold a Quarterly Stakeholder call.
Assistant Secretary David G. Zatezalo will open the call with remarks, and will be available for questions at the close.
This call will focus on powered haulage safety – a priority issue for MSHA. Far too many miners have been injured and killed in recent accidents that could have been prevented by following proper safety procedures. There will be specific emphasis on safety regarding vehicle collisions, seat belt usage, and working around conveyor belts.
During the call, safety experts will describe recent accidents involving these problem areas as well as technological solutions that encourage safe behavior.
MSHA recently asked for stakeholder feedback on powered haulage safety and received dozens of suggestions and best practices. Some of those results will be discussed on this call.
There will also be time for questions and comments.
RSVP for the call here. Please RSVP by 4/27/18.
The meeting will be conducted via WebEx.
Join WebEx meeting here.
Meeting number: 646 974 074
Meeting password: M!ne2018
Join by phone
Toll Free number: 800-779-2581
Participant pass code: 8970557
Meeting materials will be available on the morning of the call on the MSHA Training Center webpage as well as directly viewable on the WebEx session.
If you have any questions about the upcoming call, please contact JR Wycinsky at (202) 693-9422 or at wycinsky.david@dol.gov.
CoalZoom.com - Your Foremost Source for Coal News