Usibelli Coal: Providing Energy Security to Interior Alaska for 75 Years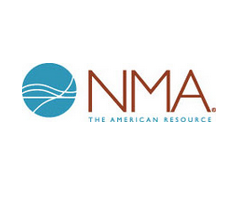 May 2, 2018 - This year marks the 75th anniversary of Alaska's longest mining operation – Usibelli Coal Mine – located just 10 miles north of Denali National Park in Healy.
The company is celebrating this significant milestone in a variety of ways throughout the year and was most recently recognized during the Alaska Miners Association's Biennial Spring Conference in Fairbanks.
"The ingenuity of four generations of employees has helped Usibelli Coal Mine conquer adversity, and leverage virtually every opportunity that presented itself over the last three-quarters of a century. I have no doubt that if my grandfather Emil were alive today, he would be tremendously proud of what was built on the foundation he began to lay in 1943. This mine has a remarkable heritage, and a bright future. I am proud to lead such an amazing crew of people," said Usibelli Coal Mine President Joe Usibelli Jr., reflecting on the company's history during a March 29 banquet.
Usibelli Coal Mine traces its roots to World War II, when Joe Usibelli Jr.'s grandfather, Emil, landed a contract to deliver 10,000 tons of coal to Ladd Army Air Field, a military base in the Fairbanks area — known today as Fort Wainwright.
Today, the fourth-generation, family-owned coal mine delivers roughly one million tons of ultra-low-sulfur coal to five electric power plants in Interior Alaska – includ­ing four co-generation plants that deliver low-cost steam or hot water for area heating needs, in addition to electric power.
Usibelli Coal Mine has roughly 100 employees; about 33 percent of its workers are second, third and fourth generation employees of the mining operation. Earlier this month, the mine's longest serving employee celebrated 44 years with the company.
The future of Usibelli and the low-cost fuel it delivers to Interior Alaska's power plants is bright. The company's new mining area, Jumbo Dome, has 83 million tons of permitted coal and has the potential to yield over 100 years of reserves at current production levels and sustain Usibelli Coal Mine's opera­tions into the future.
And if coal wasn't fueling five power plants, it is estimated that it would cost $200 million more each year to deliver electricity to Interior Alaska – a fact that is very important to the roughly 100,000 residents that benefit from the affordable, reliable power fueled by Usibelli coal.
CoalZoom.com - Your Foremost Source for Coal News