Warrior Met Coal Announces First Quarter 2018 Results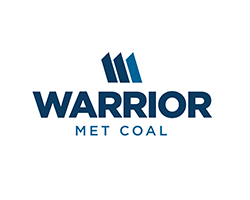 May 3, 2018 - Warrior Met Coal, Inc. (NYSE:HCC) has announced results for the first quarter ended March 31, 2018. Warrior is the leading dedicated U.S.-based producer and exporter of high quality metallurgical coal for the global steel industry.
Warrior reported first quarter 2018 net income of $178.7 million, or $3.36 per diluted share, compared to net income of $108.3 million, or $2.06 per diluted share, in the first quarter of 2017. Excluding one-time transaction and other expenses, adjusted earnings per share were $3.42 per diluted share in the first quarter of 2018, a 54% increase over the same period in 2017. The Company reported Adjusted EBITDA of $216.4 million in the first quarter of 2018, compared to Adjusted EBITDA of $135.5 million in the prior year period. The market for high quality premium met coal continued to be strong in the first quarter, reflecting resilience in global steel production, as well as the effects of met coal supply disruptions in Australia.
"Warrior's results in the first quarter continue to reflect the strong demand for our premium met coal, as well as our industry leading margins," commented Walt Scheller, CEO of Warrior. "Our record-setting production and sales volumes, coupled with high price realization and our low-cost structure, enabled us to achieve strong free cash flow conversion. These robust results continue to validate our highly focused business strategy as a premium 'pure-play' met coal producer."
Operating Results
The Company produced 2.1 million short tons of met coal in the first quarter of 2018, 30% more than the amount produced in the first quarter of 2017. "By taking advantage of the strong pricing environment for our premium met coal, we are on track to meet our previously established guidance for the full year 2018," Mr. Scheller added.
Additional Financial Results
Total revenues were $421.8 million for the first quarter of 2018, including $412.9 million in mining revenues, which consisted of met coal sales of 2.1 million short tons at an average net selling price of $195 per short ton, net of demurrage and other charges. Sales volume increased 88% over the first quarter of 2017, reflecting both increased production levels and high demand from customers. Warrior capitalized on the strong pricing environment in the quarter by achieving a gross price realization of 99%. The Company's gross price realization now represents a volume weighted-average calculation of our daily realized price per ton based on gross sales, which excludes demurrage and other charges, as a percentage of the Platts Premium Low Volatility ("LV") Free-On-Board ("FOB") Australia Index price (the "Platts Index").
Cost of sales for the first quarter of 2018 were $190.7 million, or 46.2% of mining revenues, and included mining costs, transportation and royalty costs. Cash cost of sales (free-on-board port) per short ton decreased to $89.82 in the first quarter of 2018 from the first quarter of 2017, primarily due to higher sales volumes.
Selling, general and administrative expenses for the first quarter of 2018 were $8.2 million, or 2.0% of total revenues. Transaction and other expenses were $3.3 million in the first quarter of 2018 and were related to the issuance of $125.0 million in aggregate principal amount of the Company's 8.00% Senior Secured Notes due 2024 (the "New Notes"). Depreciation and depletion costs for the first quarter of 2018 were $24.6 million, or 5.8% of total revenues. Warrior incurred interest expense of $8.6 million during the first quarter of 2018, which was higher than previous quarters due to the incurrence of interest on the Notes (as defined below). The Company did not incur any income tax expense for the first quarter of 2018 due to its planned utilization of net operating losses ("NOLs").
Cash Flow and Liquidity
The Company continued to generate strong cash flows from operating activities in the first quarter of 2018 of $193.7 million, compared to $65.6 million in the first quarter of 2017. Net working capital, excluding cash, increased by $9.0 million from the fourth quarter of 2017, primarily due to the higher accounts receivable on higher sales volumes. Capital expenditures for the first quarter of 2018 were $22.5 million, resulting in free cash flow of $171.2 million, which was $117.0 million higher than in the prior year period. Spending on sustaining and discretionary capital expenditures included a down payment on a new set of shields and the new portal at Mine 7. Cash flows provided by financing activities increased by $376.0 million for the quarter when compared to the prior year period.
The Company's available liquidity as of March 31, 2018 was $422.0 million, consisting of cash and cash equivalents of $322.0 million and $100.0 million available under its Asset-Based Revolving Credit Agreement.
Company Outlook
The Company's outlook is subject to many risks that may impact performance, such as market conditions in the steel and met coal industries, overall global economic and competitive conditions, all as more fully described under "Forward-Looking Statements." In light of the Company's successful first quarter performance, NOL carryforwards and expected market conditions in 2018, Warrior is updating its guidance for the full year 2018 as indicated below. Interest expense has been updated to reflect the New Notes and the number of and timing of longwall moves has been updated.

The Company's guidance for capital expenditures consists of sustaining capital spending of approximately $70 - $83 million, including regulatory and gas requirements, and discretionary capital spending of $30 - $37 million for various operational improvements.
Key factors that may affect outlook include:
Planned longwall moves - 2 in Q3 and 1 in Q4
Exclusion of other non-recurring costs
The Company does not provide reconciliations of its outlook for cash cost of sales (free-on-board port) to cost of sales in reliance on the unreasonable efforts exception provided for under Item 10(e)(1)(i)(B) of Regulation S-K. The Company is unable, without unreasonable efforts, to forecast certain items required to develop the meaningful comparable Generally Accepted Accounting Principles ("GAAP") cost of sales. These items typically include non-cash asset retirement obligation accretion expenses, mine idling expenses and other non-recurring indirect mining expenses that are difficult to predict in advance in order to include a GAAP estimate.
Stock Repurchase Program
The Company also announced today that its board of directors (the "Board") has approved a stock repurchase program (the "stock repurchase program") that authorizes repurchases of up to an aggregate of $40.0 million of its outstanding common stock. The stock repurchase program does not require the Company to repurchase a specific number of shares or have an expiration date. The Company is not obligated to purchase any specific number of shares under its stock repurchase program, and the stock repurchase program may be suspended or discontinued by the Board at any time without prior notice.
Under the stock repurchase program, the Company may repurchase shares of its common stock from time to time, in amounts, at prices and at such times as the Company deems appropriate, subject to market and industry conditions, share price, regulatory requirements as determined from time to time by the Company and other considerations. The Company's repurchases may be executed using open market purchases or privately negotiated transactions in accordance with applicable securities laws and regulations, including Rule 10b-18 of the Securities Exchange Act of 1934, as amended (the "Exchange Act") and repurchases may be executed pursuant to Rule 10b5-1 under the Exchange Act. Repurchases will be subject to limitations in the Company's asset-based revolving credit agreement (the "ABL Facility") and the indenture dated as of November 2, 2017, as amended (the "Indenture"). The Company intends to fund repurchases under the stock repurchase program from cash on hand and/or other sources of liquidity.
Senior Secured Notes Offering and Special Dividend
On March 1, 2018, the Company consummated its previously announced private offering (the "Offering") of the New Notes to qualified institutional buyers pursuant to Rule 144A under the Securities Act of 1933, as amended (the "Securities Act"), and to certain non-U.S. persons in transactions outside the United States in accordance with Regulation S under the Securities Act. The New Notes were offered as additional notes under the Indenture, pursuant to which Warrior previously issued $350.0 million aggregate principal amount of 8.00% Senior Secured Notes due 2024 (the "Existing Notes" and together with the New Notes, the "Notes").
On April 3, 2018, the Company used the net proceeds of the Offering, together with cash on hand, to declare a special cash dividend of approximately $6.53 per share of Warrior's common stock, par value $0.01 per share, totaling an aggregate payment of $350 million, which was paid on April 20, 2018 to stockholders of record as of the close of business on April 13, 2018.
Regular Quarterly Dividend
On April 24, 2018, the Board declared a regular quarterly cash dividend of $0.05 per share, totaling approximately $2.7 million, which will be paid on May 11, 2018 to stockholders of record as of the close of business on May 4, 2018.
Warrior is a large scale, low-cost U.S. based producer and exporter of premium HCC, operating highly efficient longwall operations in its underground mines located in Alabama. The HCC that Warrior produces from the Blue Creek coal seam contains very low sulfur and has strong coking properties and is of a similar quality to coal referred to as the premium HCC produced in Australia. The premium nature of Warrior's HCC makes it ideally suited as a base feed coal for steel makers and results in price realizations near the Platts Index price. Warrior sells all of its met coal production to steel producers in Europe, South America and Asia.
To read the full quarterly report with financial figures, please click here.
CoalZoom.com - Your Foremost Source for Coal News