CONSOL Coal Resources LP Announces Results for the First Quarter 2018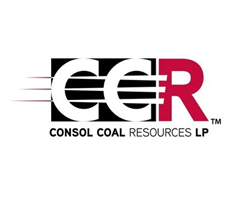 May 3, 2018 - CONSOL Coal Resources LP (NYSE: CCR) today reported financial and operating results for the quarter ended March 31, 2018.
"The first quarter of 2018 marks the best financial results in our history as a public company," said Jimmy Brock, Chief Executive Officer of CONSOL Coal Resources GP LLC (the "general partner"). "Today we announced a very strong distribution coverage on an industry-leading distribution yield. We continue to return a significant amount of capital to our unitholders, opportunistically re-invest in our business and simultaneously derisk the balance sheet. The strong quarterly performance was driven by record production out of our Bailey mine and improved coal prices on our netback contracts. This quarter was a testament to our differentiated marketing strategy, which enables us to capture significant pricing upside during peak weather events while delivering consistent volume and pricing performance at other times. Our netback contracts provide asymmetric pricing opportunity that we believe aligns us with the profitability of coal-fired power generation on the dispatch curve. The volume consistency and potential for pricing upside associated with these contracts ties well to the low-cost structure, scale, and longevity of our mining operations, and thus they are a valuable component of our overall sales portfolio. Our revenue per ton on traditional domestic contracts was also improved compared to the year-ago period, providing evidence of improved supply-demand fundamentals in the eastern U.S. coal markets that we serve. We are also pleased to announce that we are off to a very strong start for the year, and the improving outlook allows us to boost our full year adjusted EBITDA guidance."
Sales & Marketing
Our Sales and Marketing team sold 1.7 million tons of coal during the first quarter of 2018 at an average revenue per ton of $52.98 compared to 1.7 million tons at an average revenue per ton of $46.80 in the year-ago period. The improvement was largely driven by greater-than-expected revenue on our netback contracts, which reflected strong PJM West power prices during the quarter. Our revenue per ton also benefited from improved pricing under our non-netback domestic contracts and from continued strengths in the export markets. Offsetting these improvements were weather-driven challenges that affected rail and port logistics and limited further upside to shipments.
On the domestic front, heating degree days during the quarter in the Middle Atlantic, South Atlantic and East North Central regions we serve were approximately 11-23% greater than the year-ago period, but still approximately 3-7% below normal, based on preliminary data. Although the quarter, as a whole, was still slightly milder than average, the significant improvement in heating demand compared to the year-ago period translated into improved burn at our customers' power plants and helped to further draw down coal inventories. According to the U.S. Energy Information Administration, inventories at domestic utilities stood at approximately 121 million tons at the end of February 2018, down by approximately 25% from year-ago levels. More importantly, we believe inventories at several of our key Northern Appalachian rail-served power plants now stand below 20 days. This gives us tremendous confidence in our ability to ship all of our contracted coal, despite recent softness in natural gas prices. We are 95+% contracted for 2018 shipments and are 74% and 26% contracted for 2019 and 2020, assuming an annual production run rate of 6.75 million tons. We anticipate that our cost structure and differentiated marketing strategy will allow our customers to stay competitive with natural gas for the foreseeable future.
Furthermore, while Henry Hub spot prices averaged just $3.08/mmBtu during the quarter, the return to more normal winter temperatures helped to boost PJM West day-ahead power prices to an average of $45.31/MWh, marking the highest quarterly average price since the first quarter of 2015. This was due, in part, to the cold weather event in early January, but the month of March also turned in the third-highest monthly PJM West power price ($33.69/MWh) that has been observed in the last 32 months, even though Henry Hub spot prices averaged just $2.69/mmBtu in March. These improvements in power prices boosted average revenue per ton under our netback contracts, as noted above.
Overall, global coal demand growth continues to improve, tying to overall broadening and accelerating economic growth. On the export front, while demand in Europe has softened, growth in India has more than compensated for this lower demand. Prior to 2017, our coal moving to India was primarily going into the industrial sector in the brick and cement industries; however, we are now beginning to penetrate into India's coal-fired power generation sector, which has created additional upside for our high calorific value coal. We are also expecting additional demand improvement from Turkey, pending easing sulfur restrictions. We are seeing improved demand growth around the globe in many more countries. This global demand growth, coupled with a supply side that has experienced minimal investment in recent years, is increasingly creating an imbalance in the international marketplace for coal. In our view, this has created an opportunity for the United States to become an essential piece of the seaborne market rather than a swing supplier.
Additional Details on Export Contract
As previously disclosed, against the strong export backdrop in the fourth quarter of 2017, we succeeded in concluding a multi-year contract for approximately 3.5 million tons of coal in the export markets with shipments beginning in May 2018 and extending through April 2020. The contracted volume is comprised of approximately 70% thermal coal and 30% crossover metallurgical coal. Coal prices in the first year of the contract are fixed and are captured in our current guidance for 2018. For the second year of the contract, the price of coal is collared with an average floor price that is greater than our 2017 average revenue per ton of $45.52. This contractual arrangement not only highlights the global attractiveness of our coal assets, but also speaks to our ability to take advantage of market volatility and derisk a substantial portion of our revenue at attractive prices.
Operations Summary
CCR achieved strong first quarter production of 1.7 million tons, which compares to 1.7 million tons in the first quarter of 2017. During the quarter, we benefited from strong production at the Bailey mine, partially offset by a longwall move at the Harvey mine and adverse geological conditions at the Enlow Fork mine. Our Bailey mine produced at a record-setting level of 953 thousand tons for CCR's share in the first quarter, surpassing its previous high mark of 869 thousand tons set in the fourth quarter of 2016.
CCR shipped 1.7 million tons during the first quarter, compared to 1.7 million tons in the year-ago quarter. While there were logistical challenges synchronizing the rail and port availability, partially due to harsh weather conditions, our Sales and Marketing team was successful in minimizing the overall impact. Total coal revenue for the first quarter came in at $87.8 million and improved by $8.6 million compared to the year-ago quarter, primarily driven by higher revenue per ton of coal sold. Our average revenue per ton increased to $52.98 from $46.80 in the year-ago quarter, largely due to higher average revenue per ton on our netback contracts.
Total costs during the first quarter were $72.5 million compared to $69.2 million in the year-ago quarter. Average cash cost of coal sold per ton1 was $29.21 compared to $28.75 in the year-ago quarter. This increase was essentially driven by higher royalties and production taxes, which are tied to the higher sales prices we received in the quarter. Average cash margin per ton sold1 for the first quarter of 2018 expanded by $5.72, or 32%, to $23.77 per ton compared to the year-ago period, driven by higher average revenue per ton.
For the quarter, other costs increased by $2.5 million compared to the year-ago quarter, including approximately $1.2 million in demurrage expense created by the above-mentioned rail and port logistical challenges.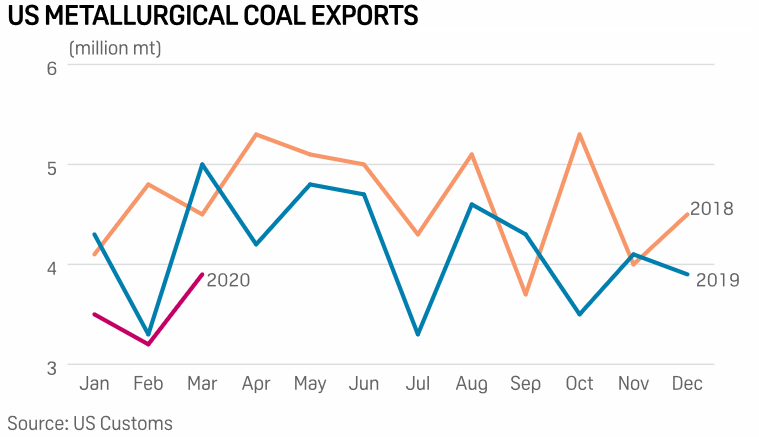 Reducing Cash Costs and Improving Cost of Capital
During the first quarter, we took advantage of a strong leasing market and bought out one set of longwall shields at our Bailey mine from the operating lease agreement and refinanced it as a capital lease. This strategy allowed us to lower our overall cash spending even after accounting for the interest expense of the lease. In the month of April, we also executed an early buyout option on Harvey longwall shields, terminated the operating lease and refinanced it as a capital lease. The financing rates on both of these leases are significantly below our weighted average cost of capital, and the transactions are immediately accretive to our cash flows. In aggregate, we expect an approximately $2.5 million reduction in 2018 cash spending as a result of these refinancings. Furthermore, the financing charges on these capital leases are fixed and insulate us from future increases in interest rates.
Quarterly Distribution
During the first quarter of 2018, CCR generated net cash provided by operating activities of $29.3 million and distributable cash flow1 of $25.3 million, yielding a distribution coverage ratio of 1.8x1. Our distribution coverage ratio calculation is based on estimated maintenance capital expenditures of $9.0 million, while our actual cash maintenance capital expenditures for the first quarter were $4.9 million. Based on our current outlook for the coal markets and a strong distribution coverage ratio, the board of directors of the general partner has elected to pay a cash distribution of $0.5125 per unit to all limited partner unitholders and the holder of the general partner interest. As previously announced on April 25, 2018, the distribution to all unitholders of the Partnership will be made on May 15, 2018, to such holders of record at the close of business on May 8, 2018.
2018 Guidance and Outlook
Based on our strong first quarter results, current contracted position, coal market outlook and production expectations, we are improving several items of our financial and operating performance guidance for 2018.
Coal sales volumes - 6.55-6.80 million tons
Coal average revenue per ton - $47.15-$48.75
Cash cost of coal sold per ton2 - $28.50-$30.00
Adjusted EBITDA2 - $95-$115 million
Capital expenditures - $31-$36 million
CONSOL Coal Resources (NYSE: CCR) is a master limited partnership formed in 2015 to manage and further develop all of CONSOL Energy Inc.'s (NYSE: CEIX) active coal operations in Pennsylvania. CCR's assets include a 25% undivided interest in, and operational control over, the Pennsylvania mining complex, which consists of three underground mines - Bailey, Enlow Fork and Harvey - and related infrastructure. For its ownership interest, CCR has an effective annual production capacity of 7.1 million tons of high-Btu North Appalachian thermal and crossover metallurgical coal.
To read the full quarterly report with financial figures, please click here.
CoalZoom.com - Your Foremost Source for Coal News