Pennsylvania Museum Project Offers Link to Past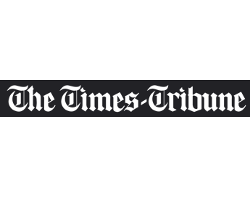 By Kathleen Bolus
May 13, 2018 - A large lump of coal now joins the many mining displays in Pennsylvania's Anthracite Heritage Museum at McDade Park to mark 250 years of the underground industry in the Lackawanna Valley.
The coal, part of a commemorative display plaque, was a project of the Leadership Lackawanna core class of 2018. Leadership Lackawanna received requests for proposals from various organizations and worked on the Anthracite Heritage Museum's project. The group also held a cocktail reception Thursday at the museum, which featured a talk by a retired mine foreman and a performance of coal mining songs.
Nine members of the 2018 class — who graduate June 14 — worked on the Anthracite project, said Kim Rollman, a class member and TMG Health employee. The group didn't just want to hang a plaque on a wall but wanted to create something more engaging, she said.
They raised $4,500 for the display, which features a clear glass plaque mounted in a 115-pound piece of coal from the Endless Mountain Stone Co. The display's base is made of wood from the Eckley Miners Village, another Pennsylvania coal mining site.
The class reached out to individual and business donors for the project.
Rollman said it was eye-opening during that process to hear how many families worked in the mines or came to Northeast Pennsylvania for the industry.
The display will eventually move out of the gift shop area and into the museum, said Bode Morin, site administrator. He was thrilled to learn the class had worked on the project.
"It's always good for the museum to work with outside organizations," Morin said.
Visit www.anthracitemuseum.org to learn about upcoming celebrations of mining in Northeast Pennsylvania, and visit www.250thanthraciteanniversary.org for general information.
CoalZoom.com - Your Foremost Source for Coal News