Nanty Glo, Pennsylvania Raises Town Flag During Centennial Kickoff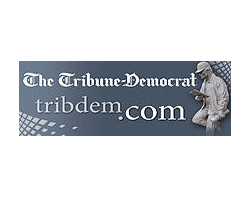 By Jocelyn Brumbaugh
July 5, 2018 - At the end of the school year, eighth-grade student Michael Pavelek won a contest that was the culmination of his history class at Blacklick Valley Junior Senior High School in Nanty Glo, Pennsylvania.
The assignment was to create a flag for the town of Nanty Glo in preparation for its centennial events, which kicked off Wednesday with a veteran's recognition ceremony and parade.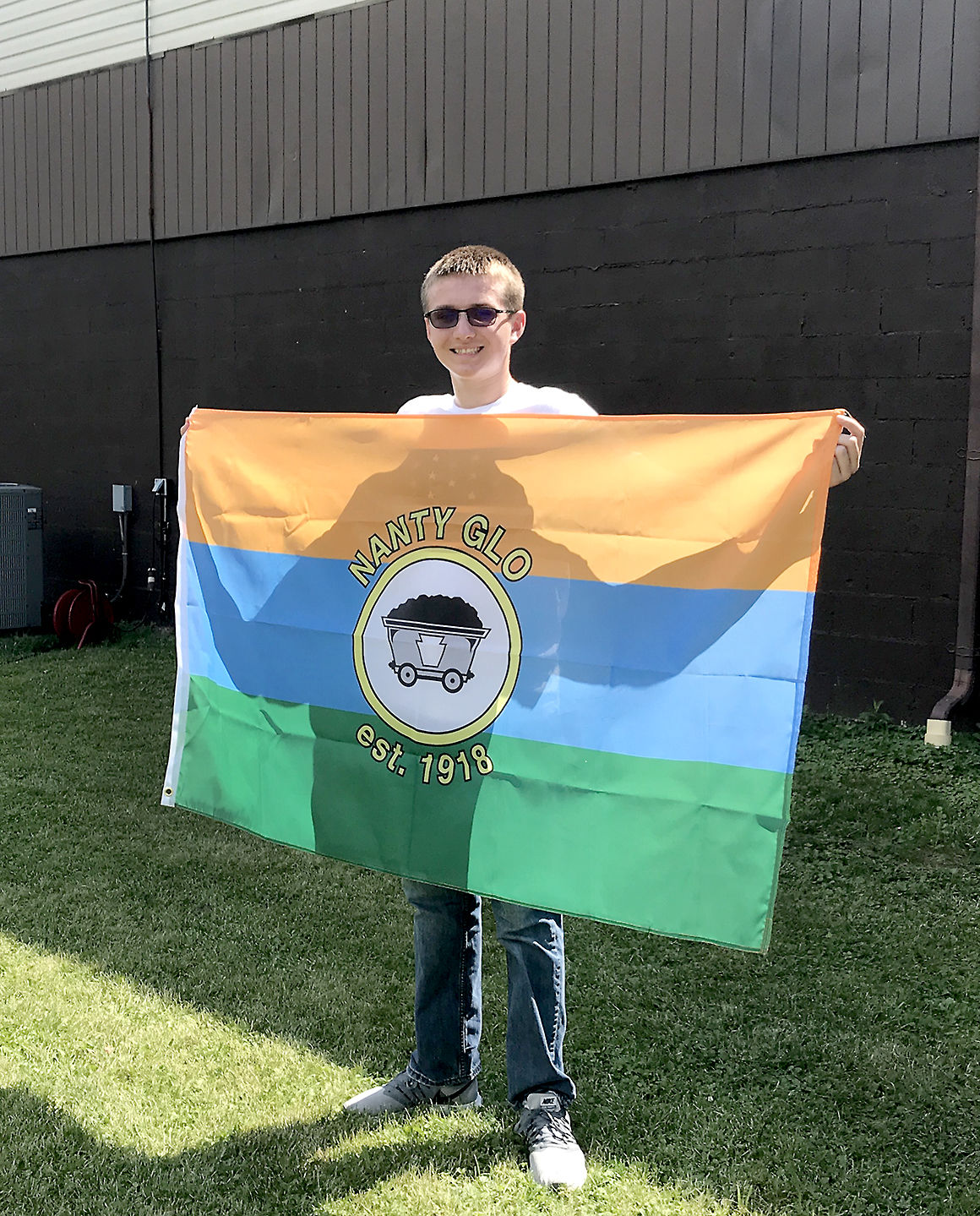 Michael Pavelek displays the Nanty Glo flag he designed, which lifted up on a flagpole at the corner of Roberts and Lloyd streets on Wednesday morning during the kickoff of events being held for the town.
Photo by John Rucosky
Pavelek's first draft was too complicated, so he decided to go with a simpler version with three stripes and three symbols.
His final design came to life after the town's centennial parade Wednesday morning as Nanty Glo officials hoisted Pavelek's flag right below the American flag at the corner of Roberts and Lloyd streets in the center of the borough.
"It was a big deal," Pavelek said. "It was so cool – I designed something for Nanty Glo. I can't stop gushing about it."
According to Pavelek's research, the blue stripe at the top of the flag represents Nanty Glo's determination and good fortune.
In a speech Pavelek gave Wednesday morning before the presentation of his flag, he said this stripe is for "the people of Nanty Glo, who kept on pushing through the hardships."
"The determination was everywhere – at home, in the mines or on the battlefield – no matter what," he said.
The flag's orange stripe is to represent the courage and sacrifice of the people of Nanty Glo, he said, for those who put themselves in harm's way for the sake of their families and the their town.
This stripe in particular has family ties for Pavelek, with a great-grandfather who died while working in a coal mine years before he was born and two parents – Mike and Lisa (Hagens) – who both served overseas in the military.
Both in the Army Reserve Military Police Unit, Lisa Pavelek served a tour in Iraq, while Mike Pavelek served three combat tours in Iraq and Kuwait.
Lisa Pavelek said these connections are why it couldn't have been a more perfect time for her son to be recognized.
"He's a patriot," she said.
Considering she was born and raised in Nanty Glo, Lisa Pavelek said "it was just such a great day for everyone in the family."
"We're proud of our country, and proud of our town."
The flag's green stripe represents wealth and success, but also acknowledges Nanty Glo's founding by the Welsh in 1918, Michael Pavelek said. Like the Welsh flag, the green stripe is at the bottom to symbolize a strong foundation, he said.
The flag's symbols include a coal cart in the center to show the town's rich coal mining history and a keystone symbol on the cart for the commonwealth of Pennsylvania.
The coal cart is surrounded by a gold band to symbolize Nanty Glo's rich history of coal, "which is why it's surrounding the important symbols at the heart of our flag," Michael Pavelek said.
"It looks great," he said. "It's exactly the way I designed it."
Karen Tummino, chair of the Nanty Glo Centennial committee, said the result of Michael Pavelek's design was the town's first flag.
Leading up to the centennial, all students at Blacklick Valley participated in projects that taught them more about the history of Nanty Glo, she said.
"It was nice to see the school get involved," Tummino added.
The town's history is one of the centerpieces of centennial events scheduled to last through Sunday, including a guided history tour of Nanty Glo on Wednesday afternoon and two talks about the town in World War II and its religious and ethnic backgrounds, by professor Elizabeth Ricketts Marcus, of Indiana University of Pennsylvania.
Open houses are planned for Friday at Nanty Glo churches and Blacklick Valley School District.
At 5:30 p.m. Friday, Nanty Glo native and Blacklick Valley alumnus Michael Kaschalk will speak at the Blacklick Valley High School auditorium about his career as head of effects for Disney Animation in Burbank, California.
Cresson native Josh Gallagher, former contestant on NBC's "The Voice," will perform a one-hour free concert at the fire hall at 8 p.m. Friday.
Gallagher's performance will be followed by Shades of June at the fire hall, where vendors, food and other refreshments will be available.
On Saturday, a fishing derby with prizes will begin at 8 a.m. and will be followed by a family fun day starting at 10 a.m. at the McMullen Ballfield, which will include face painting, a magician, games and more.
The Nanty Glo Fire Department will also offfer a battle of the barrel for children ages 5 to 12, with registration at 1 p.m. and battles at 2 p.m. The department will also host cornhole games during this time.
Throughout Saturday afternoon, there will be a DJ and vendors at the fire hall, along with a showing of "Our Town: Nanty Glo."
Saturday will wrap up with a performance by Octane at 8 p.m. and fireworks near McMullen Ballfield.
The final day of centennial events will begin Sunday at noon with performances by several local bands, including Tree, Totem, Atomic Blonde, Gordon Glen with special guest violinists, Clay Bowser and Last Chance.
Throughout the day, there will be food vendors and other activities, including the Cambria County Humane Society's "Adopt A Pet Day," wildlife conservation representatives, gun safety tips from state game wardens and fun at the Nanty Glo Park and Pool.
An ecumenical service and closing ceremonies will be held around 6 p.m.
During Sunday's events, the park will be closed to vehicles except for shuttle buses departing Blacklick Valley High School.
For more information about the scheduled events, visit the Nanty Glo Centennial Facebook page.
CoalZoom.com - Your Foremost Source for Coal News