Pennsylvania Artist to Exhibit Work for 250 Years of Anthracite Coal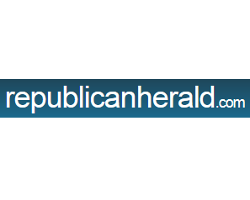 By Vicki Terwilliger
September 7, 2018 - A Pennsylvania artist and sculptor internationally recognized for expressing Coal Region character will exhibit his work in Pottsville as this year marks the 250th anniversary of anthracite coal heritage.
The Schuylkill County Council for the Arts will present Martin Heffron, of Branchdale, in an "Encore Exhibit" from 5 to 9 p.m. Sept. 14 at the arts center, 1440 Mahantongo St.
"This year represents 250 years of anthracite coal as a dominant source and force in the foundation and development of our Coal Region and the industrialized world. People from all areas of the globe have contributed to hard Coal Region heritage with hard work and determination. It is the heart and soul of who we are, where we have come from, and where we can possibly be in generations to come," Heffron said.
Sandra Coyle, SCCA executive director, asked Heffron to offer his exhibit for Sept. 14's event, which is just prior to the "Pottsville On Tap" festivities in the city on Sept. 15. The SCCA event is open to the public and will feature a reception, presentation, live music and refreshments. Heffron works in a variety of mediums, creating murals, drawings, paintings and sculptural expressions in clay, plaster, resins, wood and metal. Heffron will be bringing some additional pieces to add to the exhibit that debuted at SCCA in June.
Heffron's newest work is in its design stages at the Simon Kramer Cancer Institute, New Philadelphia. It's a scaled depiction celebrating 250 years of anthracite, which portrays scenes of immigrants coming to America, people laboring in the coal mines and reclaiming mine land. "We'll be asking the public for their input during the Encore Exhibit," Heffron said Tuesday.
"It is with great respect we acknowledge and honor our coal region communities, families and friends who have lived and died while contributing toward the growth of our future. This creative exhibition is a collection of fine art that allows us to realize and reveal important aspects of ourselves, our environment and existence," he said.
Heffron is listed in the archives of the American Painters and Sculptors at the Smithsonian American Museum of Art in Washington, D.C., and the national Art in Architecture Program.
Among his projects are the Memorial to Anthracite Coal Miners and their Families, a cast bronze high relief sculpture in Forest City, a cast bronze bust of General George A. Joulwan and more recently anthracite mining artifact restoration for the Schuylkill County Historical Society.