China Enters High-End Machinery Making With Largest Export-Bound Tunnel Boring Machine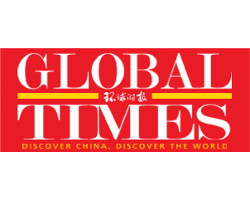 By Wang Coo
October 2, 2018 - Chinese firm CCCC Tianhe Mechanical Equipment Manufacturing Co rolled out China's largest export-bound slurry tunnel boring machine (TBM) on Saturday, marking what officials call a milestone in China's push for high-end machinery exports in a world that has been dominated by developed countries.
With a diameter of 13.19 meters and state-of-the-art technology, the TBM is the largest and most advanced any Chinese company has ever built for an overseas project and will be used in a multibillion-dollar high-speed rail project in Indonesia, according to CCCC Tianhe, a subsidiary of State-owned construction firm China Communications Construction Co (CCCC).
"This breaks a new record for China's exports of large diameter TBMs," Zhang Hong, general manager of CCCC's equipment manufacturing unit, said at a ceremony in Changshu, East China's Jiangsu Province.
In addition to its large size, the TBM, with a length of 101 meters and a weight of 2,600 tons, boasts of state-of-the-art technology, such as settlement control and layered backwashing and customized design in the layout of the cutters and other areas specifically for Jakarta-Bandung high-speed rail project in Indonesia, according to a company press release.
The high-speed rail project, which would link Jakarta to one of the country's largest cities Bandung, is the first high-speed rail line in Indonesia and is being constructed by a consortium of Chinese and Indonesian firms, with much of its roughly $5 billion budget from China Development Bank. First signed in 2015, the project is also one of the first overseas high-speed rail projects by Chinese companies and a flagship project under the BRI in Southeast Asia.
"This super-large TBM will inject fresh energy to the construction of the Jakarta-Bandung high-speed rail project, which is a symbolic joint project of China and Indonesia under the Belt and Road initiative," Zhang said.
A TBM is used to excavate tunnels. Compared to traditional tunnel boring methods such as rock drilling and blasting and hand mining in soil, the use of TBMs could limit the impact to the surrounding ground and produce a smooth tunnel wall - perfect for certain tunnel projects running through unstable geological conditions.
While China has exported smaller TBMs, the global market has mainly been dominated by companies from developed countries such as Germany, Japan and the US, but the super-large TBM shows the steady rise of China's TBM manufacturing capabilities, according to Shen Yimin, deputy head engineer at CCCC Tianhe.
"With support from policy initiatives and rising demand for such equipment from projects under the Belt and Road initiative, I'm confident that our TBMs will soon dominate the global market," Shen told the Global Times on Saturday.