Coal Industry Funds West Virginia Senate President's PAC's PR Efforts on Public Employees Strike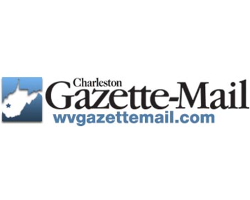 By Jake Zuckerman
October 10, 2018 - Nobody paid more to fund GOP Senate President Mitch Carmichael's public relations campaign on the 2018 teacher and school service personnel strike than West Virginia's largest coal producer.
Murray Energy Corp.'s $72,000 donation was one of many that companies and individuals within the coal and chemical industries made to the West Virginia's Future PAC.
As election day approaches, the Carmichael-aligned PAC has been working to disburse the message that Republicans in the Legislature are to thank for a teacher and state worker pay raise and a booming economy.
The messaging ignores the nine-school-day teacher and service worker strike that pressured lawmakers to grant the raise and remarks from Carmichael and other Republican leaders at the time that workers found contentious.
Along with the $72,000 from Murray Energy, donations include $35,000 from the Reschini Agency, whose affiliate recently bought a majority ownership of a $7.2 billion mining, oil and gas insurance agency; and $30,000 from Frank Calandra Inc., the proprietorship that yielded Jennmar, which manufactures mining products.
At least $266,000 of the roughly $347,500 raised by the PAC as of its last filing — about 77 percent — comes from individuals and companies in the mining and chemical sectors.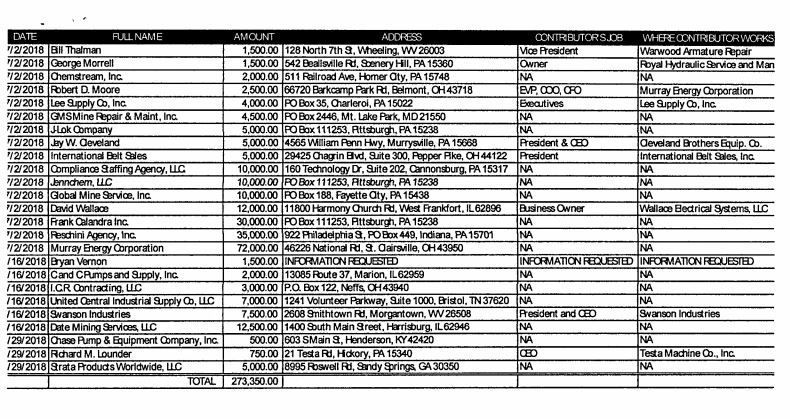 Some of the donations reported in the West Virginia Future PAC's most recent filing to the West Virginia Secretary of State's Office.

From Secretary of State's office website
West Virginia Public Broadcasting first reported on the connection between the PAC, Carmichael and the public relations efforts.
"We look forward to working with you to craft the proper narrative as to the West Virginia comeback story and Republican commitment to education," Carmichael wrote in an email, obtained by WVPB, to employees of Mercury LLC, the PR firm working on the messaging campaign.
Other obtained emails show Carmichael sought help from the firm in crafting a response to a report from the West Virginia Center on Budget & Policy on census data that indicates the poverty rate is rising in West Virginia, despite positive economic trends like employment and GDP growth.
The PAC's telling of who's responsible for the teacher pay raise echoes that from Gov. Jim Justice, who last week credited Republicans in the Legislature with granting the pay raise, not the people who were "rah-rahing and everything upstairs."
At the news conference, Justice, flanked by House and Senate Republicans, also promised to put $100 million into the Public Employees Insurance Agency, a centerpiece during the strike, and grant another 5 percent pay raise to teachers and state employees.
Chris Hamilton, senior vice president of the West Virginia Coal Association, said Monday that he believes he encouraged association members to contribute to the PAC.
"I believe so," he said. "I don't recall an email. It's something that may have been said, may have been encouraged."
Carmichael said Tuesday he isn't surprised by industry contributions to a PAC that doesn't have any direct link to energy or coal markets, given coal's support of the party.
"That PAC gets a lot of contributions from the coal industry. They're not exclusively from coal, but they've been big supporters," he said. "In my view, they should be. The coal industry has experienced a significant resurgence under Republican leadership, and not saying there's anything like a quid pro quo or anything like that, but it's absolutely evident that they have prospered more under our leadership than under previous leadership."
As with any legislative session, there is much at stake for the industry when lawmakers return to the Statehouse in January. About a month ago, Bill Raney, president of the West Virginia Coal Association, asked a joint legislative committee to consider lowering the severance tax on coal.
The Legislature can also change any number of state laws, like mine safety or tax provisions that affect industry companies' bottom lines.
Other notable donations to the PAC include $20,000 from the Coalition for a Stronger West Virginia, a political "social welfare" organization incorporated by Greg Thomas, longtime aide to former Massey Energy Co. CEO Don Blankenship; two donations totaling $25,000 from The Chemours Co. FC; and a $10,000 donation from Jennmar affiliate JennChem LLC.
A Murray Energy spokesman would not comment for this report. Efforts were made to contact several other donors, although all but one request was denied or ignored.
C and C Pumps and Supply Inc., of Marion, Illinois, which manufactures pumps for mining and other industries, contributed $2,000 to the PAC.
Chris Szablewski, the company's owner, said he heard about the PAC by "word of mouth." He wouldn't say who told him about it.
"Republicans talk," said Georgia Petro, a company representative who joined in on the phone interview. She also said that Szablewski's donations came from a personal account, although that is not reflected on the campaign finance report.
According to PAC expenditure reports, it spent about $11,000 to support Senate Majority Leader Ryan Ferns, R-Ohio; $5,000 to support Sen. Ed Gaunch, R-Kanawha, and almost $5,500 to support Sen. Tom Takubo, R-Kanawha.
It also spent more than $30,000 opposing Delegate Bill Hamilton, R-Upshur, in his primary bid against incumbent Sen. Robert Karnes, R-Upshur. Hamilton won the primary with significant backing from labor unions.