Virginia Energy Bowl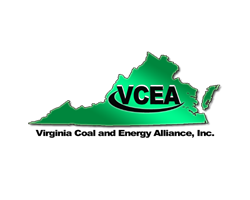 November 7, 2018 - In Dickenson County, Virginia, the Ridgeview Middle School Red team was named the winner in the inaugural Virginia Energy Bowl held Monday. This event was hosted by Virginia Cooperative Extension, which is an extension of Virginia Tech and Virginia State University, the Virginia Coal and Energy Alliance, the Virginia Oil and Gas Association and the American Petroleum Institute.
Tarah Kesterson, with the Virginia Department of Mines, Minerals and Energy, served as moderator for the event which saw the red team, comprised of Ashley Goodman, Ashley Price, Cameron Deel, LeaChelle Boggs and Ryder Bowens and the blue team comprised of Tiger Moore, Laycee Branham, Caylee Sykes, Lelan Vance and Tanner Stanley go head to head in answering questions related to American energy sources – from coal and gas to wind and solar.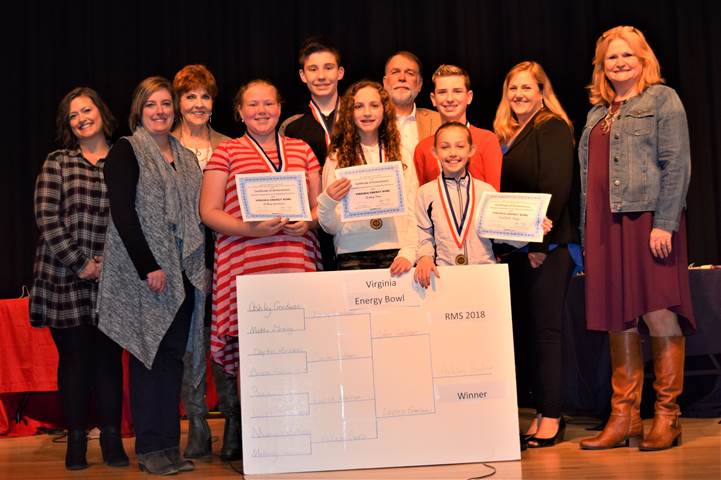 First place team....

From left, (front), Sharon Hall, sixth grade science teacher; Ashley Goodman; Ashley Price;
LeaChelle Boggs; and (back) Tarah Kesterson, moderator; Barbara Altizer, VCEA; Cameron
Deel; Harry Childress, VCEA; Ryder Bowens; Beth Stockner, VOGA; and Denechia Edwards,
supervisor, Dickenson County Public Schools.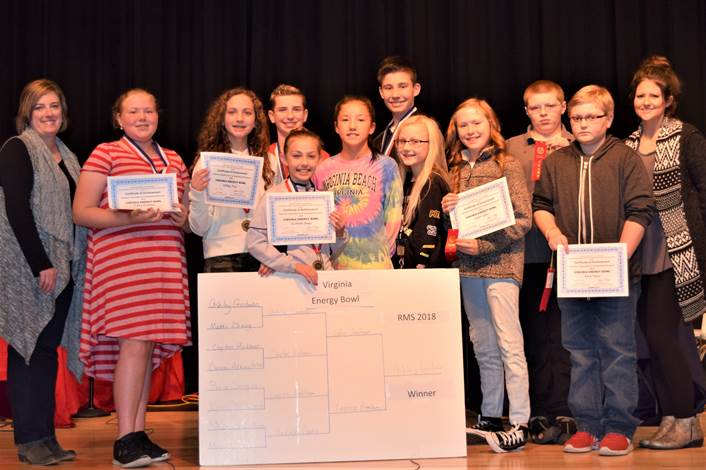 First and Second Place Team:
From left (front) Sharon Hall, sixth grade science teacher; Ashley Goodman; Ashley Price; LeaChelle Boggs; Tiger Moore; Laycee Branham; Caylee Sykes; Lelan Vance; and (back) Ryder Bowens; Cameron Deel, Tanner Stanley; and Heather Rasnick, sixth grade science teacher.
The program, offered for the first time this year and piloted in Dickenson County by the VCEA and VOGA, is aimed at sixth grade students, who were given study guides by their teachers earlier this fall to prepare for the competition. Information in the study guide was reviewed by DMME, API, Virginia Cooperative Extension agents and the two sponsoring organizations. Questions asked correlate to Virginia Standards of Learning material. Based on the success of the inaugural program, plans are to expand the competition to additional counties next school year and to see the program continue to grow.
"The energy bowl is a competition we have worked to develop for several years," said VCEA Director of Education and Outreach Barbara Altizer. "Developing the questions and sharing them with others for review as to accuracy and correlation to the standards of learning was a critical component to the project.
"We are so pleased to finally see this day come," she added.
VOGA Public Relations Director Beth Stockner agreed noting, "VOGA worked with VCEA on this joint project to raise awareness of the importance of energy in our daily lives. The questions developed touch on all forms of energy and also factor in math skills and more to match what Virginia SOL expectations are for sixth graders."
Both Altizer and Stockner said they were impressed with the student knowledge exhibited during the competition Monday by both teams in the final round
.
At the school level, preceding Monday's competition, there were eight teams, which competed in double elimination rounds to pare the eight teams to four and the four teams to two to arrive at the final two teams competing in the final round.
Denechia Edwards, a supervisor in the Dickenson County Public School System, welcomed students to the final round of competition, noting there were some strong competitors in the Monday event. Two rounds of play were held with 12 questions each. Students buzzed in when they knew an answer and if the answer was correct, they earned five points. If the answer was incorrect, they lost five points. The end of round one saw the score tied at 30-30. The red team pulled ahead in the second round to win the competition 60-55.
Additional students who competed in the Energy Bowl preliminary rounds included Leah Sutherland, Ethan Deel, Clayton Hickman, Tyler Edwards, Kaylie Rasnick, Makinley Owens, Chace Fuller, Arianna Wilson, Preslee Strouth, Gauge Ratliff, Maddie Fleming, Kendra Dotson, Izzy Bryer, Lexi Mullins, Dustin Thompkins, Tyger Mullins, Ricky Paul Arrington, Kinsley Barton, Ava Stanley, Brie Sergent, Triton Sluss, Bri Mullins, Reanne Mullins, Connor Neece, Madison Gilliam, Kamron Bentley, David Bush, Corina Adkins, Sadie Thomas and Keira Boggs.
Sixth grade science teachers Sharon Hall and Heather Rasnick served as coaches for the students in preparing them for the energy bowl competition.