Bauma 2019 - Bigger Than Ever!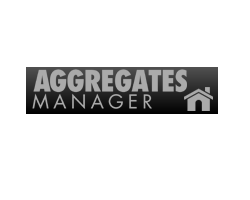 By Therese Dunphy
November 7, 2018 - With more than five months to go before bauma 2019, held April 8-14 in Munich, Germany, exhibitors will begin to move into their show space this month as they prepare for a record-setting show. Already the world's biggest trade show, the beast continues to grow. Just how big is this show? The square footage is more than 2.5 times that of ConExpo-Con/Agg 2017
More than 3,500 exhibitors from 60 countries will be at the show and 600,000 visitors are expected. To accommodate the growth, two new halls, which cover 20,000 square meters of exhibit space, have been added.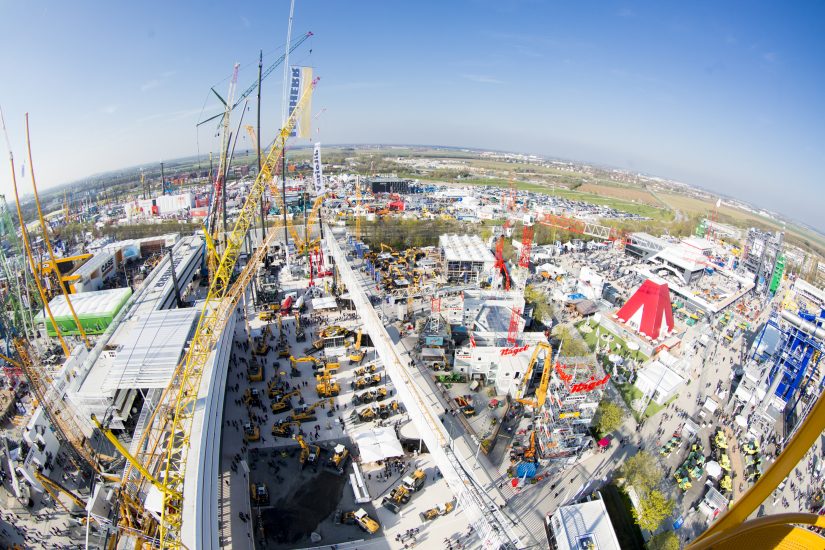 bauma, the world's largest trade fair, continues to grow with an additional two exhibit halls in 2019.
"The industry is booming, which is reflected in the growth of bauma," says Klaus Dittrich, chairman and CEO for Messee München. "We've taken account of the rise in demand and expanded our site in eastern Munich to 614,000 square meters. Our aim is to offer a platform to as many exhibitors as possible."
Expanded to 18 halls, the exhibition boasts 200,000 square meters of indoor exhibit space and an additional 414,000 square meters of outdoors space. A new hall and fairgrounds map shows the division into individual exhibit sections and highlights changes. For example, large sector construction machines and attachments was expanded to five halls and an additional outdoor area directly next to the hall complex.
Mining will continue to play a significant role in the show: 20 percent of the exhibitors offer mining equipment and 24 percent of the visitors at the last show were from that sector. "We included mining equipment 15 years ago because many manufacturers produce machines for both the construction side as well as the mining side," Dittrich says. New for 2019 is underground mining.
"Why do 600,000 people flock to the trade fair grounds in Munich within seven days?" asks Dittrich. "I think one important reason is that bauma shows the full dimension of the construction machinery industry starting with everything you need at the construction site; all machines you need for mining, raw material extraction, and processing; construction material manufacturing; and all of the suppliers and services. It's really the place to be to see the latest innovations in the industry. At bauma, you can see the construction machinery market of the future."
To highlight the introduction of new equipment, the show sponsors the bauma Innovation Awards. The five award categories include machinery; compounds and digital systems; construction work, construction method, and construction process; science and research; and design. Nominees will be announced in late January and awards will be presented on April 7 as part of the opening ceremony.
A new platform for exhibitors in 2019 is a digital one. For the first time, visitors to Hall B0 will be able to experience virtual and augmented reality. A combination of images, sound, and sensor feedback such as wind will make that possible. "The booths have size limits, the digital area is limitless," says project manager Mareile Kastner. In addition to the VR hall, many exhibits throughout the show will include a virtual reality perspective on machine maintenance.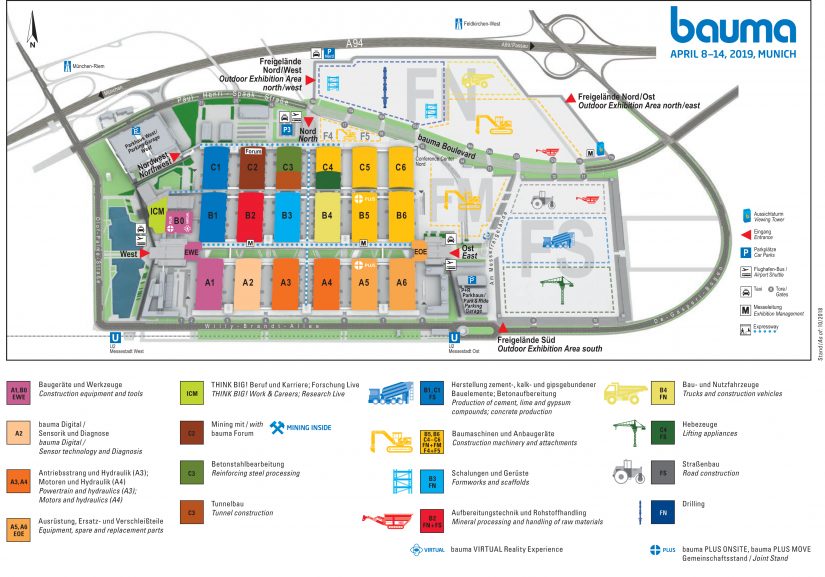 bauma, the world's largest trade fair, continues to grow with an additional two exhibit halls in 2019.
To accommodate the VR space, the "THINK BIG!" exhibit that showcases career opportunities for students has been moved to the International Congress Center Munich (ICM), but the show maintains its focus on building appeal among future generations of workers. The hall includes simulators, video games, and live presentations to attract students. At the 2016 show, Dittrich estimates that between 15,000 and 20,000 students visited the show. "In Germany, we are running out of young talent," says Joachim Schmid, managing director VDMA. "We have a whole hall to present the young people with the fascination of our industry. It's a real great success." He adds that the show works with local schools to attract student attendance, but the exhibit also enjoys word-of-mouth promotion from those who come and draw others to it over the course of the week.