Bill to Encourage Sale of Coal-Fired Plants Passes in Wyoming Senate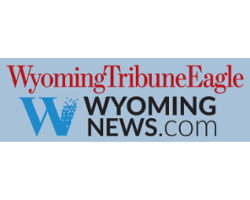 By Heather Richards
February 10, 2019 - A bill aimed to shield against collateral damage from the coal industry's decline passed the Wyoming Senate on Wednesday, though even the lawmakers proposing it noted that it was a Hail Mary.
Senate File 159 proposes to strong-arm utilities like Rocky Mountain Power away from closing their coal-fired power plants in Wyoming. They should sell them instead, the bill contends.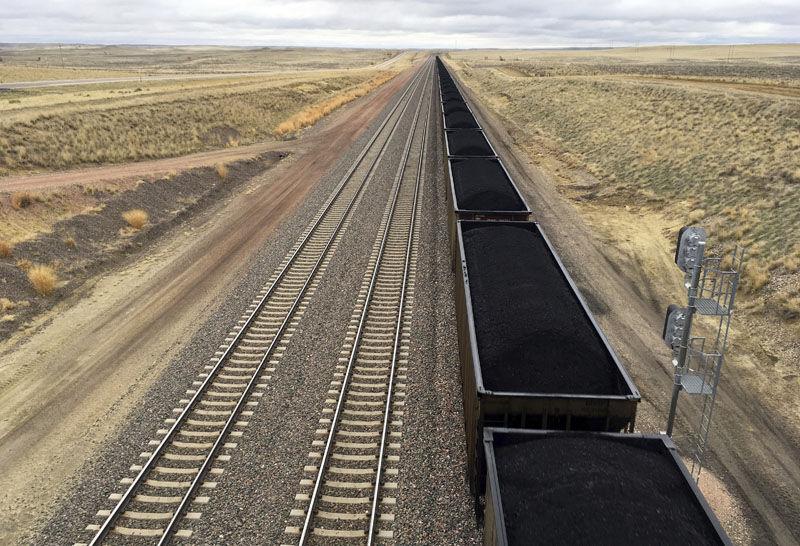 In this March 28, 2017, file photo, a train near hauls coal mined from Wyoming's Powder River Basin near Bill, Wyo.

Photo by Wyoming Tribune Eagle
Once sold, these power plants could keep burning to the end of their natural life, perhaps selling power back to the utility or providing electricity for some other purpose, industry or location, proponents hope.
Despite pushback from the utility most concerned, PacifiCorp, a large electricity cooperative and a landowner group, the bill's proponents say it is a step in the right direction as towns like Kemmerer, Glenrock and Rock Springs face uncertainty due to PacifiCorp's consideration of closing some coal-fired power plants early — plants that burn Wyoming coal, employ Wyoming workers and were recently judged more expensive to burn than replace in many cases.
"I wanted something that could address the importance of the jobs associated with those plants in Wyoming's communities," said Dan Dockstader, R-Afton, the bill's sponsor. "This bill brings a possible solution for our Wyoming workers and the communities they call home."
The idea to sell power plants instead of retiring them originated with some bad news to Dockstader.
PacifiCorp — the parent company of Wyoming's largest utility Rocky Mountain Power and owner of most of its coal plants and two coal mines — reported in December that early retirement of coal-fired units at plants like Jim Bridger, Naughton and Dave Johnston could save money.
Dockstader said that could be devastating to towns. The senator asked another lawmaker why the plants couldn't just be sold instead.
"By the look on the legislator's face I could tell it was a legitimate question," Dockstader said in an email Wednesday. He wrote the question on a sticky note that night and it is still stuck to his desk.
Dockstader's measure attempts to restrict a public utility's ability to make a profit off power generation to replace a coal plant, such as the cost to build a wind farm, gas plant or a transmission line, unless the company has made what the bill defines in detail as a "good faith effort" to sell the coal plant.
Of course, these coal plants aren't Wyoming's to sell. They belong to utilities like Rocky Mountain Power, paid for by rate payers across the utility's multi-state system over decades. Coal represents about half of PacifiCorp's capacity to provide power.
The company has been under pressure to disclose the economics of its coal plants from environmental groups like the Sierra Club. The group and others have argued that the falling cost of new wind generation, cheap natural gas and selling electricity on the open market are all cheaper ways to procure power for rate payers.
The company has acknowledged this to be the case in some of its coal fleet, which still provides about half of the power to its customers.
The bill proposed by Wyoming lawmakers raised some concerns, said Dave Eskelsen, a spokesman for the utility's western operations: Rocky Mountain Power.
"Rocky Mountain Power has a good history of working with all elected officials to inform them of the pricing and service implications of proposed changes to utility policies," he said in an email. "Wyoming SF 159 brings up some very complicated issues at the core of providing reliable and affordable electric service for our customers."
PacifiCorp has been pulled in various directions of late.
Jill Morrison, an organizer for the Powder River Basin Resource Council, which opposes the bill, said the utility is stuck between a rock and a hard place.
It's under an obligation to provide power that is as cheap as reasonably possible, but it also makes its money by regulated returns on building new power infrastructure — like a new gas plant or transmission line. In addition, the dynamics of coal today are rapidly changing. The fuel source is no longer the cheapest source of power. Wind is often the lowest-cost new generation, according to the investment firm Lazard Ltd., which compiles comparative costs of energy every year.
Customer choice is changing, too. The company's Oregon customers are paying off their liability in the coal fleet, so that they will not have to take coal power or keep up with maintenance and operations on coal-fired plants in the future. Washington state and California ratepayers for PacifiCorp have signaled similar tastes, according to the utility.
That leaves places like Wyoming potentially holding the bag for aging coal power plants — plants that Dockstader's legislation hopes to save in order to help the local towns and people employed by them.
Morrison, of the Powder River Basin Resource Council, said that the bill would introduce numerous risks to Wyoming taxpayers, from the potential of a coal plant to be orphaned and its concrete and steel left for the state to clean up, to uncertainty regarding environmental liabilities like coal ash sitting outside the plants, to the economics themselves — and whether keeping coal burning is the best way to keep the cost of electricity down.
"Did we learn nothing from the coal-bed methane collapse?" she said in an emailed list of concerns with the bill, noting Wyoming's infamous bust in gas prices and abandoned wells. "In that case, poorly capitalized buyers took on the liabilities of a declining industry before many of them folded and left the reclamation burden to Wyoming taxpayers. In this case, the Legislature would effectively encourage and codify the same kind of transaction."
There are a lot of unanswered questions regarding the bill, said Ogden Driskill, R-Devils Tower, another sponsor of the bill.
Many concerns that have been raised by groups and the utility can be addressed, he said, down the line.
Driskill said he didn't know who would want the coal power or how bonding for clean-up of power plants should best be covered from one buyer to the next.
But the legislation is important as a first step toward working with utilities like Rocky Mountain Power on a solution to the potential disappearance of coal power plants in Wyoming, the jobs that go with them and the coal industry that sells to them, he said.
"First thing you have to do is get someone's attention," he said.
Then you work things out if you can, he said.
For Driskill, the dream isn't a coal plant running forever, but carbon capture making coal-burning cleaner. That's the problem, he said, making coal less favorable.
Carbon capture is the holy grail that would change the course of Wyoming's declining coal industry, but it would need significant investment to become economic, he said. If Wyoming, or someone else, doesn't make carbon capture a reality, the state is looking at a fundamental change for the worse for its coal industry, he said.
Others see the bill as a lost cause and the hope in carbon capture as problematic.
Shannon Anderson, a lawyer for the Powder River Basin Resource Council, said carbon capture was a choice 10 years ago. She was a proponent of it, present in the legislature — then early in her career organizing for the council — when policy to encourage the industry to come to Wyoming was just getting going. Money was allocated, relationships with industry were built and the University of Wyoming was picking up speed with its new School of Energy Resources to research energy opportunities.
But the economics of carbon capture didn't work, she said.
Carbon capture has a place in dealing with emissions in the power sector, but for Anderson it's not going to save the day when it comes to 16,000 tons of carbon dioxide released every day from plants like Dave Johnston.
"It's really hard for me personally, because I was personally involved carbon capture. That was a decade ago," she said. "That's not where we are now."