Land in Place for New YMCA in Southern West Virginia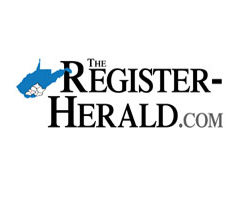 April 10, 2019 - Construction plans for a $30 million, state-of-the-art YMCA of Southern West Virginia have been finished, and two local organizations have pledged to give nearly 24 acres of land for construction of the 120,000-square-foot facility, YMCA CEO Jay Rist said Monday.
"I"m happy to be able to announce that we've got the land in place, and we're going to move forward with fundraising," Rist added.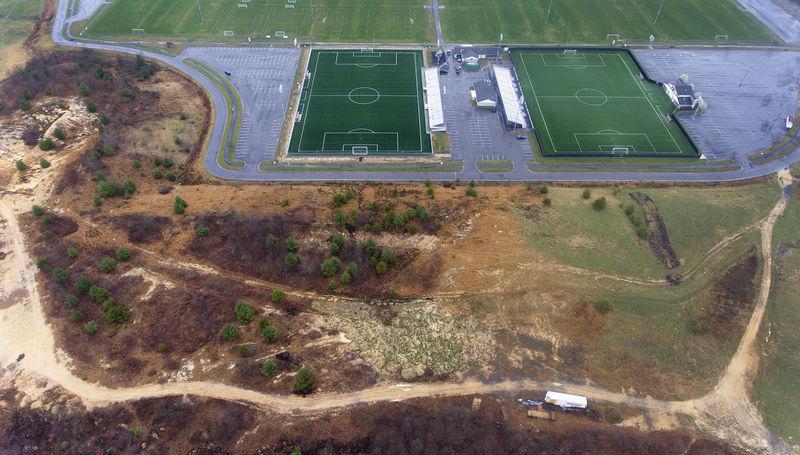 An arial view of the future site of a $30 million YMCA aquatic facility and sports center on a hillside that overlooks the Paul Cline Youth Memorial Sports Complex Monday.

Photo by Jenny Harnish, The Register-Herald
Rist said a community fundraiser to raise $3.3 million is underway.
Billionaire and native West Virginian Chris Cline has already pledged $10 million to the project, which is anticipated to play a key role in the development of Beckley as a college town and in regional economic development, Rist said.
With help from former U.S. Del. Evan Jenkins, R-W.Va., Rist has secured Abandoned Mine Lands (AML) funds, leaving a $4 million need that donors must meet.
"The Cline family has presented southern West Virginia with this amazing opportunity to really transform how we approach programs and services for our kids, helping our seniors at the end of life by basically administering medicine, in the form of health and wellness, keeping our community and our city healthy," he said. "Having a signature facility like that in this area would not only be great for health and wellness and great for youth development, it's also going to be a bar-setter that will create economic stimulus through us.
"This could spark a real economic progress, especially with West Virginia University Institute of Technology having a presence here.
"This is one piece that can make a huge, huge difference to us, not just in the immediate but in the long term, for generations."
The Y has already raised about $700,000 of the $4 million, Rist reported, with The Kelly Family Foundation giving $100,000 in the fall.
The project is in the bidding and negotiations phase, but bidding has not yet started.
Beaver Coal Co. and Pinecrest Development Corporation have pledged to give the land, which will host the largest portion of the new aquatics center, if all $30 million of funding is in place for the project by June 20, 2020, Rist said.
"There's a little contingency there," Rist said.
The nonprofit Pinecrest Development and for-profit Beaver Coal both own acreage near the Paul Cline Memorial Youth Sports Complex, where the new facility is to be built.
If the facility is constructed, surrounding land is expected to increase in value.
When architectural plans in the late summer called for two-thirds of the proposed aquatics facility to be constructed on land owned by Beaver Coal Co., Beaver Coal had asked Pinecrest for a return of acreage that Beaver had donated to the Y and that the Y had donated to Pinecrest in 2002, in return for offering another parcel of land to the Y.
The two entities had started negotiations in the fall to make a trade that would benefit the YMCA and the community and that would also protect the financial interests of Beaver Coal and Pinecrest.
Rist said Monday that the acreage is in place.
He said it is likely that YMCA members and base supporters are likely to step forward and that no donation is too small — or too large.
"I think our membership base would love to see it, the people that have been a part of the Y," said Rist. "They are really instrumental in everything that we've been able to do over the years, from the time this facility was built in the 1970s.
"Our members care about the Y, and they are certainly passionate about it."
Rist has said the Y will be a "new golden era" and will build on a legacy that Bob Bolen, the late Mel Hancock and the late Warren Thornhill gave Beckley when they raised money for the current Y facility.
The facility will offer a state-of-the-art aquatics center with water slides, a dive pool, zero depth pool, lazy river and a rock climbing wall modeled after Summersville Lake and Seneca Rocks. Climbers will be able to jump into the pool when they reach the top of the wall.
Other features include an indoor soccer field, three exercise studios, two gyms and a full fitness center. Child care and a juice bar will be at the front.
He said the facility will be a draw to recruit physicians to local hospitals and that it will influence economic development.
Rist urged supporters to give to the project.
"Traditional donors and anybody with a big heart that would want to get on board with a project that's not just good for Raleigh County but surrounding counties as well (are invited to give)," said Rist. "This is a southern West Virginia project that can set the tone for some good regional development potential for economic transition."