Dry Bulk Market: The Case for the US Coal Exports to China Trade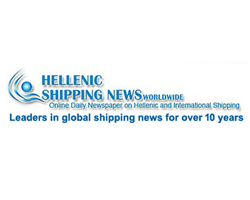 May 7, 2019 - While the U.S.-China trade friction of the past few months has, undoubtedly, hurt shipping in more ways than one (dry bulk shipping not excluded), it seems that some good can also be made of it, especially if a sustainable agreement can be reached. This could involve the rise of U.S. exports of commodities to China, from soyabeans to LNG, but most importantly coal.
In a recent note, shipbroker Banchero Costa said that "with increasing investment in renewable energy, the United States continues to steadily phase-out its aging coal-fired power plants. In 2018, the U.S. retired 12.9 GW of coal-fired capacity. According to some industry projections, further 6 GW of coal-fired capacity will be retired in 2019, and 5 GW in 2020. With domestic demand in decline, U.S. coal producers are becoming increasingly reliant on the export market. Whilst in 2006 only 4 percent of U.S. coal production was exported, the ratio went up to a record 15 percent in 2018. In 2018, the United States exported 105 mln tonnes of coal, which was 19.3 percent up year-on-year, and the second highest annual total ever (second only to the 114.2 mln tonnes recorded in 2012). And this year started extremely well as well, with a record 10.8 mln tonnes loaded in March 2019, up from 7.3 mln tonnes in March 2018, according to Refinitiv data.
Of the 105 mln tonnes exported in 2018, 55.8 mln tonnes was coking coal (up 11.3 percent year-on-year) whilst 49.1 mln tonnes was thermal coal (up 29.8 percent year-on-year)".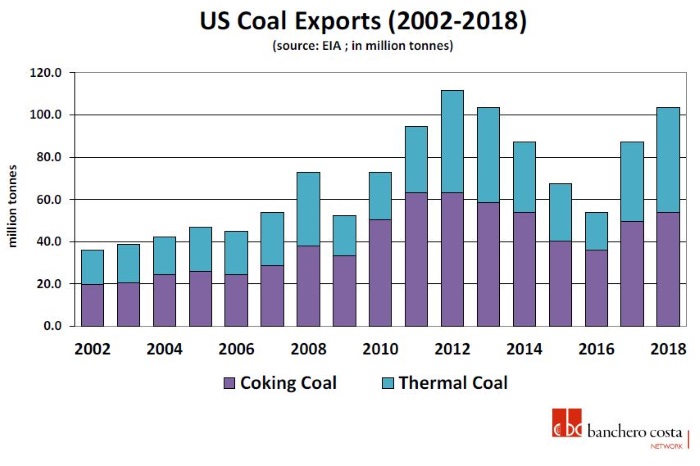 According to the shipbroker, "the destinations are quite mixed. The vast majority of U.S. coal exports are loaded on the East Coast (at ports including Hampton Roads, Baltimore, Newport News, Mobile and New Orleans), so from a geographical point of view, the most obvious destinations are Europe and the Middle East, as well as the East Coast South America. And indeed, about half of coal cargoes from the U.S. in 2018 ended up in Europe (in particular in the Netherlands, Belgium, Italy, the UK, and the Ukraine) and in North Africa (in particular Morocco and Egypt), with many cargoes also going to Brazil and Argentina. About one quarter of U.S. coal cargoes last year ended in Asia (especially to India, but also to Japan, South Korea, Indonesia, and Thailand). In particular, the top destinations for U.S. coking coal in 2018 where Brazil (7.6 mln tonnes), the Netherlands (5.6 mln tonnes), and Japan (5.4 mln tonnes). The top destinations for U.S. thermal coal in 2018 were India (10.5 mln tonnes), South Korea (5.8 mln tonnes), and Netherlands(5.6 mln tonnes)".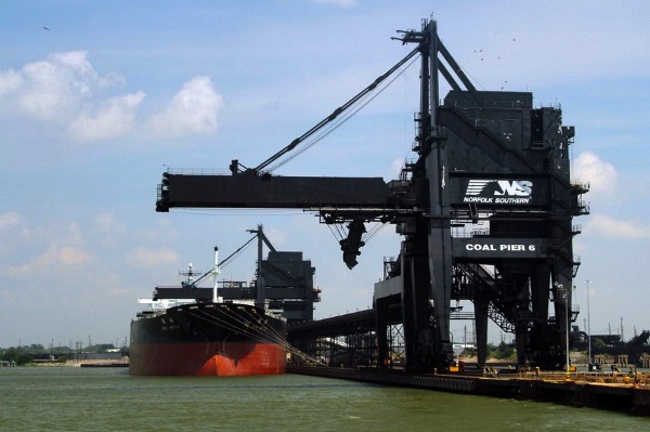 Banchero Costa added that "U.S. exports have been benefiting from strong demand for coal on the international market, relatively high international prices for coal, and the fact that domestic demand for coal in the U.S. was slashed due to environmental pressures. Thermal coal exports to India have also benefited from a partial ban on petcoke imports to India, and Indian importers have been hence substituting thermal coal for petcoke. What will be very interesting to see this year is if the trade talks can have any impact on U.S. coal exports to China. Coal flows from the U.S. to China have been very modest in recent years. They peaked at over 1 mln tonnes in February 2017, and since then have been on a declining trend, averaging less than 0.5 mln tonnes per month. However, it has often been speculated that one way to break the negotiating impasse between the Trump administration and China was for China to rump up imports of U.S. commodities, such as oil and LNG, to help reduce it's trade deficit versus the U.S. This could perhaps include coal as well, and if this was really to happen than it would be very positive development for dry bulk tonne miles", the shipbroker concluded.