Role-Playing for Real: Mine Rescue Teams Practice Skills in Governor's Cup Competition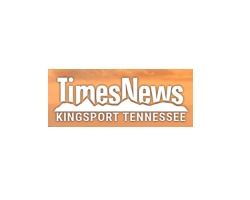 By Mike Still
June 7, 2019 - In Virginia, the floor of UVa-Wise's David J. Prior Convocation Center was a disaster Wednesday – a mine disaster.
The center was the scene of the 2019 Virginia Governor's Cup Mine Rescue Competition, where 10 mine rescue teams from coal operations in Virginia, Kentucky and West Virginia demonstrated their training.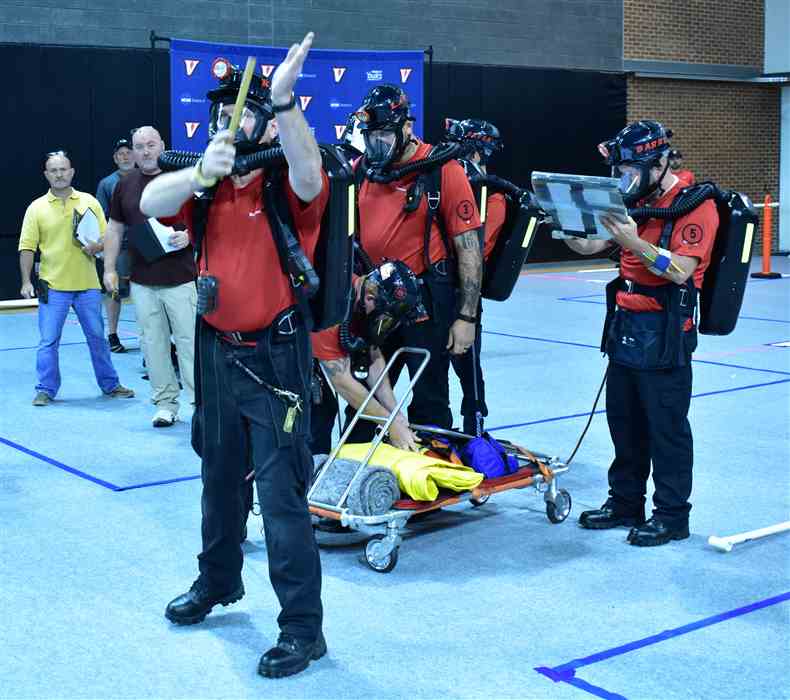 A Buchanan Minerals Red Team mine rescue team member checks for loose mine roof material during Wednesday's Virginia Governor's Cup Mine Rescue Competition. Ten teams from three states demonstated their skills during a simulated underground search and rescue problem.
Photo by Mike Still - Kingsport Times News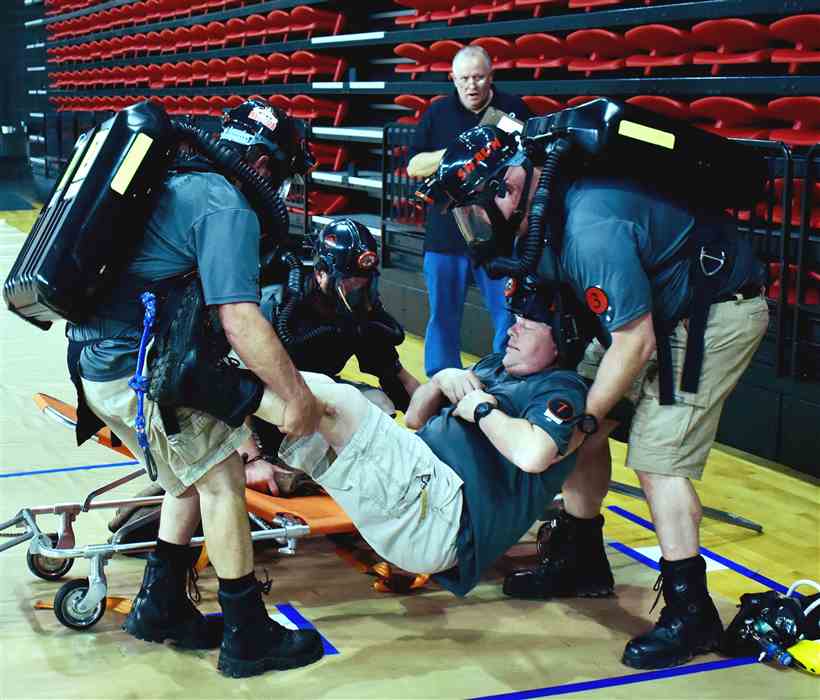 Buchanan Minerals Black Team mine rescue team lifts 'victim' Keith Ratliff from behind a simulated underground mine pillar. The team was one of 10 rescue teams from three states demonstrating their skills at Wednesday's Virginia Governor's Cup Mine Rescue Competition at UVa-Wise.
Photo by Mike Still - Kingsport Times News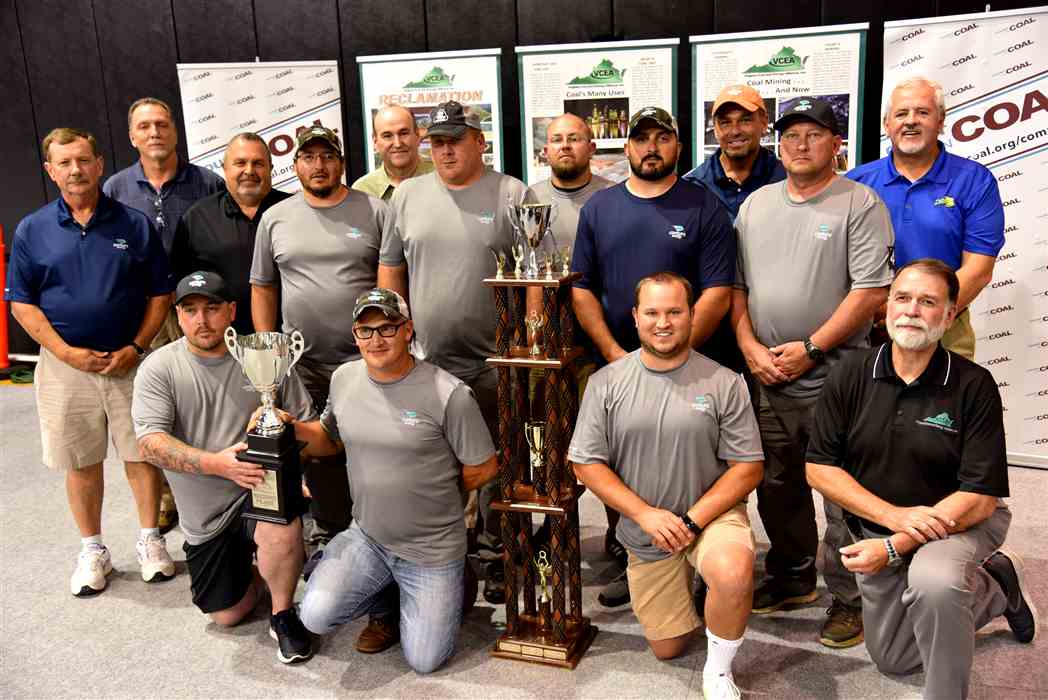 The Paramont Contura mine rescue team, joined by Virginia Department of Mines, Minerals and Energy Director Randy Moore, standing far right, and federal and state mining officials, took home the Virginia Governor's Cup after the Cup Competition at UVa-Wise Wednesday.
Photo by Mike Still - Kingsport Times News
Hosted by the Virginia Department of Mines, Minerals and Energy; U.S. Mine Safety and Health Administration and the Virginia Coal and Energy Alliance, the competition has been a staple of the region's coal industry for decades as various companies' mine rescue teams practiced year-round for readiness in case of mine explosions, roof falls and a variety of potential incidents.
Harry Childress, Coal and Energy Alliance President and a former DMME Director, said the event has grown smaller over the past three decades as the coal industry has undergone its own changes.
"The number of teams has contracted over the years," Childress said as judges made final preparations for the first series of teams, "but Virginia has had several years of zero fatalities. Kentucky also has seen several no-fatality years."
In Virginia, said DMME Public Affairs Office Tara Kesterman, there has not been a fatal mine explosion since the December 1992 Southmountain explosion that killed eight miners.
Some of the most feared underground emergencies – explosions, fires and roof falls – have become far less common in the U.S. in recent years, Childress said. When accidents do occur, they are often accidents involving machinery or vehicles in underground and surface operations and are more industrial than mining-related in character.
For Wednesday's competition, each team was presented the same problem: three miners had gone underground to perform equipment maintenance and repair. A worker at the mine reported that they lost contact with the group, although there was no indication of fire or explosion.
Each team was equipped with rebreathers and masks, gas detectors, helmets and a lightweight stretcher-equipment cart. Communicating with a team member in a screened-off command post, the team worked via radioed directions and a map board to work their way to the missing miners.
Kesterson said one of the major improvements for mine rescue teams in recent years has been the use of portable wireless nodes that teams can place as they go further into a mine. Those nodes can help team members maintain more reliable communication links.
The center floor was marked off with taped lined representing mine shafts and pillars; signs indicating debris and methane levels; and orange cones and plastic pipes marking ventilation curtains and barriers. The teams went through normal safety routines — checking for potential debris falls, monitoring methane levels, changing ventilation flows, finding ways around obstacles — as they navigated the simulated shaft and pillar networks.
At the end of the day, the team from the Wise County-based Paramont Contura operation took home the 2019 Governor's Cup as the top scoring Virginia team.
DMME was also recognized at Wednesday's awards banquet by the Interstate Mining Compact Commission for two of its safety programs. IMCC is an organization of 25 states with metal and nonmetal mining operations
The Coal Underground Mining Safety and Health Training Award was presented by IMCC Executive Director Thomas Clarke for DMME's "Mine Safety Minute" series of training videos. DMME Director Randy Moore said the videos — posted on the agency's YouTube channel and social media links — stemmed from a 2017 increase in mining injuries and helped drive down that increase.
The Metal/Nonmetal Surface Mining Safety and Health Training Award was presented for the Open Pit Miner Apprenticeship Program, a collaborative safety training and certification program for mine foremen between the agency, the Virginia Transportation Construction Alliance and Germanna and Mountain Empire Community Colleges.