Five-Year Report Assesses Impacts Under 25-Year-Old Mining Law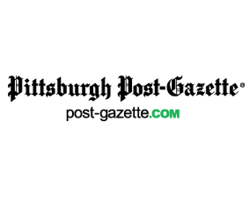 By Don Hopey

January 5, 2020 - Mining company purchases of undermined and subsided surface properties in southwestern Pennsylvania have increased and that could adversely alter rural coalfield communities, according to a new analysis of the state's 25-year-old mining law, Act 54.

That 1994 law mandates an assessment of mining impacts every five years, and the latest report found that 54 of 192 water supply problems due to mining subsidence between 2013 and 2018 were resolved when a mining company bought the affected property above its coal mine.

By comparison, mining companies purchased 34 water-supply impacted properties between 2003 and 2008, and 37 from 2008 to 2013.

"The widespread practice of company purchase of undermined properties has the potential to change the tax base and social fabric of undermined areas," said the report done for the Pennsylvania Department of Environmental Protection by the University of Pittsburgh.

Communities are adversely impacted if drinking water supplies diminished or eliminated by subsidence aren't restored or replaced, and residences aren't repaired and remain vacant.

"No one is evaluating the impacts on the local landscape as a whole, in part because that is not required by Act 54," said Daniel J. Bain, the report's lead author and a Pitt assistant professor of geology and environmental science. "But do we need to make sure that some of that land remains usable? That's not our judgment to make. Rather it's a decision and a policy to make at the commonwealth level."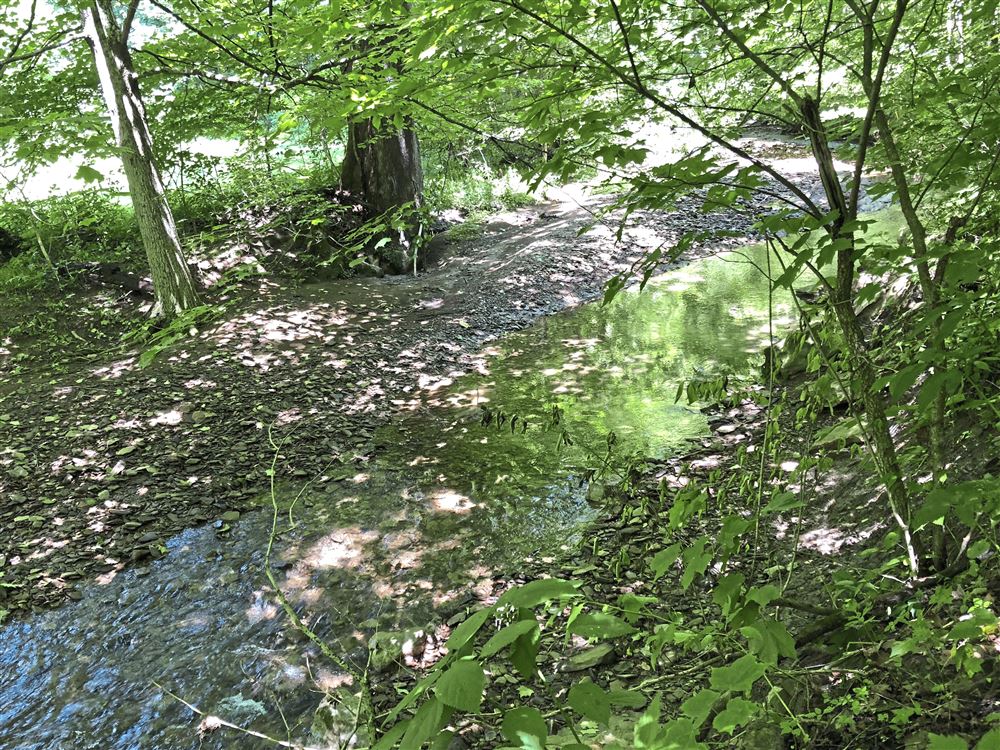 Kent Run in Ryerson Station State Park is located above a controversial longwall coal mine.
Photo: Max Graham, Post-Gazette


The report also found that during the last five years, all of the surface land purchases were of properties above southwestern Pennsylvania's seven longwall mines. Longwall mining is a full-extraction mining method that leaves behind no support pillars, and causes surface subsidence of three to four feet.

The report noted that Consol Energy has purchased more than 40% of the surface property over its Harvey Mine longwall panels in northern Greene County.

Zachary Smith, a Consol spokesman, did not answer specific questions about the surface property purchases above the Harvey Mine, whether the increase in surface purchases is indicative of a change in company policy or if the company has assessed or considered the overall impact of its property purchases on the coalfield communities and rural agricultural land use.

Mr. Smith did post in an email statement that Consol, "has a robust permitting, land and subsidence program aimed at working with landowners to minimize effects before, during and after mining activity. We work in a responsible manner, abide by all local, state and federal laws and regulations, and take our commitment to the communities in which we operate very seriously."

Rachel Gleason, executive director of the Pennsylvania Coal Alliance, an industry advocacy organization, said coal company purchases of subsided property are a "common practice that's been used for a long time," and are allowed by Act 54.

She added that potential negative impacts from the practice cited in the report are "speculative" and outside the scope of what the mining law requires in the five-year assessment.

But Stephen Kunz, senior ecologist with Schmid & Company Inc., an environmental consulting firm headquartered in Media, Delaware County, said problems with mining companies buying subsided properties are real and long-standing.

It's "not an emerging trend. It has been clear for a decade or more already," Mr. Kunz wrote in an email. "None of these issues are new and the biggest shame of all is that after 25 years of dealing with them, DEP keeps pretending that they either do not exist or they actually are dealing with them when in fact they are not — at least not in any meaningful way."

Legislative Battle Looming?

The Act 54 amendment to the 1994 state bituminous mining law, was passed with the support of the mining industry in large measure to allow the surface subsidence caused by longwall coal mining. In return it requires mining companies to repair or restore damaged land, surface structures and water supplies and resources, or compensate the surface property owners affected.

Mining statistics compiled in the fifth Act 54 assessment show 49 active underground bituminous coal mines owned by 11 companies operated in the state from 2013 through 2018, undermining 28,854 acres, about 7% less acreage than during the previous five years.

Of the 49 underground coal mines seven are longwall mines, which remove all of the coal in an underground seam in wide, mile-long panels that cause surface subsidence of from three to four feet, and can damage structures, dewater streams, springs, ponds and drinking water wells, cause land to slump and fissures to open up.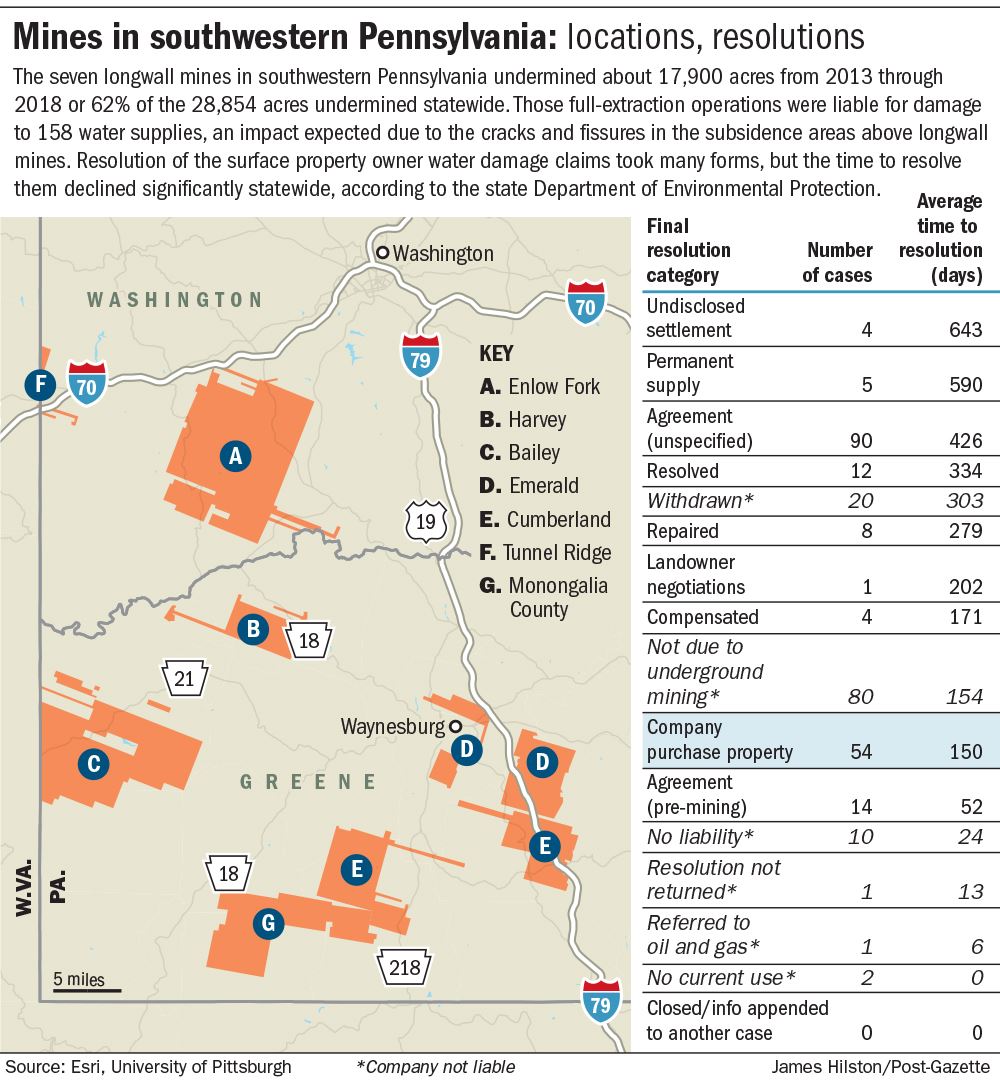 There were also 38 room-and-pillar mines, which leave coal pillars in place to minimize subsidence and support land, structures and water resources on the surface, and and four pillar recovery mines, which remove coal pillar supports from previously mined areas.

Like previous five-year reports, the latest one found that adverse impacts on structures, land and water resources were disproportionately associated with longwall mining rather than the more numerous room-and-pillar mines.

The report found mining companies were liable for 192 impacted water supplies, down from 371 for the previous reporting period, 2008-2013. The average time to resolve operator-liable water supply issues dropped from 415 days to 302 days in the 2013-2018 report.

The DEP said in a news release it has been working with the industry to improve those response and case resolution times.

Other findings of the report, which weighed in at 995 pages, include:

• "Unexpected" subsidence has occurred far outside areas undermined by longwall operations, suggesting changes may be needed to expand mining liability and protect private property owners and the environment.

• A "substantial" number of subsidence impacts — 64 damaged structures, 14 degraded water supplies and 14 land slumps — occurred above mines that were inactive for many years, and those problems may necessitate policy changes to protect surface property owners.

• The DEP has failed to comprehensively assess systemic impacts from mining to surface water, groundwater and wetlands.

• There were 154 cases of flow loss on 24.6 miles of streams, mostly above longwall mines, but "very few" of those stream reaches are on the state's list of impaired streams.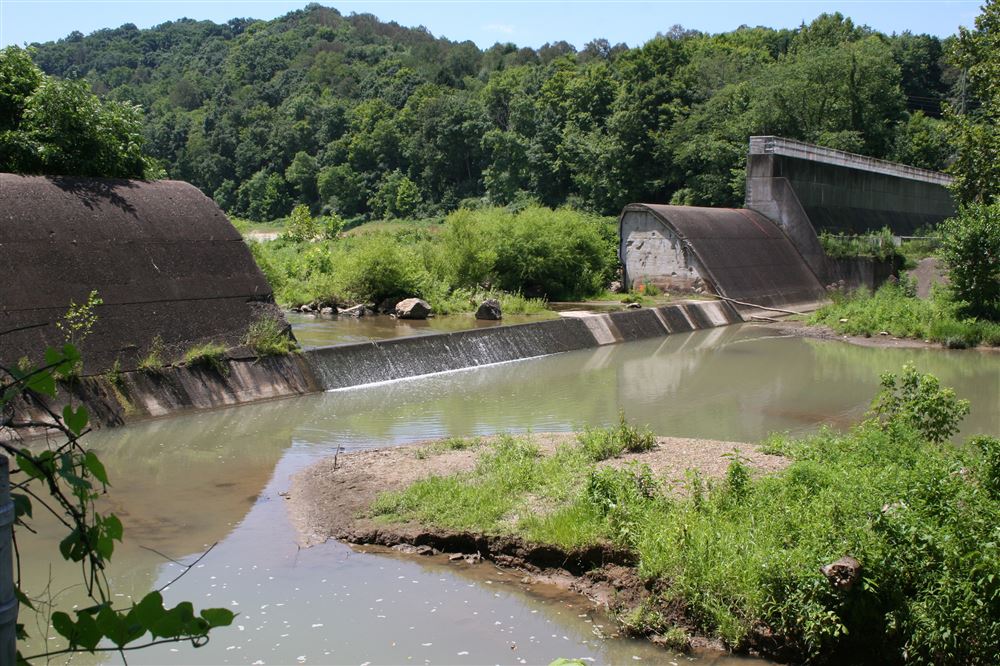 The dam at Ryerson Station State Park in Richhill, Greene County in July 2015. The dam had been damaged by longwall mining in 2005 and the lake was drawn down. At the time DCNR said the ground is still moving and a new dam cannot be constructed at the site.
Photo: Max Graham, Post-Gazette


• Outdated, incomplete and incompatible data collection and compilation related to the DEP's Bituminous Underground Mining Information System — an issue noted in previous reports — continues to hamper the state's ability to fully assess mining-caused damage to homes, land and water resources.

While the report recommends significant monetary investment in new software to improve recordkeeping and the ability of the department to do future Act 54 assessments, the state legislature is considering legislation that would make the reporting requirement discretionary.

The bill also would remove the requirement that DEP use a third party to do the assessment and require that any report produced be submitted to the Senate Environmental Resources and Energy Committee. Act 54 requires submission of the reports to the governor, state General Assembly and the DEP's Citizen Advisory Council.

The legislation says the cost to DEP to produce the report "has continuously and sharply risen." The cost of the latest report, according to the university's contract, was $794,305. The price of the fourth report five years ago was $603,000. Ten years ago it was $313,000.

Gleason said the coal alliance supports the legislation, primarily due to the "aggressively" rising cost to produce the reports.

"We believe the reports show Act 54 is working as intended," Gleason said. "We have concerns that the University of Pittsburgh is going outside the scope of the act's reporting requirements and using public funding to do so. The [proposed] legislation provides flexibility for the department for funding priorities."

But Kunz said the legislative proposal is a "Trumpian type plan to reduce or eliminate needed regulations. ..."

The report is based on work done over the last two years by 19 researchers from Pitt and the Carnegie Museum of Natural History.

It was submitted to the DEP under a cover letter dated Aug. 31, but the department didn't issue a news release announcing the report was completed until Dec. 20. It is the fifth such report and the third in a row done by Pitt.

Bain said some of the cost increases for producing the report were caused by the incompatible computer software and data assessment problems that could be remedied by software updates.

Despite the cost, he said, because mining is likely to continue for several decades more, the five-year reviews will remain a valuable tool for identifying both short and more complex, long-term trends in mining impacts.

As the study notes, while Act 54 has worked well in providing compensation to landowners whose property is damaged by subsidence, the focus on individual properties "may be missing important transformations on the larger landscape as operator purchases of undermined properties alter fundamental land use."