Peabody Reports Earnings For Quarter And Year Ended December 31, 2019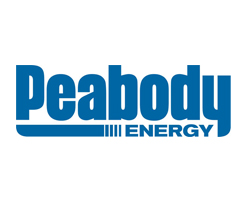 February 5, 2020 - Peabody today announced its fourth quarter 2019 operating results, including revenues of $1.12 billion; loss from continuing operations, net of income taxes of $290.2 million; net loss attributable to common stockholders of $289.8 million; diluted loss per share from continuing operations of $3.12; and Adjusted EBITDA1 of $204.9 million.

"During the fourth quarter, Peabody made a number of operational improvements in Australia, reduced costs in four of five operating segments, opportunistically repurchased bonds to reduce debt, generated substantial cash from commercial settlements and progressed the regulatory process for the proposed PRB/Colorado joint venture," said President and Chief Executive Officer Glenn Kellow. "For 2020, we are targeting improved met coal volumes and costs, lower SG&A and reduced North Goonyella holding costs. Those benefits are expected to partly offset current lower pricing in all segments, lower U.S. thermal volumes, and the loss of some $200 million in contributions from the closing of the Kayenta and Millennium Mines."

Fourth Quarter and Full Year 2019 Results

Fourth quarter 2019 revenues totaled $1.12 billion compared to $1.40 billion in the prior year, primarily driven by 17 percent lower seaborne metallurgical coal volumes and reduced pricing.

Depreciation, depletion, and amortization (DD&A) declined 31 percent from the prior year to $121.6 million, primarily due to the elimination of Kayenta Mine DD&A in the fourth quarter, roll-off of contract amortization expense and lower volumes.

Following final Commonwealth approval in the fourth quarter of 2019, Peabody completed the formation of the United Wambo joint venture and recognized a $48.1 million gain.

The company recognized $250.2 million in non-cash impairment charges largely related to changes in life of mine assumptions in New Mexico and unallocated reserves in the Illinois Basin and Colorado. As noted last quarter, Peabody also wrote-off $58.5 million at the North Goonyella Mine, primarily related to prior panel development. Based on lower discount rates, Peabody recognized a $67.4 million mark-to-market loss on its postretirement healthcare liabilities, compared to a gain of $125.5 million in the prior year.

Fourth quarter net loss from continuing operations, net of income taxes totaled $290.2 million compared to net income from continuing operations, net of income taxes of $233.5 million in the prior year and diluted loss per share from continuing operations of $3.12 compared to income of $1.97 in the prior year.

Fourth quarter Adjusted EBITDA totaled $204.9 million and included approximately $89 million associated with favorable customer negotiations, $23.0 million in restructuring costs and $11.8 million in transaction costs related to the proposed PRB/Colorado joint venture. Fourth quarter restructuring charges primarily relate to actions taken at the North Goonyella Mine and U.S. mine closures, with approximately $7 million related to the company's organizational realignment activities. As Peabody continued to progress the regulatory process for the proposed PRB/Colorado joint venture, certain activities were accelerated from the first quarter of 2020 to December.

Full-year 2019 revenues totaled $4.62 billion compared to $5.58 billion in the prior year on an 11 percent decline in volumes and lower pricing, reflecting industry conditions. Full-year 2019 loss from continuing operations, net of income taxes totaled $188.3 million, while Adjusted EBITDA totaled $837.1 million.

Segment Performance

The seaborne thermal segment exported 3.3 million tons at an average realized price of $64.83 per short ton, with the remainder delivered under a long-term domestic contract in the fourth quarter. For the full year, Peabody's export thermal sales totaled 11.5 million tons with domestic shipments totaling 8.0 million tons. During the quarter, the Wambo complex had improved production, which contributed to strong segment cost performance of $30.68 per short ton and underpinned fourth quarter seaborne thermal margins of 33 percent. In addition, the Wilpinjong Mine had record railings in 2019.

Fourth quarter seaborne metallurgical coal sales totaled 1.9 million tons with Adjusted EBITDA margins of $15.71 per ton, excluding North Goonyella costs. Production improved significantly at the Coppabella and Moorvale mines, with the fourth quarter marking the highest quarterly production volumes for the year. As a result, the metallurgical segment delivered a 10-percent cost-per-ton improvement compared to the prior year, excluding North Goonyella costs, despite 17 percent lower year-over-year volumes.

1 Adjusted EBITDA, Free Cash Flow and Net Debt are non-GAAP financial measures. Revenues per ton, costs per ton, Adjusted EBITDA margin per ton and percent are non-GAAP operating/statistical measures. Adjusted EBITDA margin is equal to segment Adjusted EBITDA divided by segment revenues.

Fourth quarter seaborne metallurgical cost performance of $88.91 per ton (excluding North Goonyella costs) improved 15 percent relative to September year-to-date costs per ton. As anticipated, fourth quarter North Goonyella costs were significantly reduced to $16.9 million following the reduction in workforce in late October 2019.

Within the U.S. thermal business, Peabody successfully concluded its negotiations with the owners of the power plant previously served by the Kayenta Mine, resulting in a one-time $69 million settlement related to recovery of additional contract costs. In addition, the company reached a favorable settlement with a Powder River Basin (PRB) customer resulting in $20 million of incremental Adjusted EBITDA in the fourth quarter, approximately $15 million of which would have been attributed to periods between 2016 and 2018, but could not be recognized prior to settlement.

Fourth quarter PRB shipments declined 8 percent from the prior year to 27.6 million tons, reflecting the challenging demand backdrop across the United States. Continued strong cost performance, along with the settlement discussed above, contributed to 23 percent PRB Adjusted EBITDA margins in the fourth quarter.

The Midwestern segment cut costs per ton by 10 percent from the prior year to $31.61 per ton even as volumes declined 20 percent, following reduced production from less uneconomic mines. Costs improvements reflect higher productivity across several mines as well as favorable mix from ongoing mines.

Balance Sheet and Cash Flow

Peabody ended the year with $732.2 million of cash and cash equivalents and $1.28 billion of available liquidity. Fourth quarter operating cash flows and capital expenditures totaled $124.8 million and $102.6 million, respectively. During the quarter, Peabody shifted from programmatic share repurchases to voluntary debt reduction. The company repaid $47.2 million of debt, including opportunistic open market purchases, bringing the company's consolidated debt balance to $1.31 billion with Net Debt of $578.6 million at year end.

2020 Outlook

Seaborne Thermal Coal

The United Wambo joint venture was formed in the fourth quarter of 2019 following final federal permit approval. Joint production is targeted to begin late in 2020 and allow for optimized mine planning, improved strip ratios, enhanced quality and the potential to extend the life of the open-cut operations beyond 2040. Costs will be temporarily elevated in 2020 as the mine transitions to the joint venture structure. Peabody expects to spend approximately $60 million in capital expenditures in 2020 in conjunction with the joint venture.

The Wilpinjong Extension Project, which extends the life of one of the lowest-cost thermal coal mines in Australia and offers attractive returns, continues to progress. Capital expenditures associated with the project are expected to total approximately $40 million in 2020.

Seaborne Metallurgical Coal

Peabody is implementing actions to increase metallurgical coal volumes and lower unit costs.

2020 seaborne metallurgical volumes are expected to be approximately 8.3 million tons. Volumes are anticipated to be weighted to the back half of the year as Shoal Creek is expected to return to normal production levels, following a several-week outage in the first half of the year to finalize an upgrade of the main line conveyor system.

Following a significant reduction in holding costs, Peabody is commencing a commercial process for its North Goonyella Mine in parallel with the existing and ongoing mine development plan. The process comes in response to substantial expressions of interest in this valuable asset from potential strategic partners and other producers. Commercial outcomes could include a strategic financial partner, joint venture structure or complete sale of North Goonyella. At this time, Peabody is in discussions with the Queensland Mines Inspectorate (QMI) regarding ventilation and re-entry of Zone B. Based on the success of discussions with QMI and/or progression of the commercial process being launched, Peabody will determine the appropriate level, if any, and timing of capital expenditures.

U.S. Thermal Coal

Following an extensive review, and in line with the agreed upon timeline, Peabody anticipates a decision from the U.S. Federal Trade Commission regarding the formation of the highly synergistic proposed PRB/Colorado joint venture in the first quarter. In addition, Peabody and Arch are engaged in permitted integration planning for the proposed joint venture.

Following the announced closure of the Kayenta Mine and several other mines in the Midwest in 2019, Peabody will consolidate the former Midwestern and Western segments into 'Other U.S. Thermal' for purposes of segment reporting in 2020 and beyond. Committed volume of approximately 20 million tons in 2020 reflects the combined effects of these closures.

Financial

The company continues to maintain strong cash balances, high liquidity and substantial optionality as it evaluates its financial execution. As part of our commitment to maintain financial strength, Peabody is now focused on reducing debt and has already reduced debt by nearly $50 million in the fourth quarter of 2019. The pacing and quantum of debt reduction will be dependent on industry and company-specific factors contemplated in 2020, including commercial processes under way for the PRB/Colorado joint venture and North Goonyella Mine.

For 2020, the company is taking a "live within our means" approach given changes in industry conditions and the operating portfolio. The company has sharply reduced capital expenditures, modified the portfolio and is continuing improvement activities. The company is also suspending its dividends and does not have any intentions to repurchase shares under current conditions. Peabody believes these steps are important to enable long-term value creation for the benefit of all stakeholders, including shareholders.

2020 Guidance

Macro industry conditions, including a mild Northern winter, low natural gas prices, as well as trade and import policy uncertainties, suggest a challenging backdrop to start the year. Peabody is aggressively tackling costs and focusing on the basics to improve operational performance, particularly in its seaborne metallurgical segment.

For 2020, Peabody is guiding toward increased met coal volumes and reduced met costs, lower SG&A and lower North Goonyella holding costs. These benefits are expected to mitigate current pricing declines in all segments, lower U.S. thermal volumes, and the loss of contributions from mine closures. The company's 2020 earnings profile is expected to be weighted to the second half of the year.

Peabody has a strong U.S. contracted position with 96 million tons in the PRB and 20 million tons in other U.S. thermal mines, and has the flexibility to increase volumes should demand warrant.

Peabody is now targeting total 2020 capital expenditures of approximately $250 million, 12 percent lower than 2019 actual expenditures. 2020 expenditures include life extension project capital at the Wilpinjong and Wambo open-cut mines.

SG&A for 2020 is expected to be approximately $135 million, compared to $145.0 million in 2019 and $158.1 million in 2018. The company's 2020 SG&A and segment cost guidance reflect efficiencies and cost improvements associated with its previously announced $50 million annualized cost savings target. Peabody continues to evaluate ways to further improve its cost structure.

U.S. thermal costs are expected to be impacted by increases in the federal coal excise tax, which will revert to historical rates and is expected to have an approximately $30 million impact on costs relative to 2019.

Relative to the fourth quarter of 2019, the first quarter of 2020 is expected to be lower based on $89 million of non-recurring settlement income, approximately $20 million to $30 million in pricing impacts as well as higher seaborne met costs. Elevated first quarter met costs (relative to full-year 2020 guidance) are expected to be driven by an extended longwall move at the Metropolitan Mine, preparation for a several-week upgrade of the main line conveyor system at the Shoal Creek Mine and impacts of mine sequencing at the Moorvale Mine.

To read the full press release with financial figures included, click here.