CONSOL Coal Resources LP Announces Results for the Fourth Quarter and Full-Year 2019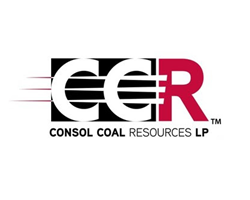 February 11, 2020 - Today, CONSOL Coal Resources LP (NYSE: CCR) reported financial and operating results for the quarter and year ended December 31, 2019.

Fourth Quarter 2019 and Full Year 2019 Highlights Include:

- Cash distribution of $0.5125 per limited partner unit for 4Q19;
- Net income of $9.0 million and $45.6 million for 4Q19 and 2019, respectively;
- Adjusted EBITDA1 of $23.6 million and $99.4 million for 4Q19 and 2019, respectively;
- Distribution coverage ratio1 of 0.9x for 4Q19 and 1.0x for 2019;
- Net leverage ratio1 of 1.8x as of December 31, 2019;
- Second strongest sales volume year ever for the Pennsylvania Mining Complex (PAMC); and
- Harvey Mine achieved annual production record.

Management Comments

"2019 was quite a challenging year, as our industry dealt with weakening commodity and capital markets, which led to several bankruptcies in the coal space," said Jimmy Brock, Chief Executive Officer of CONSOL Coal Resources GP LLC, the general partner of the Partnership. "Despite such a tough backdrop, I am pleased to announce that we delivered a strong set of results for the fourth quarter and full year of 2019. While U.S. coal production is estimated to have declined by 9% compared to 2018, CCR produced and sold 6.8 million tons in 2019, which is largely unchanged from the record production and sales levels set in 2018. These results were driven by our contracting strategy, well-capitalized asset base and consistent operational performance."

"We also achieved significant improvements on the safety front. Our total recordable incident rate at the PAMC for 2019 improved by 44.7% and our total number of exceptions improved by 41.4%, compared to 2018. Safety remains our top core value, and we continue to strive towards zero life-altering incidents."

Sales and Marketing

Our Sales and Marketing team sold 1.68 million tons of coal during the fourth quarter of 2019 at an average revenue per ton of $45.14, compared to 1.75 million tons at an average revenue per ton of $49.81 in the year-ago period. Despite a 25% lower average PJM West day-ahead power price, a 36% lower average API 2 prompt month coal price and a 36% lower average Henry Hub natural gas spot price in the fourth quarter of 2019 versus the fourth quarter of 2018, our average revenue per ton declined only 9% across the same time period due to our strong contracted position. On the sales volume front, the 91 thousand ton decline in 2019 compared to the year-ago period was mostly a function of reduced production.

During the quarter, we were successful in securing additional coal sales contracts and are currently approximately 95% contracted for 2020 and 43% contracted for 2021, assuming the midpoint of our coal sales volume guidance range.

According to the U.S. Energy Information Administration, inventories at domestic utilities stood at approximately 124 million tons at the end of November 2019, which is approximately 18% higher compared to year-ago levels. While low natural gas and power prices have been weighing on broader coal demand, we continued to ship all the coal we produced during the fourth quarter of 2019. Despite a warmer-than-normal start to 2020, the National Oceanic and Atmospheric Administration expects below-normal temperatures for most of the northern and northeastern areas of the U.S. in February. This development could help to reduce some of the coal stockpile overhang in the domestic markets we serve.

On the export front, low-priced LNG has weighed on coal demand abroad, as a glut of new projects came online in 2019. Additionally, API 2 spot prices for thermal coal delivered to Europe remained volatile throughout 2019, declining 39%. Our 2019 revenues were largely unaffected by this volatility due to our previously disclosed export contract, which runs through December 2020.

On the supply side, low prices are starting to drive global supply rationalization. We started seeing production cuts in the U.S. and Colombia in late 2019, and we are now starting to see Indonesia do the same. Most recently, Indonesia set its coal production output target to 550 million tons in 2020, down from 610 million tons in 2019. Despite this planned production cut, Indonesia's coal consumption is expected to rise from 138 million tons in 2019 to 155 million tons in 2020, which should help to tighten the international market.

Operations Summary

CCR produced 1.68 million tons in the fourth quarter of 2019, which compares to 1.71 million tons in the year-ago quarter. This brings total CCR production to 6.82 million tons in 2019, which is the second highest production year in the PAMC's history. Despite a challenged commodity market, the complex ran at approximately 96% capacity utilization during 2019, highlighting the sustained desirability of our product. Additionally, our Harvey mine set an individual production record during the year of 1.26 million tons, exceeding its previous record set in 2018. This also marks its third consecutive record-setting year.

Our total costs during the fourth quarter of 2019 were $70.8 million compared to $72.7 million in the year-ago period. Average cash cost of coal sold per ton1 for the fourth quarter was $30.38 compared to $30.54 in the year-ago quarter. The decrease was due to reduced maintenance and supply costs and contractor and purchased services costs. For 2019, our total costs were $287.4 million compared to $290.6 million in the prior year. Our 2019 average cash cost of coal sold per ton1 was $30.97 compared to $29.29 for 2018. The increase was primarily driven by additional equipment rebuilds and longwall overhauls due to the timing of longwall moves and panel development. Also, the Partnership faced atypical challenges during the current year, including a roof fall and equipment breakdowns, resulting in higher mine maintenance and project expenses. Subsidence expense also increased in the year-to-year comparison, primarily due to the timing and nature of the properties undermined.

Quarterly Distribution

During the fourth quarter of 2019, CCR generated net cash provided by operating activities of $13.6 million and distributable cash flow1 of $12.7 million, yielding a distribution coverage ratio1 of 0.9x. During the quarter, our net cash provided by operating activities was impacted by unfavorable changes in working capital. Our distribution coverage ratio calculation is based on quarterly estimated maintenance capital expenditures of $9.0 million, while our actual cash maintenance capital expenditures for the fourth quarter were $7.8 million. Based on our full year 2019 distribution coverage ratio1 of 1.0x, the board of directors of the general partner has elected to pay a cash distribution of $0.5125 per unit to all limited partner unitholders and the holder of the general partner interest. As previously announced on January 24, 2020, the distribution to all unitholders of the Partnership will be made on February 14, 2020, to such holders of record at the close of business on February 10, 2020.

2020 Guidance and Outlook

Based on our current contracted position, estimated prices and production plans, we are providing the following financial and operating performance guidance for 2020.

- Coal sales volumes - 6.1-6.6 million tons
- Coal average revenue per ton - $43.00-$45.00
- Cash cost of coal sold per ton2 - $30.00-$31.50
- Adjusted EBITDA2 - $67-$80 million
- Capital expenditures - $25-$30 million

To read the full press release with financial figures included, click here.