Coastal China Thermal Output Falls Sharply in January-February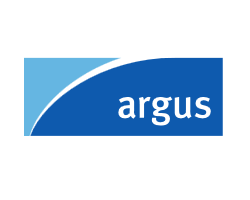 By Firat Ergene

March 20, 2020 - Thermal generation in China's coastal provinces fell sharply in January-February, as the coronavirus outbreak weighed heavily on power demand early in 2020.

Thermal power output, of which coal-fired generation makes up around 90pc, in the key coal-importing regions of Guangdong, Guangxi, Hainan, Fujian and Zhejiang was 9.9GW lower on the year at 68.6GW during the first two months of 2020, according to the Chinese national bureau of statistics (NBS), the first year-on-year drop since July. The NBS does not usually provide a monthly breakdown of power generation for January and February.

The country's overall thermal generation fell by 43GW on the year during the same period. This implies a 6.5mn t drop in NAR 5,000 kcal/kg coal consumption for power generation in 38pc-efficient coal-fired plants in coastal regions, and around a 28mn t drop in overall coal burn across the country, according to Argus calculations.

Power Demand Falls Sharply in Virus-Hit Regions

Economic activity in the country fell drastically following the coronavirus outbreak, weighing heavily on power demand.

China's official manufacturing sector purchasing managers index fell to a historic low of 35.7 in February. This was the lowest level recorded in 2005-20. The index reached its previous historic low in November 2008 at 38.8.

This resulted in lower overall power generation and weaker thermal generation across the country. Among all the provinces of China, power demand only rose sharply in Xinjiang region, gaining by 5GW to 42.8GW.

Demand in Shaanxi and Inner Mongolia also gained by 2.3GW and 1.4GW, respectively, while gains in other regions with higher demand, including the coastal region of Guangxi, stood below 1GW.

Thermal output was impacted more heavily in the eastern provinces neighbouring the Hubei region, where the virus originated.

Jiangsu province registered the biggest annual drop in thermal generation across the country, falling by 11.5GW to 40.7GW. In Hubei, thermal and overall power output were both 4.3GW lower on the year at 13.1GW and 24.2GW, respectively.

Zhejiang, which is also in close proximity to Hubei, drove the losses in thermal generation among the coastal regions, registering a year-on-year drop of 8.2GW to 16.6GW. Overall power generation in the region fell to 26.2GW from 34GW a year earlier.

In Guangdong, the region with the highest thermal output in southern coastal China, power demand only fell by 1.24GW to 39.2GW. But the drop in thermal output was sharper, falling by 2GW to 25.5GW amid firm output from nuclear and renewables. Nuclear is likely to continue displacing thermal generation in Guangdong, as a new 1.75GW unit at the Taishan nuclear power station came on line last September.

Fujian's thermal output also edged lower, falling to 12.3GW from 13.5GW, and Hainan's output was nearly unchanged on the year at 2.2GW.

Guangxi was the only coastal region with a higher thermal generation performance. The region's thermal generation rose by 1.6GW on the year to 11.9GW.

Imports to Weaken

China's imported coal receipts, including anthracite, coking coal and thermal coal, rose to 68.06mn t in January-February from 51.17mn t a year earlier, but this was a result of tighter customs restrictions in late 2019 rather than a stronger appetite for imports.

And imports are likely to change trajectory in the following months as coal consumption remains weak.

Average coal consumption at the six coastal coal-fired utilities fell to 515,000 t/day on March 1-18, compared with 655,000 t/d in the same period a year earlier, according to coal industry association the CCTD. And coal stocks at plants were 1.3mn t higher on the year at 17.69mn t on March 18.

China coastal thermal generation TWh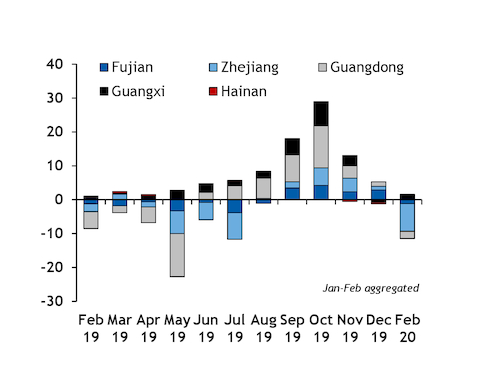 China thermal output y-o-y