NMRA Provides Update of 2020 Mine Rescue Contests and Mine Rescue Teams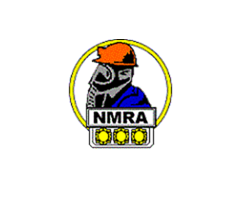 March 20, 2020 - Due the current health situation, the March meeting for the NMRA was cancelled. In lieu of a meeting we will provide a brief update regarding current and recent events in Mine Rescue.
1.0 IMRC 2020- The plans for International Mines Rescue competition are progressing well. Meeting were held 23 January and 5 March at the MSHA Academy. This big event is scheduled for 12-18 September at the Beckley academy. As of 5 March, there were 14 international teams who have expressed interest with 6 more on the waiting list due to 2 teams per country limit. The US will enter 2 Coal teams, 2 MNM teams and 1 MSHA team. The 5 Team events are:
· UG Mine Rescue
· Fire Fighting
· Theory Exam
· First Aid
· Option Mine Rescue Skills or High Angle Rope Rescue
NMRA will share a booth with HMRA at this special event. The next IMRC meeting will be at 13.00h 2 April via teleconference.
2.0 Mine Rescue Contests 2020- The list of local contests for Coal and MNM can be found at the MSHA website. The MNM Nationals will be held in Reno Nevada 24-27 August.

3.0 NMRA Posts 2020- The latest list of NMRA Mine Rescue Posts with contact information is available from the NMRA via email request to wjkenneweg@verizon.net
4.0 Mine Rescue Rules 2020- MSHA will host a meeting via Webinar on 1 April to review any Coal rules' changes for 2020. Meeting was originally scheduled at MSHA Academy.
5.0 Coal and MNM Rules Merger- MHSA held a meeting in Beckley 28-29 January to discuss the plan to combine Coal and MNM mine rescue contests based on the reduced number of MSHA personnel, the reduced number of Mine Rescue Teams, the state of the coal industry and costs. Industry reps from Coal and MNM were present. The moderator was Jim Vicini of MSHA Arlington. Committees are being formed for Mine Rescue, First Aid, Bench/Team Tech, and Preshift/Exam There will be 3 Coal and 3 MNM members plus an MSHA person and maybe a State person on each committee. Their job will be to develop the rules whereby the Coal and MNM teams will compete together in the National Contest with the first such contest being the Nationals in late Summer/early Fall 2021. The committees will present their results and rules recommendations to the respective HMRA Advisory Board and the MNM Advisory Board. They will then meet with the overall Co-Chairmen, one coal and one MNM, who will co-ordinate with MSHA to finalize the new Rules. The combined Nationals will be every other year (first one 2021) with a Skills National in the between years (first one 2022). Combined contest events will be Mine Rescue, First Aid, Bench, Gas Testing and written tests. The next meeting to discuss the Rules Merger will be 2 April. This was also scheduled at the Academy but most likely will be a Webinar.
6.0 Mine Rescue Team Inventory- The NMRA did a survey in January-February 2020 to determine the number of the Coal and MNM Mine Rescue Teams by State. For Coal we found 105 Company Teams and 20 State Teams. MNM was slightly higher with 133 Company Teams and 4 State Teams. The listings for Coal and MNM are attached.
7.0 College Mine Rescue MERD 2020- On 20-21 February 2020 College Teams from Canada and the US took part in a MERD at the University of British Columbia in western Canada. The teams represented were from the University of British Columbia, Laurentian University (Ontario), University of Alberta and Colorado School of Mines. The events included: Mine Rescue and Recovery; Fire Fighting Skills; First Aid; Bench; and written exam. The results were:
· Overall Champion: 1st University of British Columbia (UBC)/2nd Colorado School of Mines
· Underground Scenario: 1st Laurentian University/2nd Colorado
· First Aid: 1st UBC/2nd Colorado School of Mines
· Fire Skills: 1st UBC/2nd University of Alberta
· Bench Technician: Dan Hagn UBC/2nd Jarrett Laurentian
· Written Exam: 1st UBC/2nd Laurentian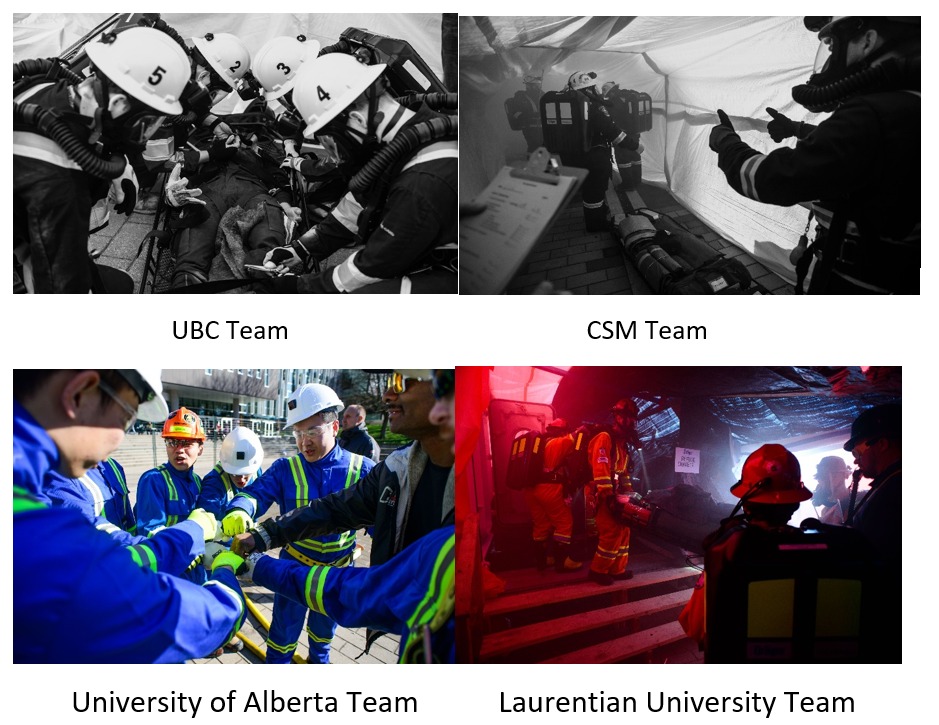 8.0 SME Eastern Coal College Contest- This contest was scheduled for 10-11 April at Virginia Tech with teams from Penn State, West Virginia University, University of Kentucky and Virginia Tech. Due to current health issue, the event has been postponed indefinitely.
9.0 College Mine Rescue Posts- In lieu of having the college mine rescue team members become individual members of the NMRA, we are now in process of setting-up College Posts noting key administration person for each team. This eliminates the issue with turn-over when the students graduate but keeps them part of this important endeavor. So far, we have applications for Post establishments at:
· Virginia Tech-Ellen Gilliland
· University of KY-Danny Knott
· West Virginia University-Josh Brady
10.0 Industry News- On January 31, 2020 CSE Corporation acquired Biomarine, Inc., an Exton, Pennsylvania manufacturer of long-duration Closed Circuit Breathing Apparatus such as the BioPak 240R used for Mine Rescue. and a former subsidiary of Neutronics. CSE designs and manufactures both emergency escape breathing apparatus and gas detection devices at its Export, PA facility and has been in business for over 50 years.
11.0 Surface Mine Rescue 2020- The Third Annual Surface Mining Emergency Response Competition took place in Havana FL 24-27 February 2020. The results are:
· Overall Grand Champion: Nyrstar Grey Team/TN
· 1st Field Competition: Nyrstar Grey Team
· 1st First Aid: Nyrstar Grey Team
· 1st Team Trainer: Oscar Frederick/Vulcan Black
12.0 MNM Contests 2020- The Corona Virus claimed its first Mine Rescue Contest in 2020. The Nevada Reginal Mine Rescue Contest scheduled for 16-19 March 2020 in Winnemucca NV was cancelled due to travel restrictions by the mining companies. It is hoped that the contest can be rescheduled for later in the year.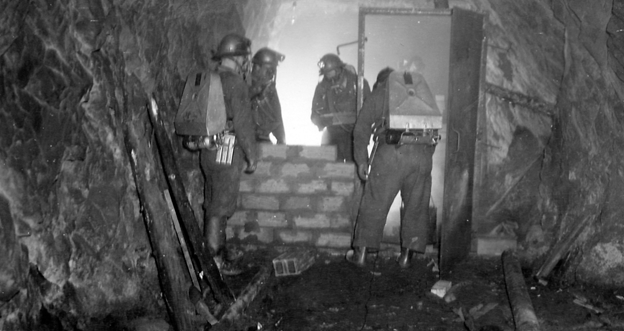 Montreal Mining Company, Wisconsin 1947