MINEX Europe (Online) - Call for Presenters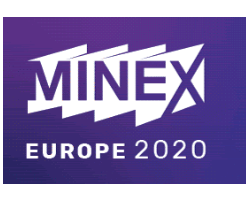 Greetings from MINEX Europe Forum!
We hope you are safe and well
Founded in 2015, the Forum has been offering a vibrant platform for the dissemination of innovative technologies and promoting investment opportunities and best practices for mining and exploration across Europe. As travel is currently banned for most people, we have created the MINEX Europe online platform with the view of helping companies, investors and governments to communicate changes and to discuss plans for adjusting to the new business, economic and social realities in the post-pandemic world.
The MINEX Europe online forum will be held in three editions presenting exciting projects, technologies and business opportunities across the European continent.
3 June

MINEX Eastern and Central Europe

1 July

MINEX Western and Northern Europe

2 July
At the time of unprecedented concerns about the future, let us remind ourselves that mining serves the fundamental needs of our society. After the initial shocks of Covid-19, mining industry, together with governments, financiers and investors will find ways to move forward. Present your views of Europe's mining in current critical times and beyond. Check the agenda.

Submit abstract

before 15 May.