Nexans AmerCable Introduces Industry-First RFID-Enabled Mining Cables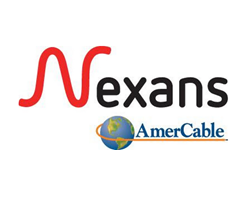 May 14, 2020 - Nexans AmerCable, the leader in mining cable innovation, is pleased to introduce its newest value-added enhancement – RFID-enabled SHD-GC mining cables. RFID technology is widely used in a variety of applications, but this is a first for mining power cables. By weaving a small string of passive RFID chips into the cable's core prior to jacketing, Nexans AmerCable gives customers the ability to access real-time cable information which can help them better manage their cable inventory and provide critical planning data. Using a scanner and the Nexans Smart Inventory Management (SIM) app on their smartphone, the user can see identification data, repair history, technical data, repair manuals and other important information.
"Nexans has offered RFID tracking technology for quite a while, but this is the first time it has been incorporated into a mining cable," said Drayton Land, Nexans Mining TEK Center Manager. "This new RFID-enabled cable gives mining operations a powerful new tool to better manage each cable's service life."

These RFID chips, which are programmed prior to shipping at AmerCable's El Dorado, Arkansas factory, require no external power and run the length of the cable. In the field, a handheld scanner and mobile phone provide instant access to a cable's information, while in the office, the easy-to-use SIM technology delivers a variety of useful information tools and options.

A trailing cable's accurate history of repair and length are key pieces of information that optimize its usage and service life. Cable managers can make note of each damage incident, repair and post-repair length for future reference and reorder planning. This documented information is easy to access and share.

Currently, AmerCable is offering RFID on SHD-GC and Mine Power Feeder cables. For more information, contact your AmerCable rep or mining@nexansamercable.com.

Nexans AmerCable is the leading manufacturer of high-quality, longer lasting trailing cables for North American surface and underground mining operations. Our Tiger® Brand mining cables are designed for continuous movement while energized and longer service life in the harshest conditions. AmerCable is the industry leader in cable innovation that improves safety and productivity, plus minesite cable handling training and education programs. Nexans AmerCable believes educated miners are safer miners.

For more information, e-mail tom.rice@nexansamercable.com.