Outlook Darkens: Already Under Pressure, Virginia's Coal Industry Sees Furloughs and Idled Mines Amid COVID-19 Pandemic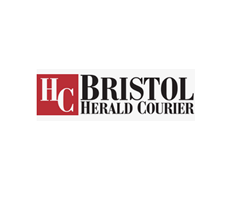 By Tim Dodson

June 21, 2020 - As the coronavirus swept across the globe this spring, Southwest Virginia's coal industry felt the pandemic's impacts as companies furloughed employees and idled production at several sites amid safety concerns and reduced demand for electricity and steel.

COVID-19 is the latest challenges for an industry already under pressure from cheap natural gas, a rise in renewable energy sources and big bankruptcies, among other factors.

"Coal has been declining in Appalachia for the past 30 years," said Matt Hepler, an environmental scientist with Appalachian Voices, a nonprofit advocacy organization.

Virginia mines produced more than 45.9 million tons of coal in 1990, and by 2019, that annual figure fell to 12.4 million, according to federal data. As production fell, so did employment in the state's mines, from about 10,662 workers to 2,576 over the same 30-year period.

"The coal industry was in a bad place to begin with going into the COVID crisis, and I definitely think it will exacerbate the situation," Hepler said.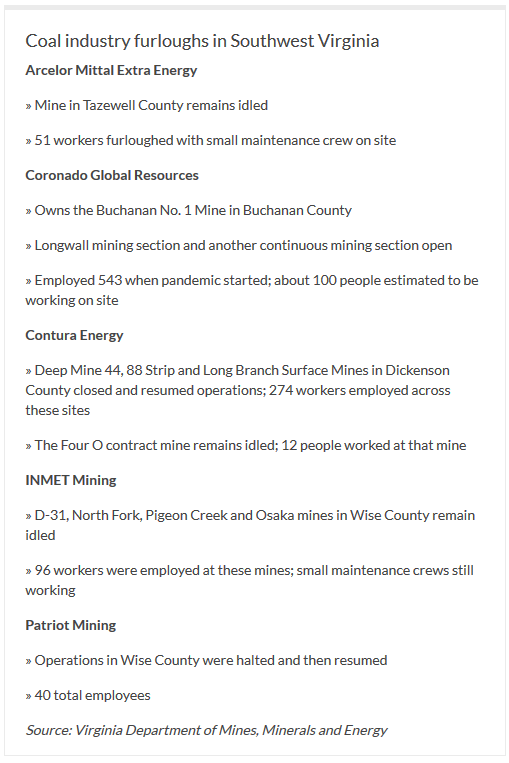 At least 11 mining sites saw operations come to a halt at some point this spring, affecting over 900 workers, according to reports received by the Virginia Department of Mines, Minerals and Energy.

Most significantly, production came to a halt at the state's leading underground coal mine in Buchanan County at the end of March. The facility employed 543 people and produced about 4.94 million tons of coal in 2019 — or about 40% of the state's overall annual tonnage, DMME figures show.

DMME spokeswoman Tarah Kesterson said the agency estimates that about 100 people are currently working at the site.

The Buchanan facility mines metallurgical coal used in steelmaking.

While metallurgical coal doesn't face the same competitive pressures from natural gas and renewable energy as coal used to generate electricity, the U.S. Energy Information Administration observed in a report earlier this month that "metallurgical coal mines in Appalachia have slowed production based on reduced demand from global steel production and coking coal."

The EIA forecast a 35% drop in annual coal production in Appalachia for this year, from 193 million short tons in 2019 to 125.7 in 2020. The EIA's Appalachian coal region includes parts of Alabama, Kentucky, Maryland, Ohio, Pennsylvania, Tennessee, Virginia and West Virginia.

Harry Childress, president of an industry group called the Virginia Coal and Energy Alliance, also noted the ties between the state's coal production and steel. Most of Virginia's coal is metallurgical.

"The steel market rises and falls on the worldwide economy," Childress said in a recent interview. "If everybody is building and producing a lot of steel, there's a lot of demand for it."

First-quarter production for Virginia's coal industry was about 3.13 million tons, a decrease from 3.18 million over the same period in 2019. Hepler said he expects the pandemic's impacts — including the effects of the Buchanan mine furloughs — to be reflected in next quarter's figures.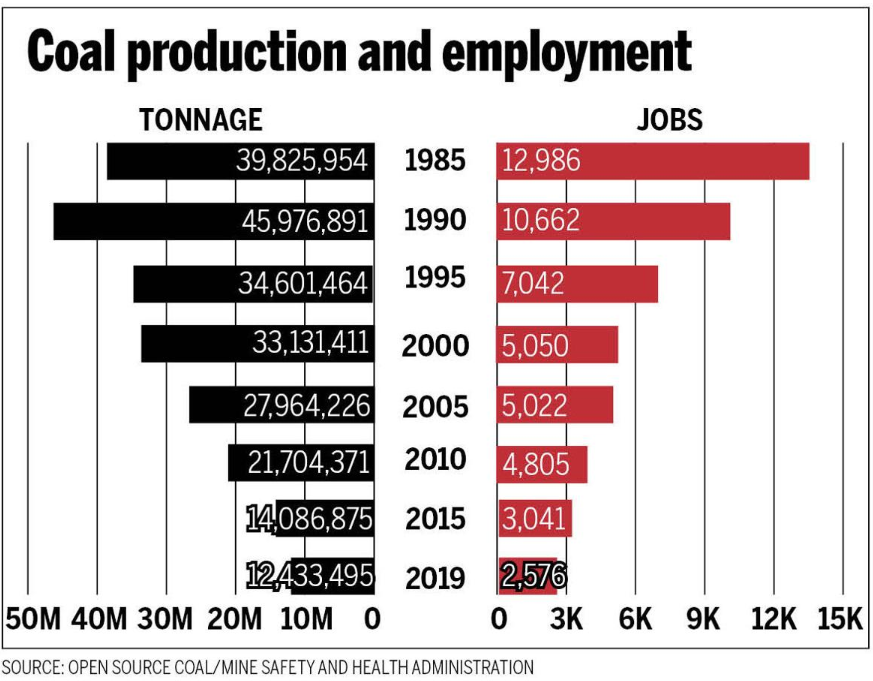 Coal Comeback?

Despite coal-friendly rhetoric from the Trump administration, the federal government's own figures document coal's continued decline.

Last month, an EIA analysis described how U.S. coal-fired electricity generation fell in 2019 to a 42-year low of 966,000 gigawatt hours. The EIA analysis said increased output from natural gas-fired plants and wind turbines was the main force behind this trend.

"U.S. coal-fired capacity peaked at 318 gigawatts (GW) in 2011 and has been declining since then because many plants retired or switched to other fuels and few new coal-fired plants came online. By the end of 2019, U.S. coal-generating capacity totaled 229 GW," the EIA analysis states.

Nationwide, coal mining employment fell 42% from 92,000 in 2011 to 54,000 in 2018. The EIA noted a slight increase between 2016 and 2018 for Appalachia occurred at the same time as an increase in coal exports overseas.

But both steam and metallurgical coal exports from the U.S. fell last year, the former dropping 30% in 2019 from 2018 and the latter 12%, according to the EIA.

Childress, a former coal miner, said he tries to be frank when it comes to questions about the future of his industry.

"Coal is never going to come back to what it was, especially in Virginia," he said. "There's no way we would ever get back to 40-plus million tons of production a year."

Yet Childress still sees opportunities for the industry — for example, infrastructure legislation could lead to higher demand for metallurgical coal used in steel for public projects.

"We can still be there, especially on the metallurgical side," he said.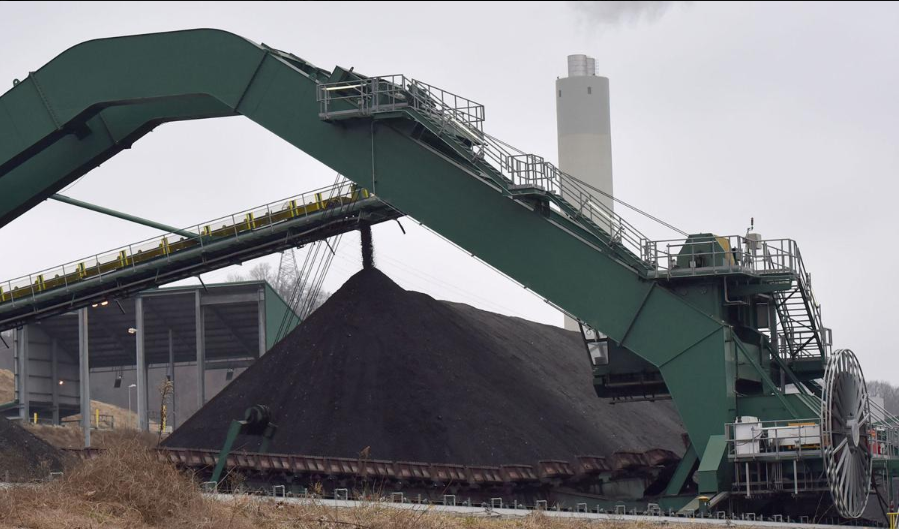 Coal from Virginia is used to produce energy at the Virginia City Hybrid Energy Center, which is one of the cleanest burning plants in the United States. Coal officials say aside from carbon, emissions such as mercury and sulfur dioxide have been significantly reduced.

Photo: Andre Teague/, BHC


Diversifying the Region's Economy

As the once-dominant coal industry has receded, the region continues to look at ways to attract industries like manufacturing, information technology and renewable energy.

The Abandoned Mine Land Pilot Program is one way that local and state leaders are trying to support these efforts.

This federal program provides grant funding to reclaim former coal sites and develop new uses. A total of $20 million has previously been distributed to projects through the AML Pilot in recent years.

A group of 10 projects in Southwest Virginia are currently being vetted by the federal Office of Surface Mining Reclamation and Enforcement for an additional round of $10 million in funds, according to Kesterson with the DMME.

The projects are aimed at infrastructure and industrial improvements, as well as boosting the region's tourism economy.

The projects with the greatest funding requests are two separate $2 million proposals.

One would be for "Project Greenhouse" in the South Clinchfield area of Russell County, where the local Industrial Development Authority is proposing to construct a 35,000-square-foot commercial greenhouse with related infrastructure, according to the application provided to the Bristol Herald Courier.

The other is for "Project Thoroughbred" in Norton, where an abandoned coal loadout facility would be redeveloped into a grain processing, storage and distribution terminal.

"A Southwest Virginia grain terminal will be a catalyst for creating economic activity in two areas: the upstream agriculture base and the downstream craft beverage industry," states the application from the Lonesome Pine Regional Industrial Facilities Authority.

Once projects receive final approval, Gov. Ralph Northam and U.S. Rep. Morgan Griffith, R-Salem, will announce the awards, Kesterson said.

There may also be an influx of solar projects in Southwest Virginia in the coming years due to laws passed in this year's General Assembly session.

"Part of the problem has been to date that there have been significant policy barriers to renewable energy development in this region, so we've been working on tackling those," said Chelsea Barnes, the new economy program manager at Appalachian Voices.

Laws passed in the recent session will allow for the expansion of power purchase agreements — a financing mechanism used for solar projects — for customers of Appalachian Power and Old Dominion Power, Barnes said.

Net metering caps were also lifted for these utilities from 1% to 6%, which "gives clean energy developers a lot more long-term certainty for coming in and establishing businesses here," she said.

The Virginia Clean Economy Act requires Dominion Energy and Appalachian Power to be 100% carbon-free by 2045 and 2050, respectively.

As part of the transition to renewable energy, Dominion has to secure 16,100 megawatts of energy from solar and wind sources by the end of 2035. According to the law, at least 200 megawatts have to be on "previously developed project sites," which could include former mine lands.

While the VCEA doesn't guarantee that renewable energy projects will be built in Southwest Virginia, "it does open up the market" to the region, Barnes said.

The VCEA generated controversy in Southwest Virginia during the General Assembly session, when an early version of the law would have closed Dominion's Virginia City Hybrid Energy Center in Wise County by 2030. The final version allows the coal and biomass plant to stay open through 2045.

In response to an inquiry about the future of the plant, which opened in 2012, Dominion spokesman Rayhan Daudani wrote in an email that "VCHEC plays a vital role in the region and to the reliability of the electric grid in Virginia and the dedicated employees of VCHEC provide a critical service to our customers."

The Virginia City facility generates about $6 million annually in property tax payments and has a $25 million annual local economic impact, according to the utility's website.

Asked what he wants people to understand about the coal industry at this time — an era marked by unfavorable market conditions for coal, continued movement toward clean energy and uncertainty surrounding the COVID-19 pandemic — Childress said, "We're still here."

"We may not be the engine driving the train," he said, but "we think we're still one of the engines pushing the train."