Miner Recollections: Tragedies Plague Roberts Family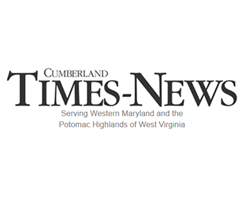 June 24, 2020 - Editor's note: Each week "Miner Recollections" will spotlight Georges Creek, Maryland's coal heritage, and the sacrifices made by those who mined it, by drawing upon biographical sketches, family narratives and historical research.
St. Just is an ancient mining district in Penwith, Cornwall, England. In the 19th century it was the premier area for mining copper and tin. Christopher Roberts was welcomed into the little village of St. Just in January 1847 by his parents Christopher and Margaret (Tregar) Roberts. One year later Jane Boyns was born in St. Just. She was the daughter of Henry and Grace (Shakerly) Boyns.
By 1861, the town boasted a population of 9,290. Christopher II and his father, along with most of the town, were employed in the mining industry. Christopher II married Jane Boyns in 1870, in Penzace, Cornwall, amid this mining boom. Perhaps their honeymoon was celebrated on a ship crossing the Atlantic, as the newlyweds were listed on the census of Aug. 22, 1870, as living in Westernport. Christopher was still a miner, but instead of digging for copper and tin, he dug for coal.
Prior to 1880, Christopher and Jane moved to Frostburg; their family had expanded to include Mary, born in 1871, Elizabeth in 1873, Christopher III in 1874, Grace in 1877, and William in 1879. With the addition of Henry in 1881 and Edith in 1884, Jane often felt that she, too, was a miner in the family as she dug through mountains of dirty laundry.
Christopher and Jane were devout Christians, raising their family in the Frostburg Methodist Episcopal Church where Christopher was vice president of the Epworth League and a Sunday School teacher. During the week he labored in various mines and eventually worked his way up to foreman. His sons Christopher III and Henry were also coal miners.
Around 1900, Christopher took a short hiatus from underground mining and moved his family to Cumberland where he tried his hand at farming. Perhaps he found that tilling the soil was just as labor intensive but not as lucrative as mining; it wasn't long before the family was back in Frostburg living on Broadway. Christopher and his sons returned to mining coal; daughter Elizabeth was a teacher at Chapel Hill School in Cumberland; daughters Grace and Edith had opened a millinery shop in Frostburg.
Over the next few years the family celebrated three very happy occasions. First up was the marriage of daughter Elizabeth to Charles McKenzie around 1896. Next, son Christopher III married Annie Rodda in 1902. The premier celebration, however, was the wedding of their daughter Grace in December of 1905.
The city of Frostburg was buzzing with excitement; the upcoming wedding of Grace Roberts to Mr. Thomas Herbert Peele was the talk of the town. On Wednesday, Dec. 13, the Methodist Episcopal Church was decorated to the hilt; at 12:30 p.m., the sounds of Lohengrin's Wedding March could be heard emanating from the elaborate pipe organ as Grace was accompanied down the aisle attired in a plum-colored traveling suit. After the reception, which was held at the Roberts home at 68 Broadway, the newlyweds traveled to Cumberland, took a train to Baltimore, and boarded a boat to North Carolina. They happily began setting up their new home in Rich Square, N.C., where they celebrated their first Christmas together, unaware that they would have to make an emergency return to Frostburg the next day.
Christmas was also a pleasant affair for Mr. and Mrs. Roberts, who attended Christmas Eve services at the M.E. Church. The following day they opened gifts with their children and grandchildren and enjoyed a delicious Christmas dinner. Mr. Roberts and son Henry retired early as they had to work the following day.
The joy of the recent wedding and Christmas turned to tragedy. On Dec. 26, Mr. Roberts and son Henry left early to meet up with son Christopher for their shift at Ocean Mine No. 7 of the Consolidation Coal Company. After some time timbering the roof, they began to dig and load coal. Suddenly the roof fell, completely burying Mr. Roberts and Christopher. Henry called for help and began to dig. With the aid of several other miners, they succeeded in uncovering the two unfortunate men.
They were removed to the home on Broadway, where they were examined by a physician. Mr. Roberts' injuries were severe, having been crushed about the head, chest and legs; Christopher was badly bruised and thought to have internal injuries. Mrs. Roberts, consumed with worry, was comforted by her daughters and church family. A vigil was held at the home; neighbors brought food while others prayed. Two days later Mr. Roberts died.
Christopher's wounds eventually healed and he returned to work. Henry remained unmarried and lived at home with his mother Jane until her death in 1934. After his mother's death Henry moved to Narrows Park in LaVale where he worked in the grocery store owned by his sister Elizabeth and her husband Charles.
Sadly, tragedy continued to plague the Roberts men. Five years after the death of his mother, Henry Roberts was walking near the intersection of National Highway and Mount Savage Road in LaVale when he was struck by a car and killed instantly. On Dec. 12, 1950, Christopher III, now retired from mining, and his wife Annie left their home in Frostburg to travel to St. Petersburg, Florida, to spend the winter. They made it as far as Gore, Virginia, where they decided to spend the night. Upon awakening they noticed that it had snowed a little; they decided to travel on despite the poor weather. About a mile east of Gore the car hit a patch of ice, skidded off the road, and hit a tree. Christopher was killed instantly; Annie's arm was broken and she had lacerations about the head, but she survived the accident.
During life's journey from St. Just to Frostburg, God and family remained in the center of the Roberts household. Like many Miner Recollections families, Christopher and Jane passed along their strength of character to their heirs.
"Miner Recollections volume Two 2019" is now available. This compilation includes 250 pages of stories, pictures, maps and an updated list of deceased miners. Proceeds support the installation of a life-sized bronze statue and the educational landscaping that will surround it. Books are available at Armstrong Insurance in Frostburg or by contacting Polla Horn at jph68@verizon.net or Bucky Schriver at bucky1015@comcast.net.