Colombian Coal Output Halves in 2Q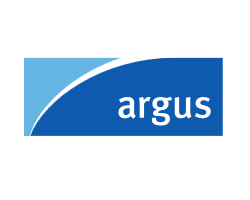 By Diana Delgado

September 14, 2020 - Colombian coal production almost halved on the year in the second quarter, as shutdowns and capacity restrictions driven by Covid-19 and low seaborne prices slashed output.

Colombia — the world's fourth-largest coal exporter — produced 9.74mn t of thermal and coking coal in April-June of this year, according to figures from mining regulator ANM. This was roughly half the 18.9mn t produced in the second quarter of last year and the 19.5mn t output recorded in the first quarter of 2020.

Cerrejon was the main driver of the contraction in Colombian production, accounting for nearly half of the total drop in national output.

The mining company saw output fall to 1.9mn t in April-June from 6.2mn t in the same quarter last year, as it halted production for two weeks in late March to combat the spread of the coronavirus. Cerrejon resumed operations at reduced capacity in April, but production stopped again on September 1 because of strike action following a dispute about changes to employees' work shift patterns.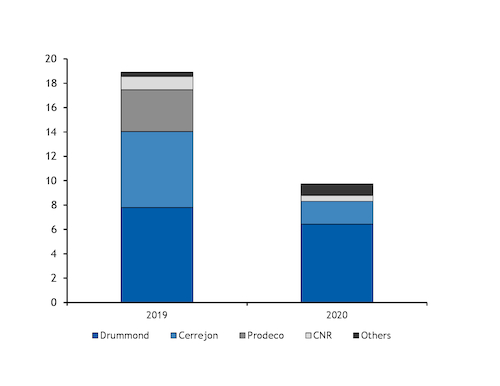 Second-quarter Colombian coal production mn t


Output in Cesar, which accounts for more than half of Colombia's thermal coal output, fell by 5.4mn t on the year to 6.9mn t. This was driven chiefly by Swiss producer Glencore's Prodeco unit, which suspended operations on 23 March and has not produced coal since. Prodeco's output fell to zero from 3.4mn t in the same quarter last year as a result.

Prodeco's request to remain off line because of unfavourable economic conditions was rejected by regulators last month, but the firm recently told its employees that it intends to remain off line in the near term.

"Although the conditions that led to the suspensions on March 24 have changed, some technical and economic circumstances persist that seriously affect our business and will prevent the restart of coal operations after September 1," the company told employees in a letter seen by Argus.

Fellow Cesar producer Drummond — Colombia's biggest coal mining company — recorded only a 1.4mn t drop in output, to 6.4mn t in the second quarter. And CNR — the local unit of US-based Murray Energy — saw production more than halve, to 493,461t. It suspended production entirely at the end of July because of low export prices, sources told Argus.

At an annualised rate based on first-half output, Colombian coal production would reach only 58.4mn t this year. This would be down from 84.3mn t last year and a 2016-18 average of 89.6mn t/yr.

Low prices are likely to hamstring any recovery in output, even as lockdown measures ease. Argus has assessed NAR 6,000 kcal/kg Colombian coal within a $40-50/t fob Puerto Bolivar range since June 2019, down from more than $90/t as recently as November 2018.

"We are working hand in hand with the private sector, local and regional authorities to take advantage of Colombian coal resources and enhance their capacities in the face of current challenges," energy and mining minister Diego Mesa said.