Peabody Reports Earnings For Quarter Ended September 30, 2020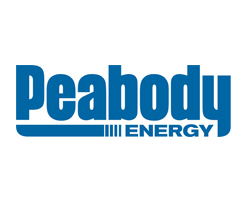 November 9, 2020 - Peabody (NYSE: BTU) has announced its third quarter 2020 operating results, including revenues of $671.0 million; loss from continuing operations, net of income taxes of $64.8 million; net loss attributable to common stockholders of $67.2 million; diluted loss per share from continuing operations of $0.66; and Adjusted EBITDA1 of $95.4 million.
"Peabody drove strong cost performance within our thermal segments during the third quarter, including record-low PRB costs per ton," said President and Chief Executive Officer Glenn Kellow. "We have had a number of achievements across the portfolio and look to further build upon our progress as we tackle structural improvements within the seaborne met segment. In addition to our ongoing portfolio enhancements, we have been working to achieve specific financing objectives. While we have made progress, there is still more to do. Together, these actions are intended to provide a solid base to strengthen our financial and operating performance."
Third Quarter 2020 Results
Third quarter revenues declined 39 percent from the prior year to $671.0 million due to lower volumes, mix changes and weaker seaborne pricing. U.S. thermal revenues declined $215.4 million, including $82.6 million from Kayenta's closure in the third quarter of 2019.
Operating costs and expenses also fell by 39 percent, reflecting the benefit of cost saving initiatives taken to date, as well as lower volumes. These initiatives included further headcount reductions, which resulted in a restructuring charge of $8.1 million in the third quarter.
The company also modified its approach to its non-represented retiree medical coverage to better align with evolving business conditions and industry benchmarks. Given this change, the company's postretirement benefit obligation was adjusted to fair value, utilizing lower discount rates, which resulted in a $13.0 million loss in the quarter and a $174.5 million reduction in the liability. Peabody ended the third quarter with $814.6 million of cash and cash equivalents and $860.1 million of available liquidity.
Segment Performance
During the quarter, the seaborne thermal segment shipped 4.6 million tons, with 2.7 million tons exported at an average realized price of $45.86 per short ton. The remaining 1.9 million tons were sold under a long-term domestic contract.
Seaborne thermal segment costs per ton of $27.59 improved 22 percent compared to the prior year due to strong cost performance from the Wambo surface mine and Wilpinjong. Lower ratio and improved geology contributed to significantly lower year-over-year costs at the surface operations.
In the quarter, the seaborne met segment shipped 1.1 million tons at an average realized price of $71.88 per short ton. Compared to the prior year, third quarter 2020 realized pricing was impacted by lower pricing and a higher mix of PCI sales.
Seaborne met costs per ton, excluding prior year North Goonyella equipment and development costs, improved 15 percent from the prior year to $96.87. Lower costs per ton were driven by ongoing actions to improve the cost structure at Metropolitan, Coppabella and Moorvale. Year-to-date 2020 met costs per ton included an approximately $5 per ton impact related to an adjustment to record certain mines' inventory at net realizable value.
Peabody's U.S. thermal mines delivered strong cost performance driven by optimizing the company's maintenance program through use of condition-based monitoring. These benefits largely offset the impacts of lower demand.
Third quarter PRB Adjusted EBITDA of $78.3 million increased $7.6 million from the prior year on record low PRB costs per ton of $7.93, despite a 22 percent decline in shipments. Third quarter PRB costs benefited from lower maintenance spending, and fuel and sales related costs associated with reduced volumes, including a one-time benefit of $0.35 per ton.
The other U.S. thermal segment earned $51.6 million of Adjusted EBITDA in the quarter on continued strong cost performance. Costs per ton declined 22 percent from the prior year to $26.52 due to reduced maintenance spending, favorable mix impacts, and lower personnel costs, among other items.
Financing Update
As part of the company's comprehensive process to explore financing alternatives, the company engaged with its surety bond providers to reach a mutual agreement to support Peabody's continued reclamation efforts. In early November, Peabody reached a standstill agreement with its surety bond providers for the company's $1.6 billion surety program to resolve approximately $800 million of collateral requests made in the third quarter and limit future collateral requirements.
"We are grateful for the tremendous collaboration with our surety providers to reach a first-of-its-kind solution that offers a greater line of sight into Peabody's future collateral requirements," said Executive Vice President and Chief Financial Officer Mark Spurbeck. "The agreement lays the foundation for stability and provides the necessary support for our longstanding commitment to reclamation. We are now focused on continuing to work with our 2022 noteholders and revolving credit lenders to effectuate a holistic transaction that provides for maturity extensions and covenant relief, while maintaining sufficient operating liquidity and financial flexibility."
Providers of 99 percent of the company's surety bond portfolio have agreed to the following terms and conditions:
Under the terms of the transaction support agreement, Peabody will post $75 million of collateral and provide second liens on $200 million of certain mining equipment for the benefit of the surety providers.

In addition, Peabody will post an additional $25 million of collateral per year through 2025 for the benefit of the surety providers. The collateral postings will also further increase to the extent the company generates more than $100 million of free cash flow (as defined in the transaction support agreement) in any twelve-month period or has asset sales in excess of $10 million.

Surety providers have agreed to a standstill through the earlier of December 2025 or the maturity date of the company's credit agreement (as amended or refinanced). During which time, surety bond providers agree not to demand any additional collateral; draw on letters of credit posted for the benefit of themselves; or cancel, or attempt to cancel, any existing surety bond.
Based on the company's current outlook, it is probable that Peabody's fourth quarter 2020 results will not be sufficient to meet the minimum required net leverage ratio as defined under the revolving credit agreement. Peabody has been engaged in discussions with its revolving credit lenders and an ad hoc group of 2022 noteholders. While no agreement has been reached with these parties to date, Peabody expects to continue to have discussions with all or certain of these constituencies in the future. The surety standstill outlined above is contingent upon the company ultimately completing a deal with its revolving credit lenders and 2022 noteholders by Dec. 31, 2020, which can be extended at the company's discretion to Jan. 29, 2021 for purposes of increasing participation.
The additional collateral demands and probable financial covenant noncompliance under the revolving credit facility, requires that the company's debt be reported as current on its balance sheet as of Sept. 30, 2020. Upon completion of a comprehensive resolution with its revolving credit lenders and 2022 noteholders, Peabody would expect its debt to be classified as current or non-current based upon the timing of its stated maturity.
Operational/Portfolio Update
The company has benefited from a comprehensive improvement program with board oversight across operational and functional aspects of the business, and continues to drive structural changes throughout the organization.
Actions recently taken include:
Further scaled back production and the workforce at Wambo Underground, including temporarily suspending production for 59 days during the third quarter in response to challenging demand conditions. The mine is focused on enhancing its competitive position to enable continued mining in the current district post-2021.

Temporarily idled Shoal Creek in early October to reset the cost structure of the mine. Costs per ton in 2020 have been elevated due to a combination of weak demand, lower productivity rates, and poor geological conditions in the final H-panel. Production is expected to be suspended for the next several months. Idle costs are anticipated to average approximately $4 million per month.

Idling an excavator fleet at Moorvale in November in light of elevated inventory levels and weak pricing.
Other initiatives, including the following, are also underway across the portfolio:
Resetting Metropolitan's cost structure by improving development rates and scaling the mine to reduce longwall output in periods of weak market conditions. In addition, the mine is in discussions with its customers and workforce to reach agreements that best serve the needs of all stakeholders and enable the mine to continue to operate during challenging market conditions.

Middlemount is beginning to see the benefits of a recent change in management earlier this year, along with recognizing cost improvement initiatives. Fourth quarter Middlemount volumes are fully committed amid improving customer demand.

Sharing of production at the United Wambo joint venture is anticipated to begin later this year. While production will be lower in the near term, Peabody will benefit from lower strip ratios and access to otherwise stratified reserves, enabling continued production of a high-quality seaborne thermal product.

The North Goonyella commercial process and review of strategic alternatives is ongoing.

In the U.S., Peabody intends to continue to adjust to changing demand profiles and enhance its competitiveness against natural gas and subsidized renewables following the termination of its PRB/Colorado joint venture agreement with Arch. In September, the court issued its decision to support the FTC's efforts to block the transaction.
Market Update
The global economy is showing a marked improvement in industrial production, even as the timing of a recovery varies across countries and sectors. Seaborne coal pricing remains muted and below pre-pandemic levels and rising COVID-19 cases worldwide continue to pose a threat to commodity pricing.
Steel industry fundamentals are improving in most regions relative to COVID-driven lows earlier in the year, although seaborne met coal demand has yet to recover to pre-pandemic levels. While China is leading the steel production recovery, met coal imports have been muted given unofficial import controls. In addition, year to date through September, India's met imports fell 8 million tonnes compared to the prior year. Looking ahead, Peabody projects global seaborne met coal demand to show consistent, albeit modest, growth over the next several years. During this time, India is expected to account for the vast majority of overall demand growth amid significant steel capacity additions and lack of domestic reserves. ASEAN countries are also projected to be a notable contributor to growth as demand in Japan and Korea remains largely stable. Australia is projected to continue to account for more than 50 percent of seaborne supply.
Within seaborne thermal, weak demand continues to pressure prices. India imports have declined 24 million tonnes due to inventory overhangs and higher domestic production, while China imports are down 9 million tonnes year to date through September. ASEAN countries are the only major importing regions showing sizable year-over-year growth, with imports up 9 million tonnes year to date through September. Longer term, coal is expected to maintain a leading position in the electricity generation mix. In absolute terms, coal is expected to grow while its share of overall generation is expected to decline. ASEAN countries and India are expected to be drivers for seaborne coal demand growth due to increased electrification and economic gains. This growth is anticipated to more than offset sharp declines in global coal use from developed economies, including the U.S. and Western Europe. From a supply-side perspective, year-to-date thermal exports for every major exporting country are down relative to the prior year. Indonesia leads the decline with thermal exports down 34 million tonnes, followed by Colombia and the United States. In fact, Colombia exports marked an all-time low in September.
In the U.S., the impacts of COVID-19 have accelerated a multi-year decline in coal demand. Year-to-date through September, coal generation is down 24 percent and represents 19 percent of the overall generation mix. While still at elevated levels, strong summer draws have lowered U.S. utility coal inventories to just under 130 million tons, or approximately 56 days based on maximum usage. Current natural gas forwards are above $3.00 for the remainder of the year and into 2021.
Outlook
Based on current estimates, fourth quarter seaborne volumes are expected to improve modestly, while U.S. thermal volumes are expected to decline slightly compared to the third quarter. Seaborne met costs are anticipated to rise primarily due to a planned longwall move at Metropolitan and changes in product mix, while seaborne thermal costs are expected to be largely in line with the third quarter. Current fourth quarter 2020 priced and committed sales are as follows:
23 million tons of PRB sales at an average realized price of $11.28 per ton

5 million tons of other U.S. thermal sales at an average realized price of $36 per ton

2 million tons of seaborne thermal export sales at an average realized price of $47 per short ton

0.7 million tons of seaborne met sales at an average realized price of $88 per short ton
In addition, 2020 full year capital expenditures and SG&A have been reduced to approximately $185 million and $105 million, respectively.
Current 2021 market expectations reflect improvement in seaborne coal demand as economies continue to recover from COVID-19. In addition, modestly higher forward natural gas prices are expected to offset the impact of additional retirements within the U.S. thermal market. Other factors that will determine Peabody's 2021 sales volume include the anticipated resumption of production at Shoal Creek in early 2021 as well as lower production due to the United Wambo joint venture transition.
To read the full results with financial figures included, click here.