Infrastructure Legislation Has Potential for Southwest Virginia to Become Technology, New Mining Hub

By Mike Still
July 3, 2021 - Southwest Virginia could be among 18 rural U.S. areas designated "tech hubs" for expanding critical semiconductor businesses and mining rare earth minerals needed for their production.
Virginia U.S. Sen. Mark Warner met with area state legislators and education, business and economic development figures at the Bristol Train Station on Friday about the impact of $250 billion in one-time funding under the Senate-approved U.S. Innovation and Competition Act.
While Republican and Democratic senators have come together on priorities in the Senate bill, Warner said he is waiting to see the pending House version. Even with resolving the two bills, he said he hopes to see it ready for President Biden's signature as soon as August.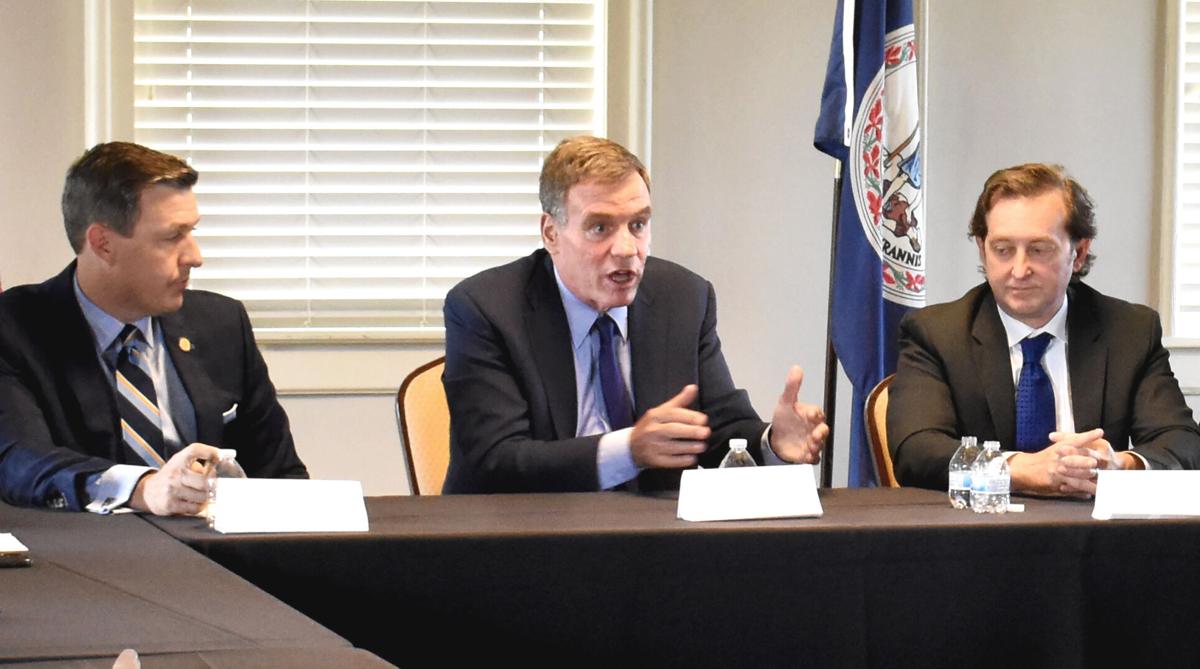 Virginia U.S. Sen. Mark Warner, flanked by state Del. Israel O'Quinn R-Bristol, left, and state Sen. Todd Pillion, R-Abingdon, makes the case for Senate legislation to make the U.S. more competitive against growing People's Republic of China technology competition.

Photo: Mike Still, Kingsport Times News
The act tackles business and industrial competition with the People's Republic of China in technology areas such as the world's supply of semiconductor chips, internet and other items. Warner said about $52 billion of the Senate legislation would go to boosting domestic semiconductor production by helping fund seven to 10 new U.S. facilities.
While U.S. domination of the semiconductor market has dropped well below its peak of 33% of the world's production, Warner said PRC production has climbed. Taiwan — the Republic of China — also produces a large segment of the world's semiconductor supply.
Warner said the PRC's demands for Taiwan to submit to its control could endanger the world's access to chip production.
Warner also warned of mainland China's domination of mining rare earth elements used in the manufacture of several devices such as smart phones, electric motors and semiconductors.
Warner said the U.S.-Chinese economic situation has become a "holy cow moment" with the pandemic as national leaders found out how much the country depends on China for pharmaceuticals, medical supplies and rare earth minerals.
"My beef is with the Chinese Communist Party, not the Chinese people," Warner added.
The remaining approximately $200 billion, while authorized in the federal budget, has not been allocated to specific items, Warner said, citing five priorities needing consideration:
• including Southwest Virginia among 18 rural technology hubs envisioned in the bill
• getting Southwest Virginia "in the game" for semiconductor production
• developing a rare earth mineral supply capability
• one-time catalyst funding for technology business startups
• legislative and local planning to improve broadband service
Warner said Southwest Virginia's experience with coal mining could provide an answer to finding domestic rare earth supplies.
"There is more expertise in this room than on any committee I sit on," said Warner. "You need to educate me so I can educate the senators."
Mike Quillen, chairman of the Region One GoVirginia economic development district, said the mining expertise is not a problem in the region, but the cost of mining rare earth minerals is.
"We're going to need some assistance," Quillen said. "It's expensive."
"We've got to do more than talk," Warner said, stressing that China could hurt the U.S. economy by deciding to cut access to its rare earth production. "If Americans have to pay an extra one or two cents to have a secure supply, that's worth it … the cheapest price may not always be the most secure."
Getting existing and potential semiconductor producers to consider locating jobs in Southwest Virginia poses its own challenges, Warner said.
Referring to economic development partnership InvestSWVA's 2020 inventory of potential data center sites, Warner said the region has two things needed for semiconductor production — plenty of water in abandoned underground mine sites and plenty of land.
Warner cautioned the panel that a locality-based attempt to attract technology hub status should be avoided in favor of a consortium of localities, colleges and universities.
He pointed to the region's planning districts, community colleges, UVA Wise, Emory & Henry College and even Virginia Tech as partners in the effort.
Expanding high-speed internet in Southwest Virginia is also critical to helping make Southwest Virginia a technology hub, and Warner said Virginia and localities need to work on a comprehensive plan for that.
He suggested that the state's 133 counties and cities should work on building up their high-speed internet service availability within two years.
Warner faulted the U.S. for letting its dominance in high tech slip and in letting slip its influence in helping set international standards for technology such as 5G wireless.
He cited growing Chinese dominance in cellular technology and even commercial drone sales.
"The West writ large got lazy," Warner said. "We've got to do this with the rest of the world. China has figured out how to set the standards."