MINEX Russia Forum and Expo Go Hybrid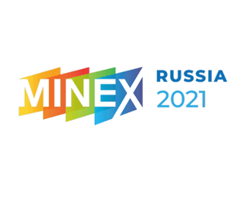 MINEX Russia Forum
and Expo Go Hybrid

A week ago, a new website was launched for MINEX Russia Mining and Exploration Forum which will take place on 5-7 October 2021 in Moscow.
Digital transformation of mining industry is changing the format of the forum, adding mixed reality elements, and extending the possibilities for face-to-face and remote interaction.
The Forum will be organised as a hybrid event offering on-site and online participation options. All major events will be held at the Radisson Hotel in Moscow and live-streamed on the forum website. Speakers will be able to present and take part in live panel discussions and Q&As both physically and remotely.
Presentations will be simultaneously translated to / from Russian and English.
Digital Transformation events
Technologies and cases of digitalisation of mining enterprises will be presented at the Transformation 4.0 conference and the MineTech competition.
VR presentations
In addition to using traditional slides, we can help companies to develop Immersive presentations using 3D, VR and AI technologies.
To learn more about the Forum please review this interactive 3D presentation
For the first time, we will use internet-kiosk technology for organising exhibition, expanding communications between remote exhibitors, on-site and online participants. Exhibition visitors will be greeted at the booth either by their local representatives or by promoters.
Communication with remote exhibitors will be organised via the built-in internet kiosks equipped with a headset, microphone, and a camera.
In addition to the physical booth, exhibitors are offered options for booking a virtual 3D booth to digitally display materials presented at the physical exhibition.
After the forum, the digital exhibition will continue operating and expanding opportunities for communication and organising presentations.