Hitachi Ships First Hydraulic Excavator From Tsuchiura Works in Japan to New Consolidated US Subsidiary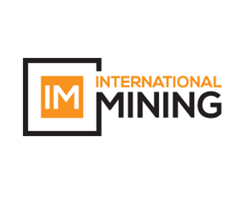 By Paul Moore
November 10, 2021 - On November 10, 2021, Hitachi Construction Machinery Co Ltd shipped the first Hitachi brand hydraulic excavator for the North American market from Hitachi Construction Machinery Tsuchiura Works in Ibaraki Prefecture, Japan to its US-based consolidated subsidiary, Hitachi Construction Machinery Americas Inc headquartered in Newnan, Georgia.
With the dissolution of the joint venture relationship between the Hitachi Construction Machinery Group and US-based Deere & Company in Moline, Illinois; Hitachi Construction Machinery says it aims to independently deploy the latest products, technologies, and services across the entire North America and Latin American markets including in mining.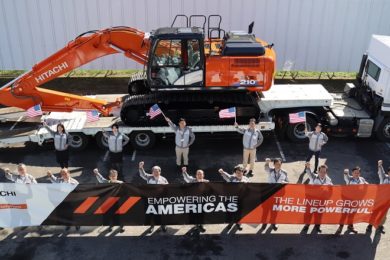 Hitachi brand hydraulic excavators for the North American market, including the first hydraulic excavator shipped on this occasion, are equipped with state-of-the-art hydraulic systems that achieve high efficiency, AERIAL ANGLE® technology that improves work site safety, and the ConSite® OIL service solution. Local sales will start in March 2022.
On the day the hydraulic excavator was shipped, employees involved in development and production and in the Americas. operations, including Michifumi Tabuchi, Hitachi Construction Machinery Representative Executive Officer, Executive Vice President and Executive Officer, Officer responsible for MONOZUKURI, President of Production & Procurement Group, and President of Corporate Export Regulation Group, and Toru Takatani, General Manager of Americas Business Expansion Support Office, gathered at the Tsuchiura Works. A banner displaying the slogan "Empowering the Americas – the lineup grows more powerful" was displayed – a message of support was sent to everyone in the Hitachi Construction Machinery Group in the Americas.
With the "Realising Tomorrow's Opportunities 2022" medium-term management plan, the Hitachi Construction Machinery Group aims to strengthen the value chain business, provide enhanced solutions, and form a highly flexible corporate structure. "Going forward, Hitachi Construction Machinery will promote these management strategies in North America and Latin America, as well as in the rest of the world, in an effort to achieve stable growth."
Hitachi Construction Machinery Loaders America became Hitachi Construction Machinery Americas effective October 1, 2021. Accordingly, Hitachi Construction Machinery is conductubg a thorough review of the organisational structure of the company, which has been in charge of the manufacturing and sales of Hitachi branded wheel loaders. "The aim of such a review is to strengthen the position of the company as the regional headquarters handling all Hitachi Construction Machinery products, including wheel loaders, compact and construction-sized hydraulic excavators, ultra-large mining excavators, and mining dump trucks."
Specifically, Hitachi Construction Machinery Loaders America will increase the number of staff, in order to significantly strengthen the structure of the sales and service sector functions and to more accurately respond to market needs throughout the entire North, Central, and South American region. In the mining business, the company will collaborate with Hitachi Construction Machinery Group companies in the region to further develop the independent network in the North, Central, and South American markets.